As I sit in my studio listening to Vera Lynn, it feels as if I'm in a time machine and it is gently transporting me back to the 1940s. The music has been the soundtrack of my life! My mum always had the radio on and the lovely tunes of the Forties played.
I have been creating miniatures since I was a wee girl. Playing in that tiny world was, and still is, magical to me. I imagined that at the stroke of midnight my dolls would come to life and play together in my doll's house. As I grew up, I never lost that love for miniatures and when I retired I was able to play all over again. Still listening to my 1940's soundtrack with my mum at my side, we would spend many joyous hours with my doll's house, creating things to furnish it with and make it a special home.
I found the medium of polymer clay over a decade ago and fell in love! Since I was little, I yearned to create my own dolls. Dolls that could bend and move like real people. When my mum passed away, creating miniatures and my doll's houses helped fill the void of the loss.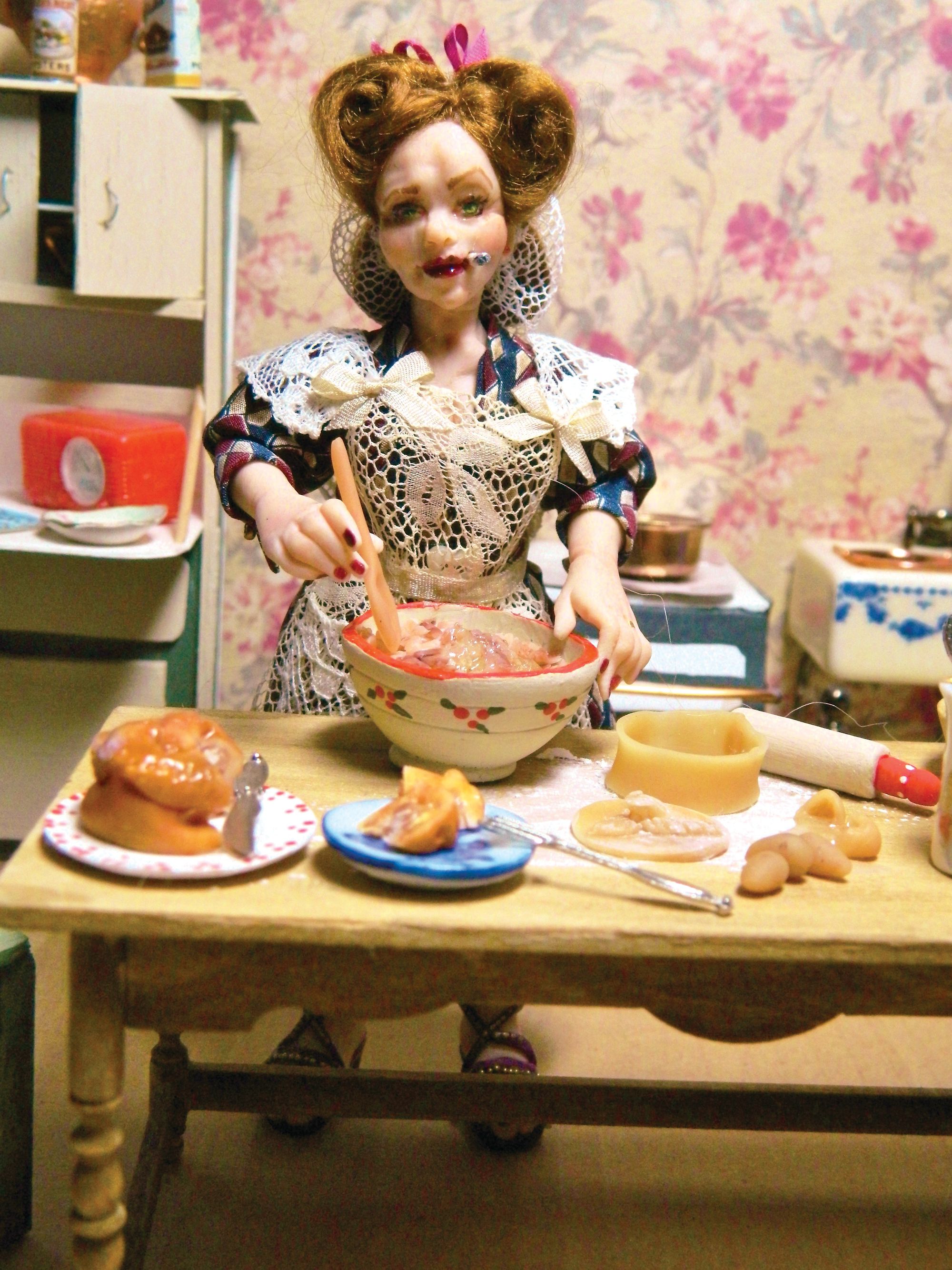 One day I was again listening to my favourite music, the song, "Memories of You" was playing and my concept for the 1940's miniature dolls was born. I created a roombox along with everything in it. I felt as if my mum was guiding and encouraging me on. I call the room box Memories of You, dedicated to my best friend and beloved mum. From that special roombox, the 1940's personalities were born. In this roombox is Lilly, sitting in her bed with her dogs, listening to music on her Cathedral radio and reading old love letters. She can see her lost love in her mind's eye and will carry him in her heart until they meet again. Her room is just as it was in the 1940s, with all her cherished memories around her.
Now you must be wondering, why England? Since as far back as I can remember I have had a passion for England. I can thank Peter Pan for that; he was my first love and he was English… and so the love affair began! When I was 14 I had a pen pal by the name of Patricia Quincey and she lived in Rainworth, Nottinghamshire. We have stayed fast friends for 51 years. Her oldest daughter, Jackie, is my god-daughter and I have been to England many times. We are family, true sisters of the heart.
I was ever so fortunate to be in England for the fiftieth Anniversary of VE Day! What a magical day that was! My favourite part of the day was sitting at The Carnarvon Arms Pub in Sutton with the pensioners and listening to them share their stories of what it was like to live and fight for England during wartime. Even though it was a time of great hardship and fear, it was also a time of pride of country and strong spirit. A time of neighbour helping neighbour as they stood together to fight the common enemy. On the night we dressed in 1940's fancy dress and recreated the joy and pride of that glorious day! We sang all the old songs, Run Rabbit Run, The White Cliffs of Dover, We'll Meet Again,  When The Lights Go On Again, all the songs that touch the heart.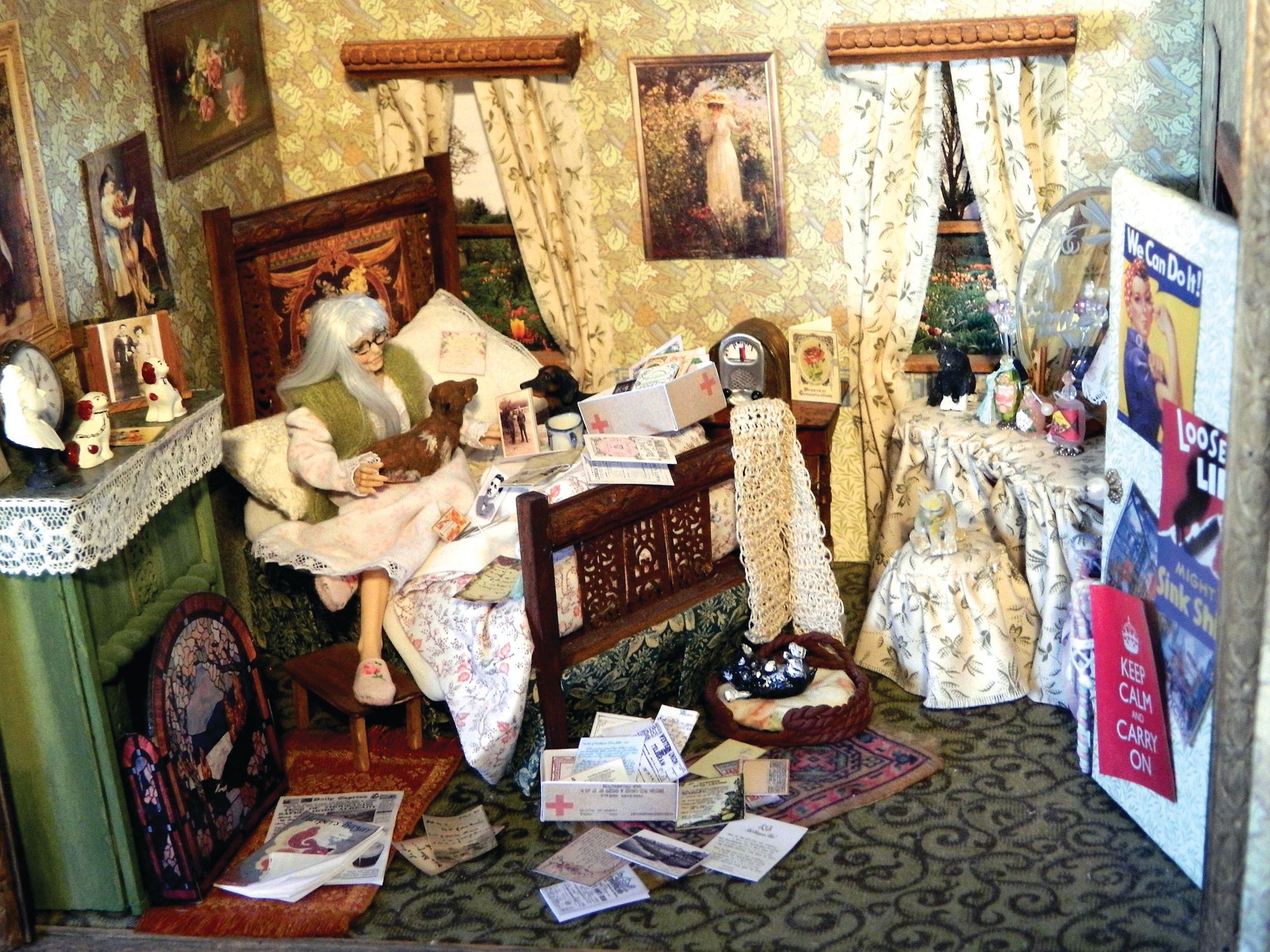 The first characters of my 1940's creations were the "Angry Housewives". Dear Lettie Makepeace was the leader of the pack. She is one tough dame and is sitting waiting with rolling pin in hand, smoking a ciggie and drinking pink gin in a tea cup, waiting for her husband to come home from down the pub. Next came Lettie's sister Mayhem. A more fitting twosome there never was.
The girls all have stalls at Old Covent Garden Market. All of my characters are dressed in authentic 1940's attire that I've designed and created from head to toe. Some of the fabrics I use are from the actual time to really give them their special look. They all have stories and have proven to be quite a lively bunch.
I research clothing of the period and what everyday life was like. There are land girls, pub owners, sellers at the market, a famous singer, housewives, children complete with gas masks, grannies, sweet newlyweds, brides and barmaids, and even air raid wardens. I want each doll to touch something inside the owner and help transport them back in time.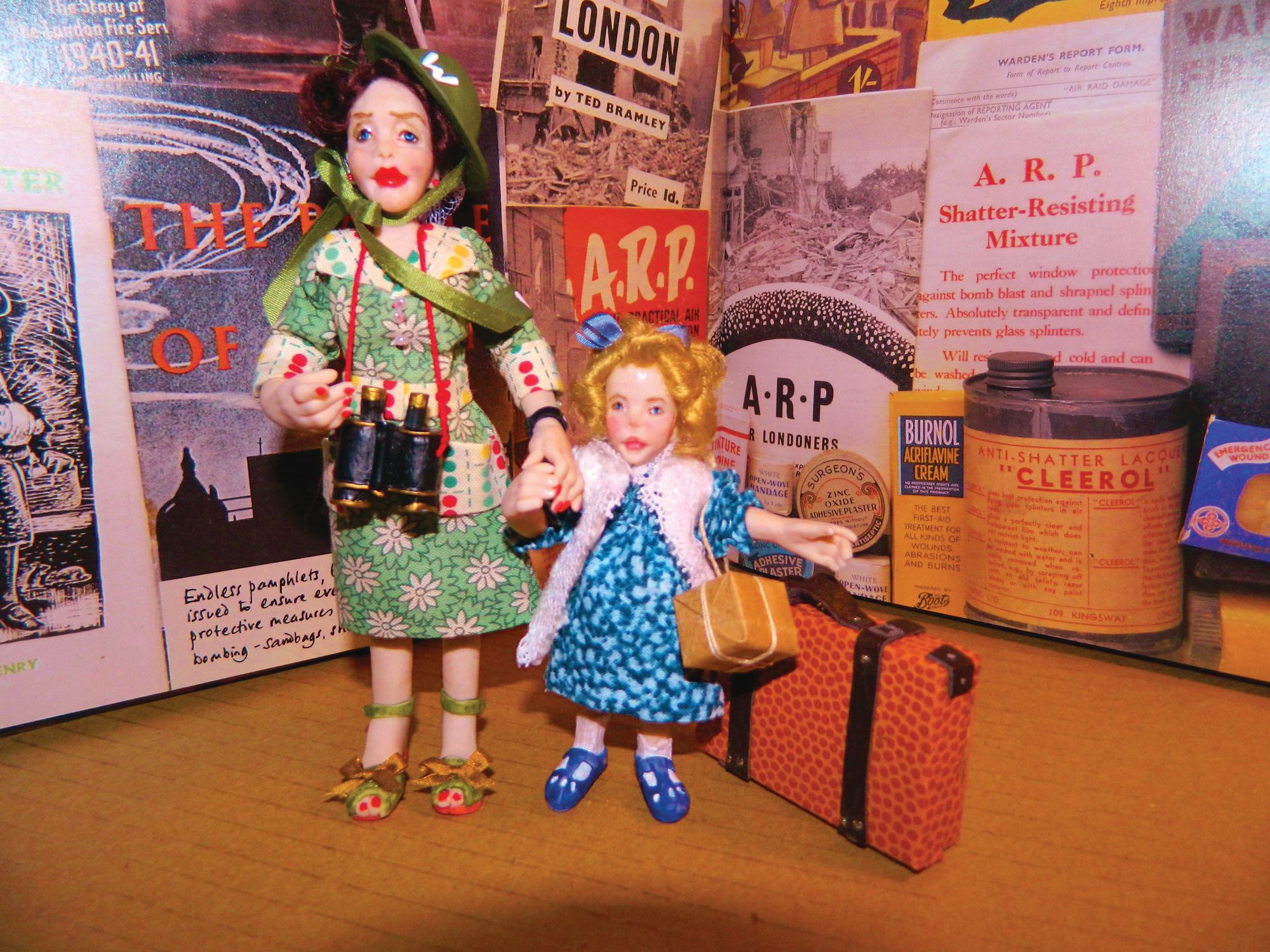 My dolls are a total labour of love and each come with a little rose quartz heart placed in their chest when I sculpt them. It's what gives them the spark of life and magical mischief. All my characters come from my heart. Bringing joy and smiles to their owners is what keeps me creating!
I love the challenge of doing commissions and have done many assignments over the years, the 1940s being my favourite. And I have had the thrill of also creating characters from other special eras including memorable movies and leading TV series.
I'm always working on a doll with another sitting on my shoulder and whispering in my ear about their special life. I love what I do and feel very blessed to have the gift of creating and of sharing my happiness and magic with others.
I have enjoyed having you as my travelling companions to share some of my memories with. May we all meet again some sunny day!