by Sandra Harding
This was yet another of those love at first sight moments when I saw the amazing dining room at Downton Abbey on Facebook, and for a moment I thought it was the real thing.
Then I read that it had been created by the very talented Linda Guthertz. Not only that, there were other rooms too: kitchen, servants' hall and sitting room… my cup runneth over.
I asked Linda about it of course and she said it all started with a table! She then told me everything I was longing to know, including the fact that she has been dabbling in miniatures and doll's houses for 41 years. And don't the photographs show the lady is no beginner?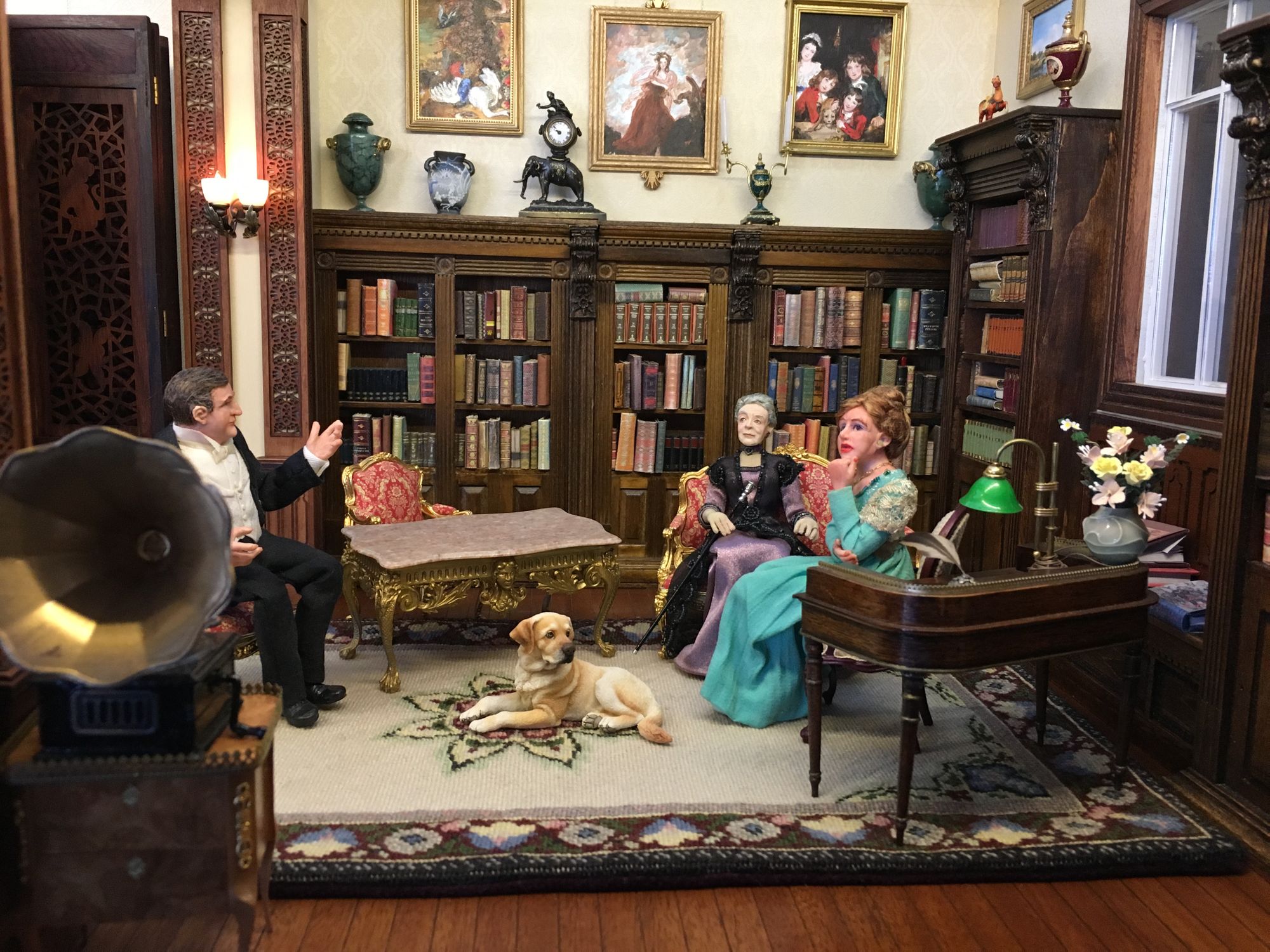 Her real house is full of roomboxes and doll's houses and she has, in fact, built a whole town with 23 buildings with a story behind it (now I want to digress and ask her about that). However, I must learn to stick to one thing at a time, which is quite hard with so much temptation.
Back to this delight, which consists of four rooms as mentioned, and they are all totally gorgeous. The whole structure is 51" wide by 30" high and the rooms range from 33" wide for the dining room to the sitting room, which is 14" wide. Remember that Downton is a castle and things are oversized to provide that illusion. The building was designed by Oscar Salabert and finished by Terry Harville to match Linda's concepts.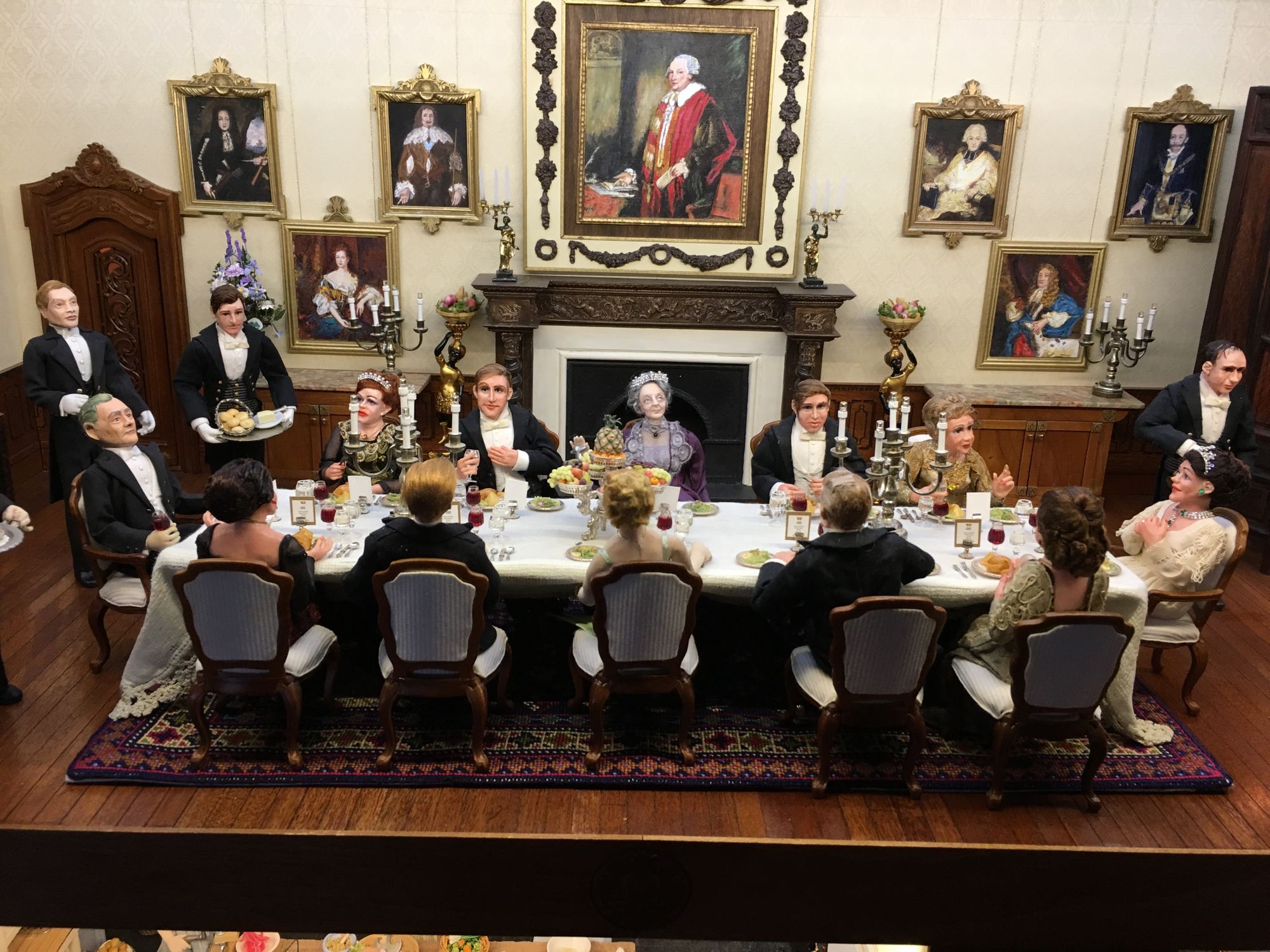 The amazing people (it would be rude to call them dolls as they are so good) are based on characters from the television programme, and are so easily recognisable. Each "person" has action built into them with some turning to each other whilst others are all in different poses, and I love the lady in green in the sitting room.  These amazing people were made by the talented hands of Ellen Poitras and Teresa Dudley
The table in the dining room was what started this project, as Linda has a soft spot for tables. When she saw this 17" example she had to buy it, without a clear idea of where it would end up. The tablecloth on it was actually a napkin made by Linda's grandmother — what a lovely touch. The silverware is by Pete Acquisto,  the glassware by Ferenc Albert, and the dishes are by Stokesay Ware, with food made by Kiva Atkinson. The lovely paintings on the walls are reproduction copies of those on the dining room walls at Highclere Castle (the TV location for Downton Abbey). They were created by gifted artist Sue Veeder.
The lighting in this room is adjustable to create different moods with most of the lighting by the clever Ray Storey. The candelabras on the table are lit by battery-operated lights, a real pain to turn on and off Linda told me. The carpet in the dining room is temporary, as Linda is having a copy of the real one at Highclere made by Cheryl Brady of Brady Stitchery. Linda had to get permission from Lady Carnarvon to do this, and they very helpfully sent her photographs to ensure accuracy. Just the way that Linda likes.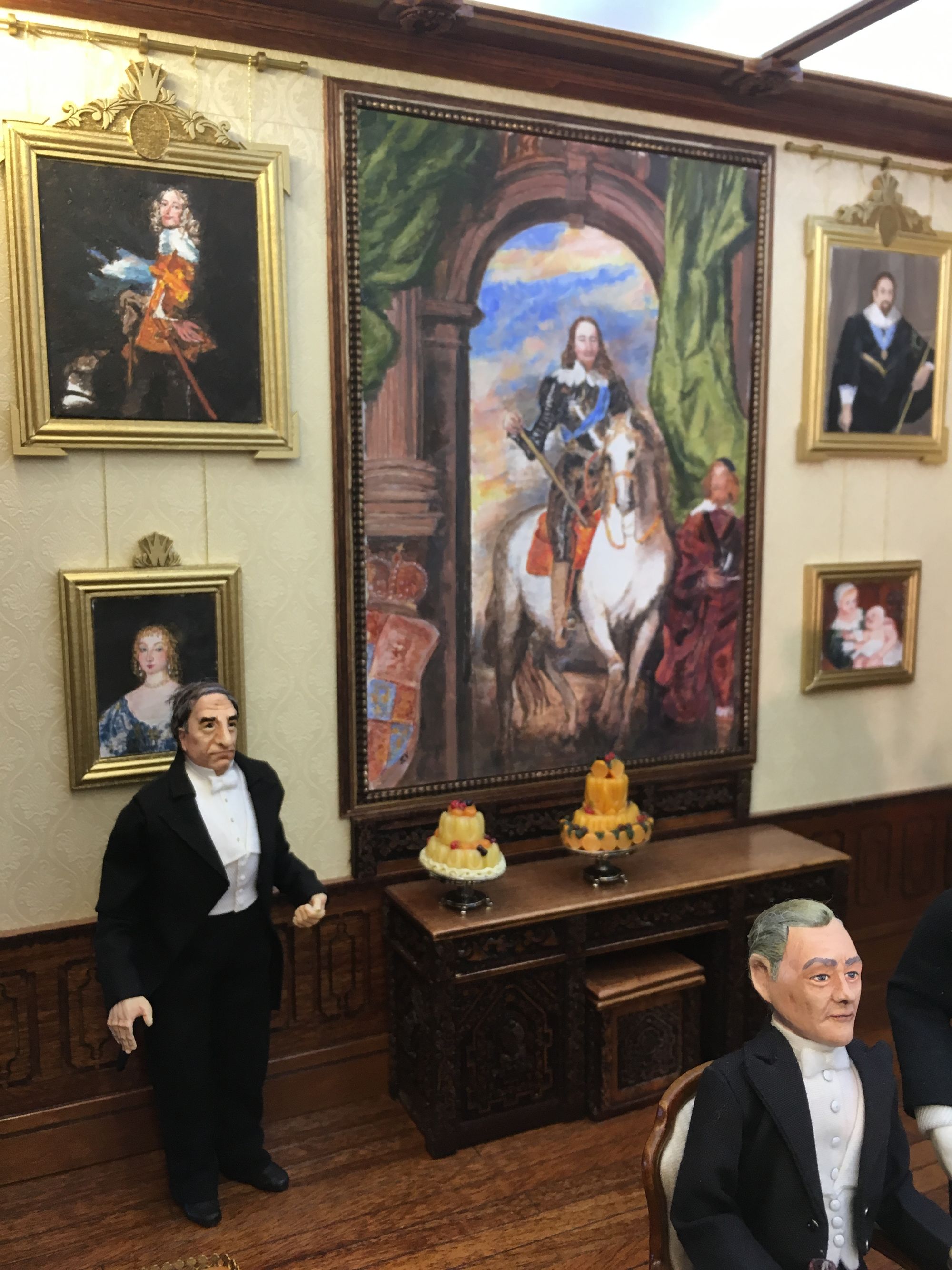 In the television series the programme always includes the kitchens, dining room, and the servants' hall, as this is where they wait to be summoned by the bells. So these rooms were important to this project. Now, a real first for me, and I guarantee for you too! When the bell pull in the dining room is pulled, it actually rings downstairs in the servant's hall. I need to re-adjust my idea of reality.
The kitchen is a hive of activity and you can see Mrs Patmore breaking eggs with the yolks falling in mid air. The eggs and bowl are by Patricia Paul Studios. Linda was lucky enough to meet the actress playing Mrs Patmore, who loved the doll of herself and the other players including Daisy, who is busy grinding meat to make hamburgers. This was actually done in one of the television episodes. The stove is by Deb Jackson.
Linda is a scientist and skilled researcher and really enjoyed doing the research for this project. Things have to be right for Linda, and she knew that she had to find skilled artisans to create the quality products needed to create her dream. Linda of course dressed the Abbey and I am told the table took her three days to set properly. Everything on it had had to line up perfectly, using forceps for those very fine pieces.  Her skills as a microbiologist came in very handy she tells me.

This project started about five years ago when Downton Abbey came on television. Her family supported her and admired it at each stage but all the work was Linda's, with hands on help from dear friend Susan Perry-Hinkle of Rue de Suze. She was tiny enough to put her head and shoulders inside the dining room to hang the paintings. What a funny thought.
Linda, from San Francisco, California, tells me that there were doll's house shops in her area which have all closed, and most of her purchases are made through the internet or from doll's house  shows.
I hope that you loved looking at this as much as I did. I will ask Linda nicely and maybe we can see more of this talented lady's work later.
This feature appeared in the print version of Dolls House World, issue 331. To order a copy click here.