By Kathleen Holmes
Finally, it is summer and what better way to enjoy the longer days than outside in the fresh warm air. Summertime for my doll's house means spending more time on the front porch or the back patio.
It also means more meals served outdoors, barbecues and picnics and nice cool drinks to enjoy while relaxing on the front porch swing. How about a refreshing mint julep or some sweet iced tea?
I lived in California until about a year ago when my husband and I moved to the South. Mint juleps are the quintessential Southern cocktail and sweet iced tea (thanks anyway, but I'll take mine without sugar) is served everywhere you go. Anyway, you'll find both Southern drinks served at my doll's house.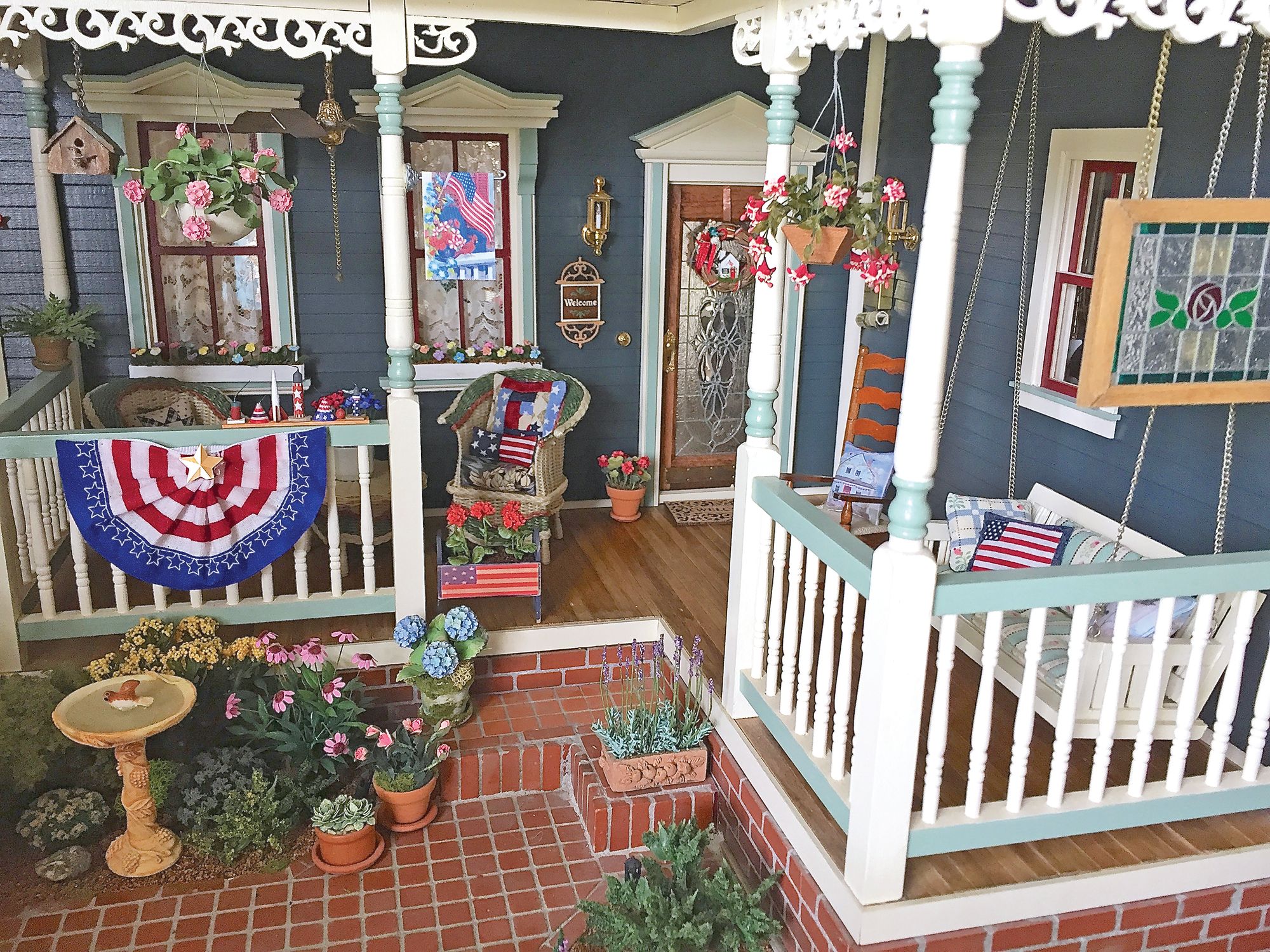 Anyone who is familiar with my doll's house knows that I decorate for holidays. Independence Day gives us the 4th, a time to put out the flag, banners and decorate with red, white and blue pillows, flowers and a patriotic wreath for the front door.
It's a good time to have an outdoor picnic or barbecue with plenty of iced drinks for everyone. One year I served fried chicken with baked beans, corn on the cob, fruit salad, a tossed green salad, potato salad and of course, pie for dessert. And another year I decided to grill some hot dogs and hamburgers with all of the trimmings.
I even have a red, white and blue layer cake made by another of my favourite miniature food artists, Kim Marshall Saulter, as well as some cupcakes and cookies all decorated for the holiday. I'm always on the lookout for unusual or different food items that I can use for a special event or holiday as I try to theme food with the season.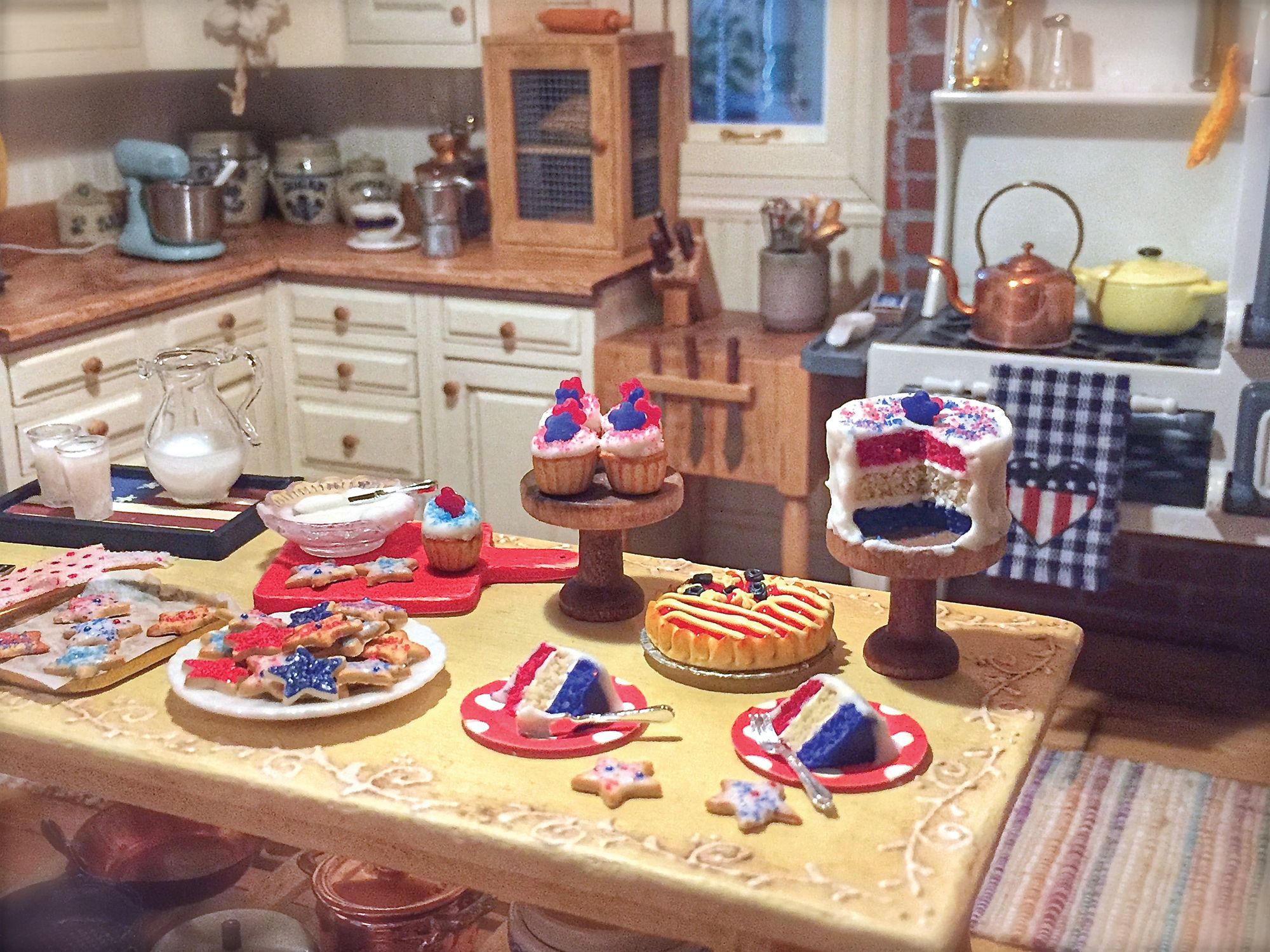 Realistic miniature salads have provided the perfect touch for my picnic tables. I love trying to come up with a different setting or a new menu for the occasion.
Flowers are blooming and the garden is growing in the doll's house yard. Corn and tomatoes are almost ready to harvest. You'll see flowers in the front yard, on the side of the house and around the back patio as well as several potted plants on the porch and patio. There's a potted hydrangea plant, a yellow rose tree, a bird of paradise, lavender, hanging flower pots and lots of other colourful flowers and shrubs.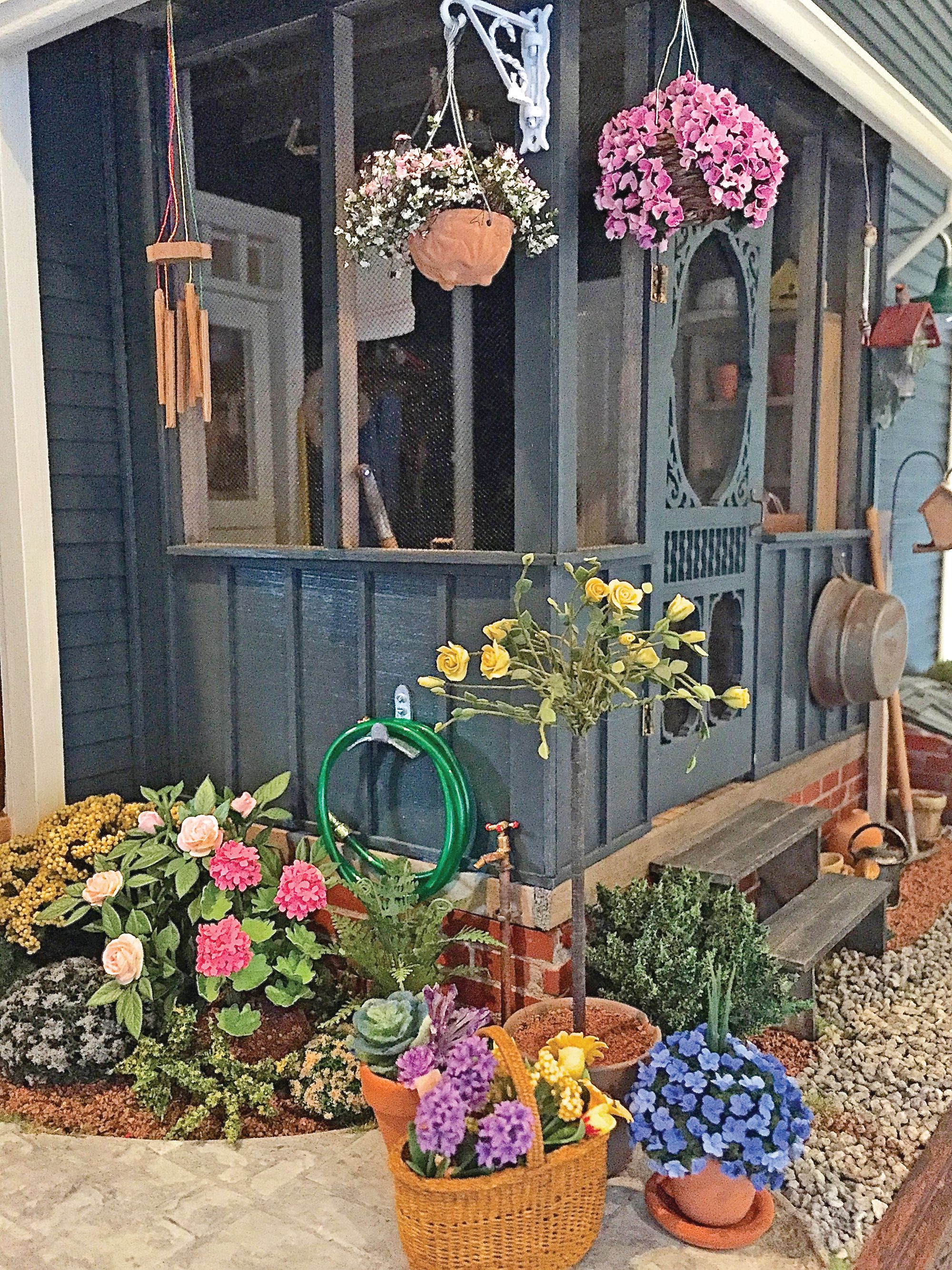 I went to the miniature shows in Chicago and got some lovely flowers by Kraig Councell and added them to the back patio. I also got a wonderful dandelion by Pia Becker that has now sprouted up in the lawn. And I found a perfect fountain made by Christina O'Neill and attached it to a wall on the front porch. There's a lawn mower in the front yard by the water spigot for the man of the house to cut the grass.
Sometimes if you look closely, you can see a dragonfly on one of the flowers or even a snail crawling along in the vegetable garden.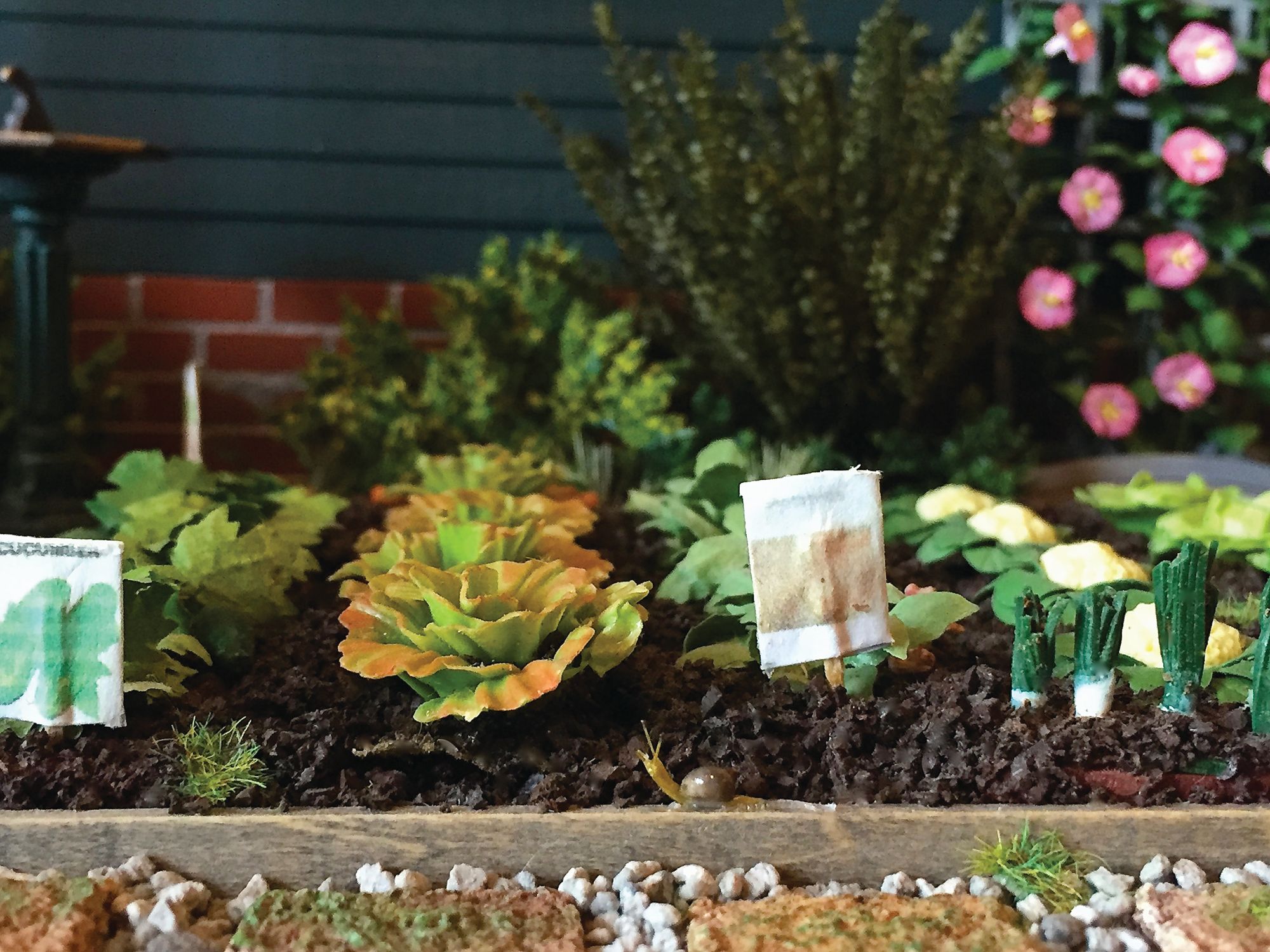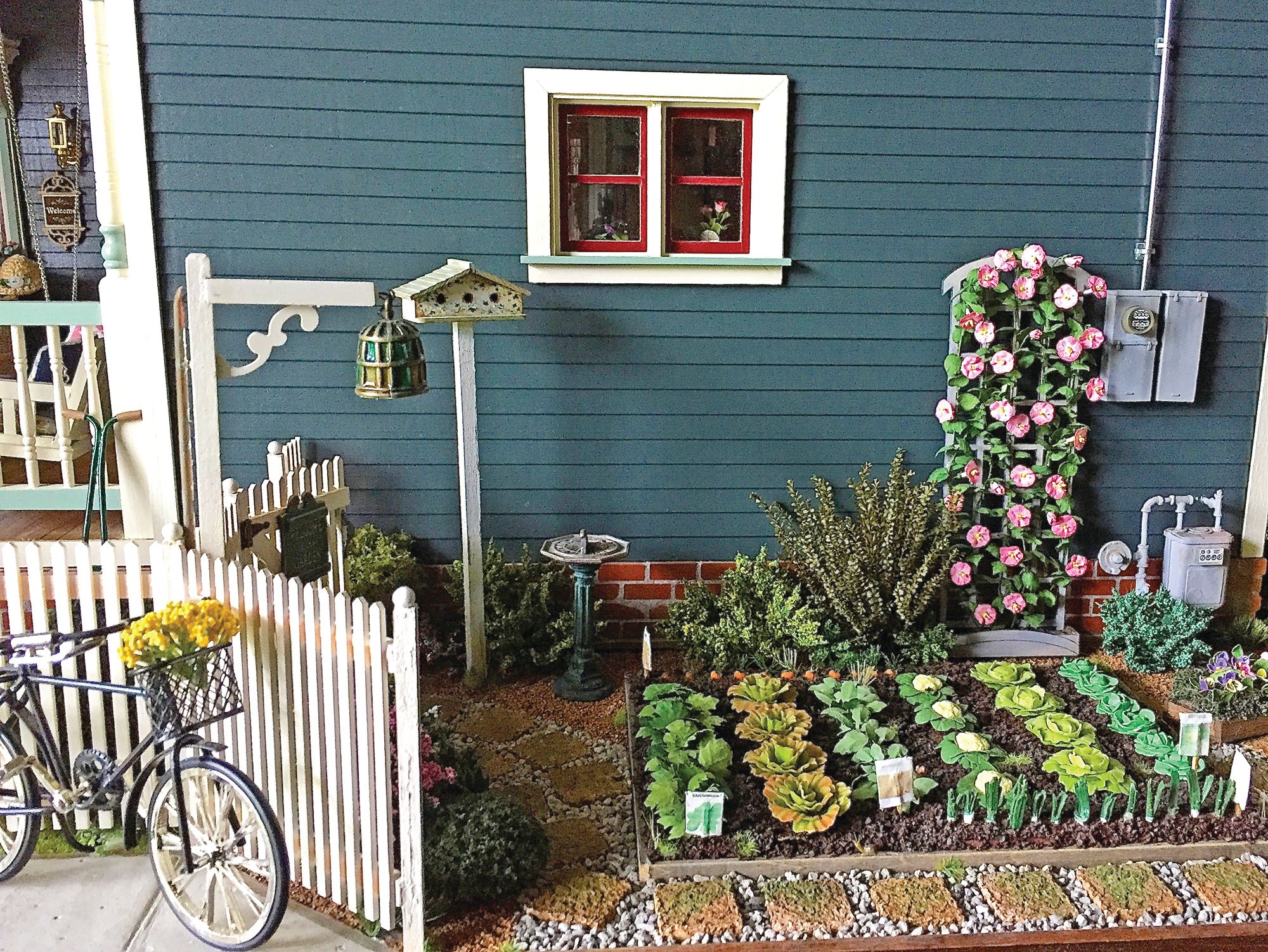 I just couldn't resist Beth Freeman-Kane's little dragonflies and snails at the miniature show! Amazingly enough, the wings of the dragonfly are made out of a bee's wings.
Sunglasses are often seen left on a table outside and someone has left their sandals on the front steps. I also have a frog and a snake for the vegetable garden. One of these days maybe I'll have to add cottontail rabbit.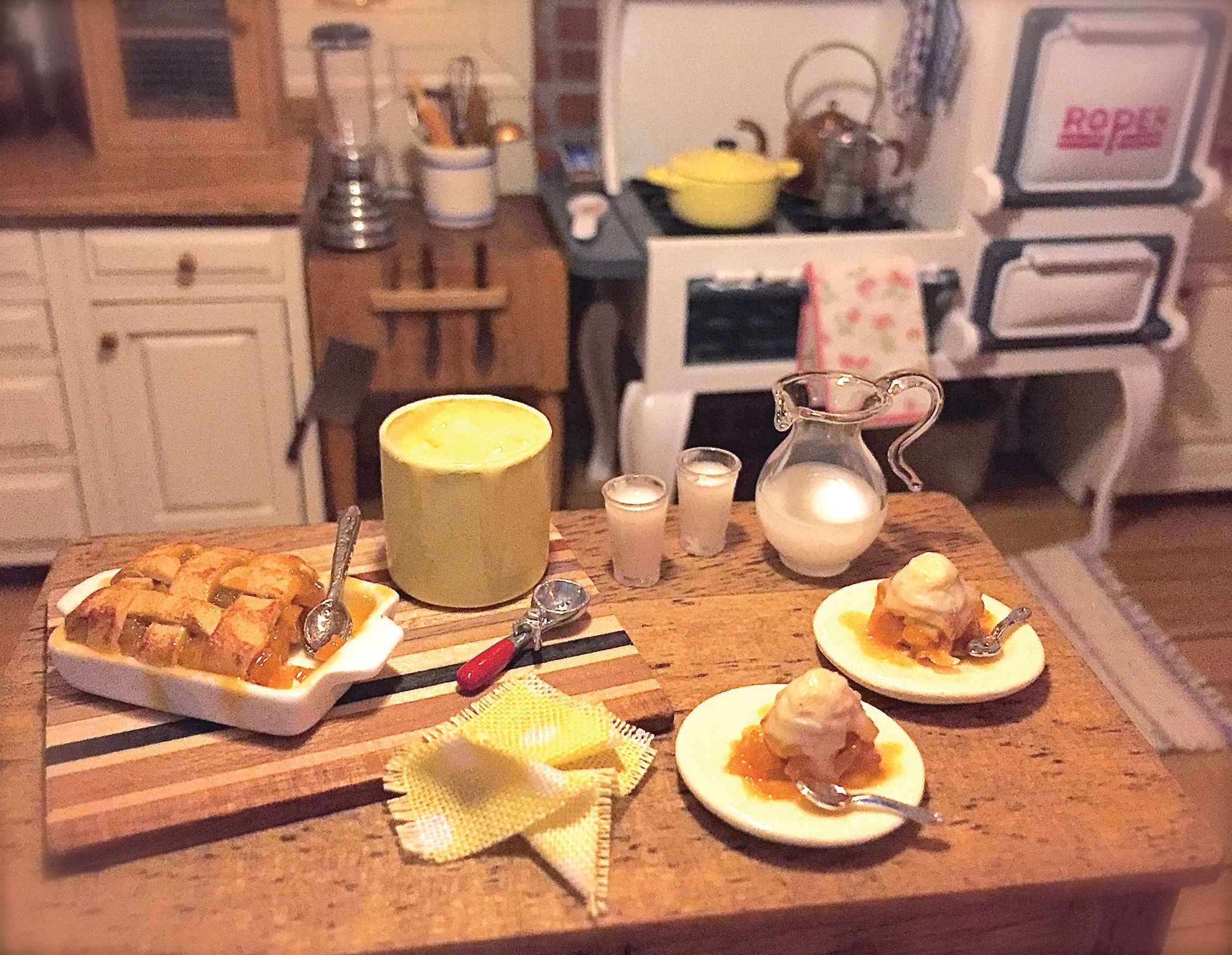 With summer, lots of fresh fruits are in season. In my doll's house kitchen, you might find peach pie being made or peach cobbler with vanilla ice cream being served. It's also a time for canning or making preserves. I've canned peaches in my doll's house kitchen and made one of my favourites, apricot jam. My husband, Tim O'Dell, even made me a jar lifter for those hot little jars!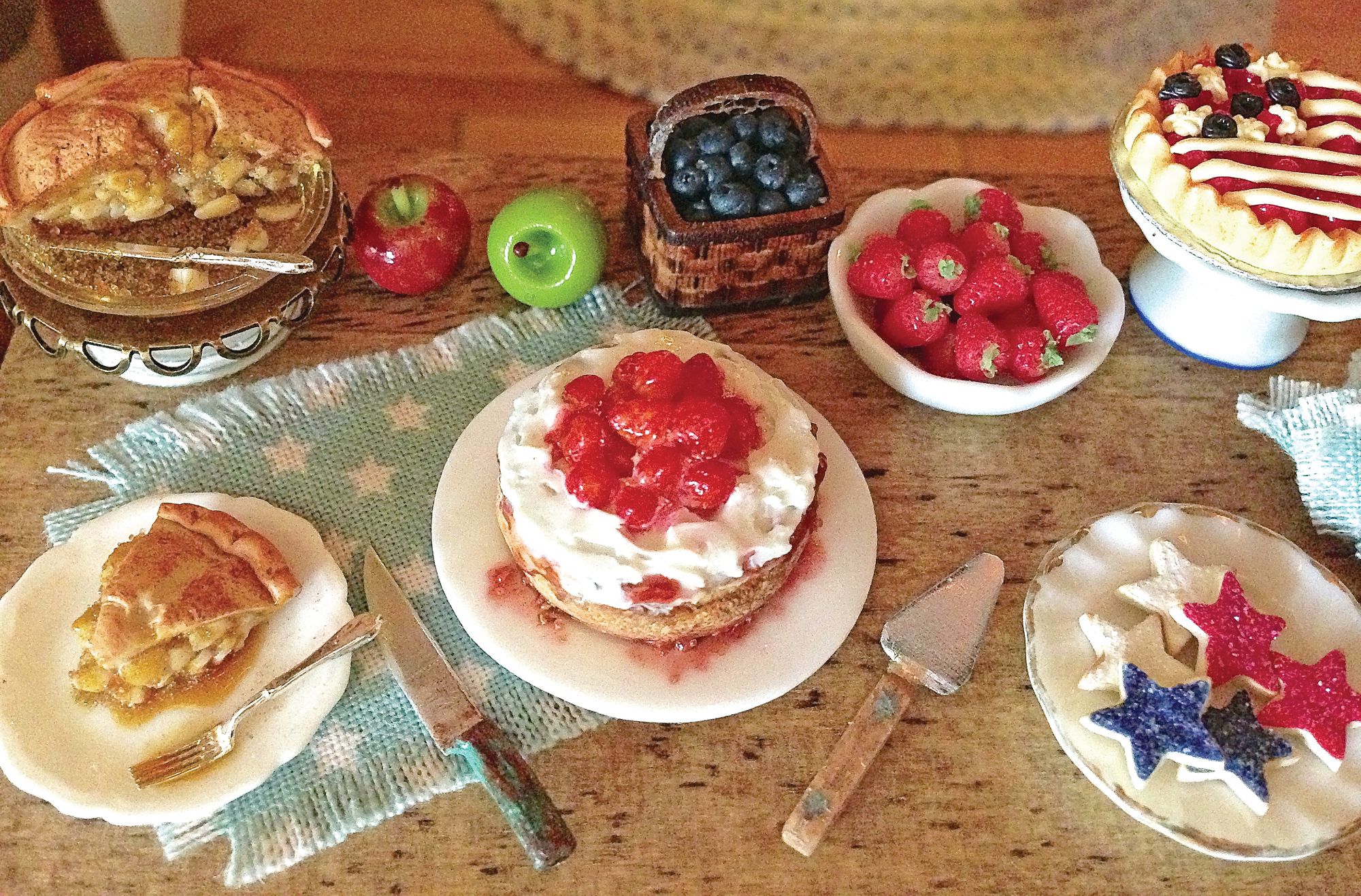 Another favourite dessert is strawberry shortcake, made in the kitchen and then served outside on the back patio. And of course, what's summer without ice cream? Would you like a bowl of ice cream, a cone or how about a banana split with all the trimmings? I have it all in my doll's house kitchen!
I even have the fixings for fresh squeezed lemonade, a must on a hot summer afternoon. One of my favourite miniature food artists, Cute in Miniature, on Etsy, has made some of the goodies, like ice cream cones and lemonade, that I display in my summer doll's house kitchen.
Summertime is such a fun time and presents so many opportunities for various exciting scenes. I look forward to sprucing up the yard in the summer months and watching it come to life.
Thank you for joining me.