by Kelly Murdie

The Fourth of July is a National holiday in the United States, which is also known as Independence Day. It is the anniversary of the adoption of the Declaration of Independence from Great Britain by the Continental Congress in 1776.
Patriotic displays and family events are organised and celebrated throughout the United States. Festivities consist of fireworks, parades, carnivals, fairs, picnics, concerts, baseball games, family get-togethers, and barbecues.
The types of food usually served at Fourth of July celebrations include barbecued ribs, hamburgers, hotdogs, kebab skewers, pulled pork sandwiches, pasta salads, garden salads, corn-on-the-cob and desserts decorated with red, white and blue.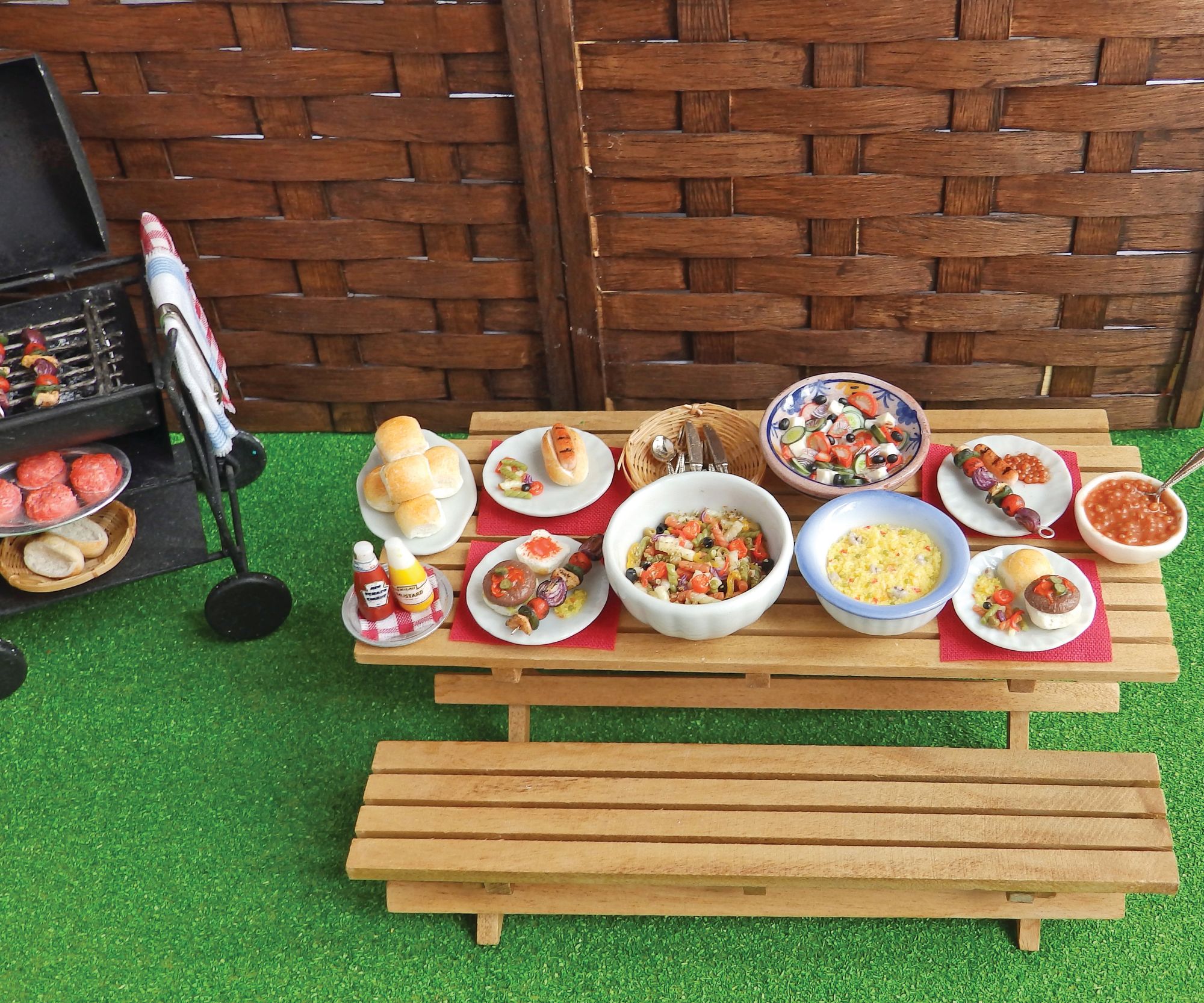 I made this barbecue food arrangement in spring 2015. I was commissioned to do a food project for a magazine, chose to make some chicken kebab skewers, and the barbecue scene kind of evolved around that. In the UK, barbecues are very popular in the summer months. We do not always have the warmest of summers so we definitely make the most of them when the sun does choose to make an appearance! They are a fun social occasion which brings together family, friends, and neighbours.
My scene began with an oil drum-style barbecue which I bought through eBay. I made some lumps of charcoal from polymer clay and dusted them with white chalk to give the look of smouldering charcoal embers.
I then painted the barbecue grill with a Liquid Fimo and brown pastel solution to give it that "cooked on" look. I added a few of the chicken kebab skewers to the grill and on the shelves of the barbecue, a plate of raw hamburgers, some cooked burgers, cooked sausages and a basket of hotdog rolls. There are a couple of folded tea towels and metal tongs hanging from the side of the barbecue ready for the chef to serve the food to their hungry guests!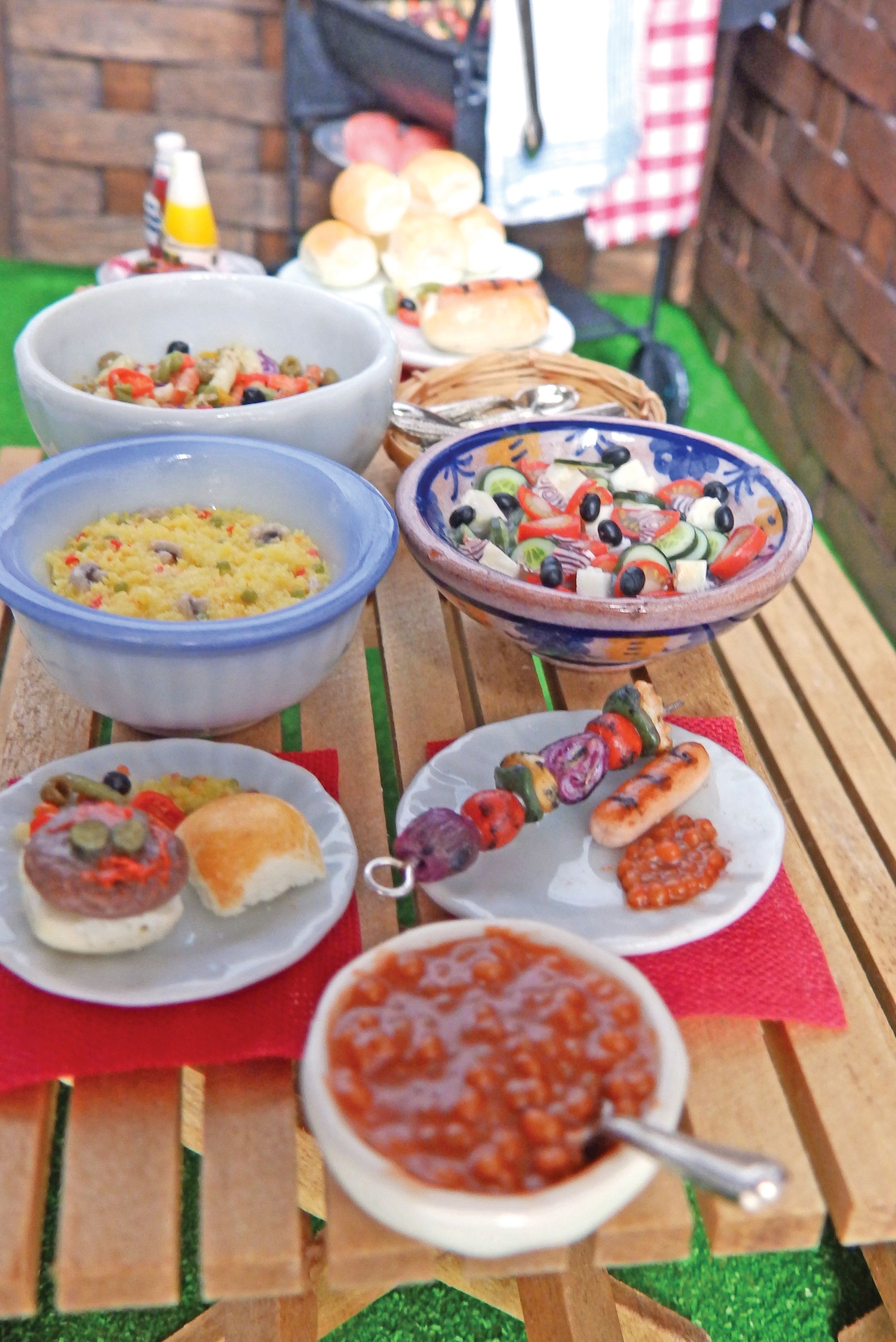 On the picnic table I made a large bowl of Greek salad with my own cucumber and tomato canes, onion, black olives, and feta cheese. There is another large bowl filled with tricolour fusilli pasta salad, sun-blushed tomatoes, black olives, red onion, yellow peppers, and mixed herbs.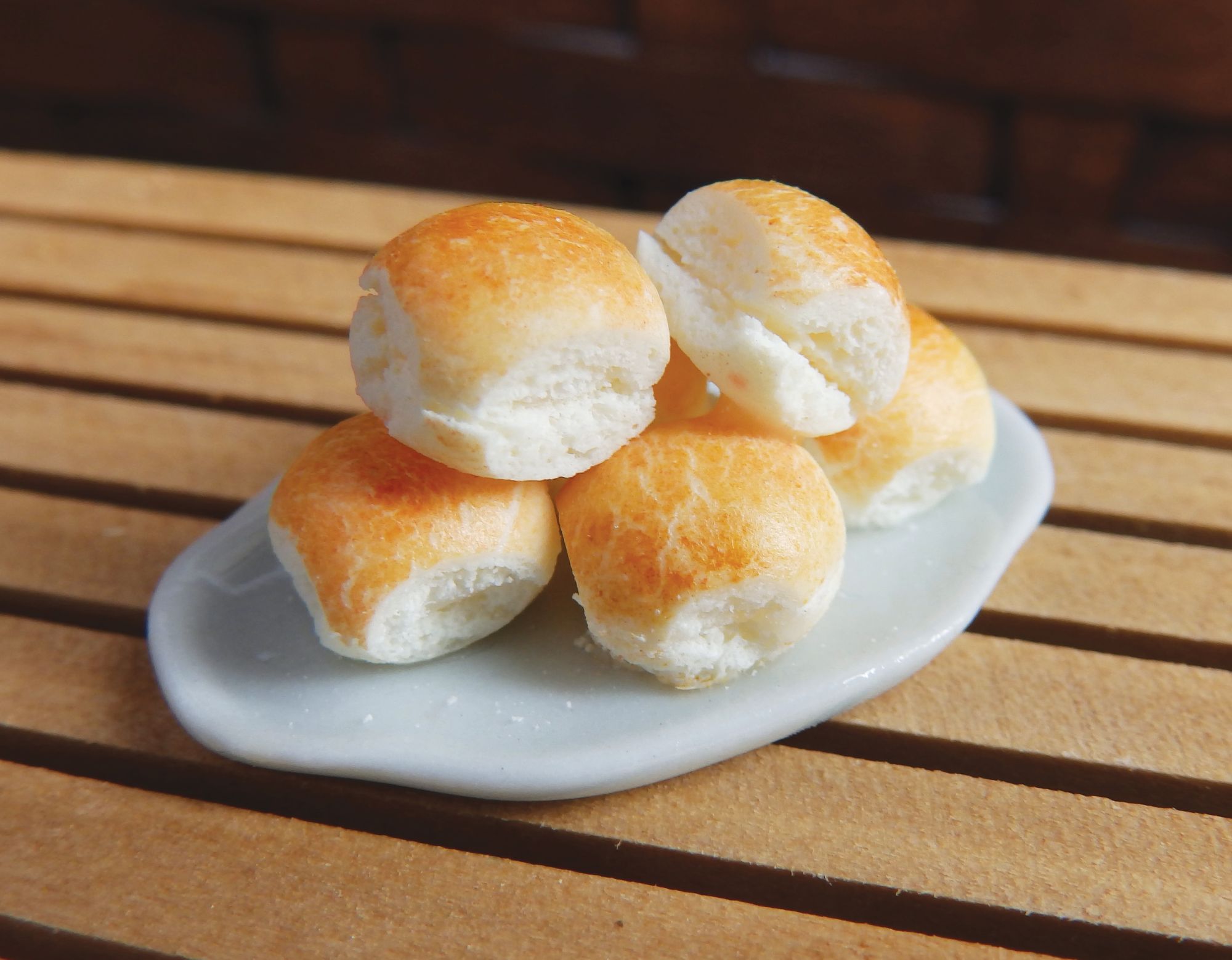 I made a bowl of mixed vegetable rice, which contains cooked mushroom and green and red peppers. There is a plate of pre-sliced white rolls ready and waiting for a freshly cooked hamburger, a hearty bowl of barbecue flavoured beans and last but not least, something no barbecue would be complete without: tomato ketchup and mustard!
I set out four place settings at the table with little bits of all the different food types on each plate. I wanted to give my scene a really informal and relaxed feel, one you would expect to find at a garden barbecue: a place where you can share good food and good times with family and friends, and a knife and fork are optional!