By Pam North
Gina Zetts admits she is very new to making traditional miniatures. Aside from a children's doll's house that she made for her niece in 2015, her Alta California Print Shop is her first true doll's house miniature. The two-story structure, with its weathered exterior and worn interior furnishings, perfectly recreates the character of a historic print shop.
Gina always has been interested in miniatures, beginning back when her father made her a dollhouse in her childhood. She spent many happy hours making furniture and accessories for it out of scrap wood, fabric, and clay.
"As an adult, I was purchasing a lot of architectural miniature pieces to use as moulds for my cast glass work," she remarked. "After a few boxes worth of objects built up in my studio, I decided to use them for the doll's house for my young niece for Christmas. After that, I was hooked.
I love the tangibility of miniatures, that you can hold them in your hands and feel an intimate connection with them. There is a wonder to objects that are very small; they have an otherworldly quality and preciousness that is so immediate and visceral."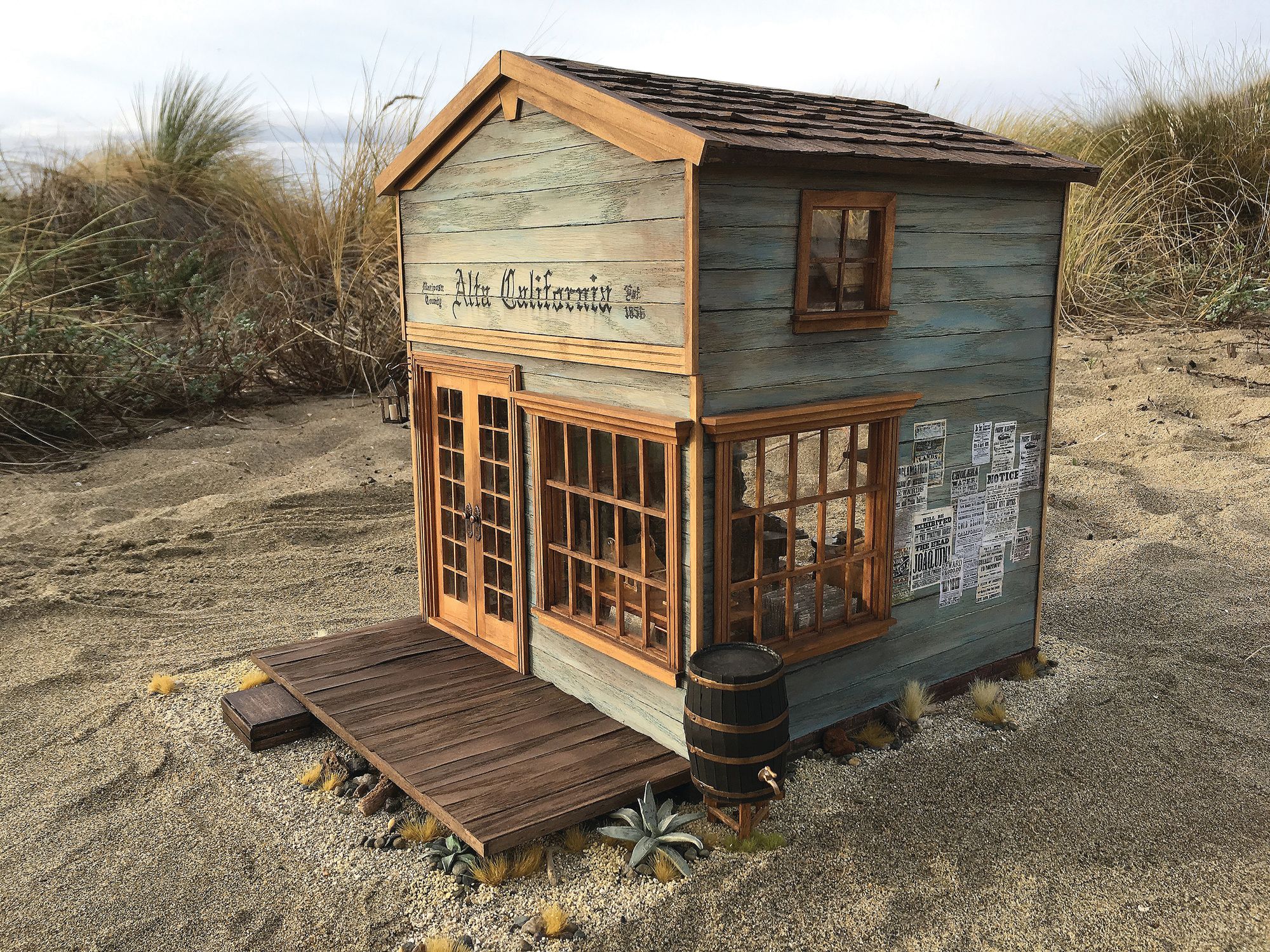 She cites her Dremel tool and her X-Acto knife as her most valuable tools, and patience as something she sometimes lacks in working with miniatures. "I tend to work very fast in almost every aspect of my life, and miniatures take patience to get right."
Zetts' artistic background proved to be an asset to her in the creation of her project.  "I don't have any formal training in miniatures specifically, but I do have a Bachelor's Degree in Sculpture from Alfred University's New York State School of Ceramics, and a Master's Degree in Glass from the School for American Crafts at the Rochester Institute of Technology."
She is a formally trained glass artist, working primarily in cast glass. She uses twelfth and 1/24th scale architectural miniatures to create moulds for her glass work. "In my off-time, I work in many glass studios around the Bay Area, including a small studio which I share with a friend. I have a wonderfully creative space in which I make my own art, facilitate projects for clients, and teach private lessons."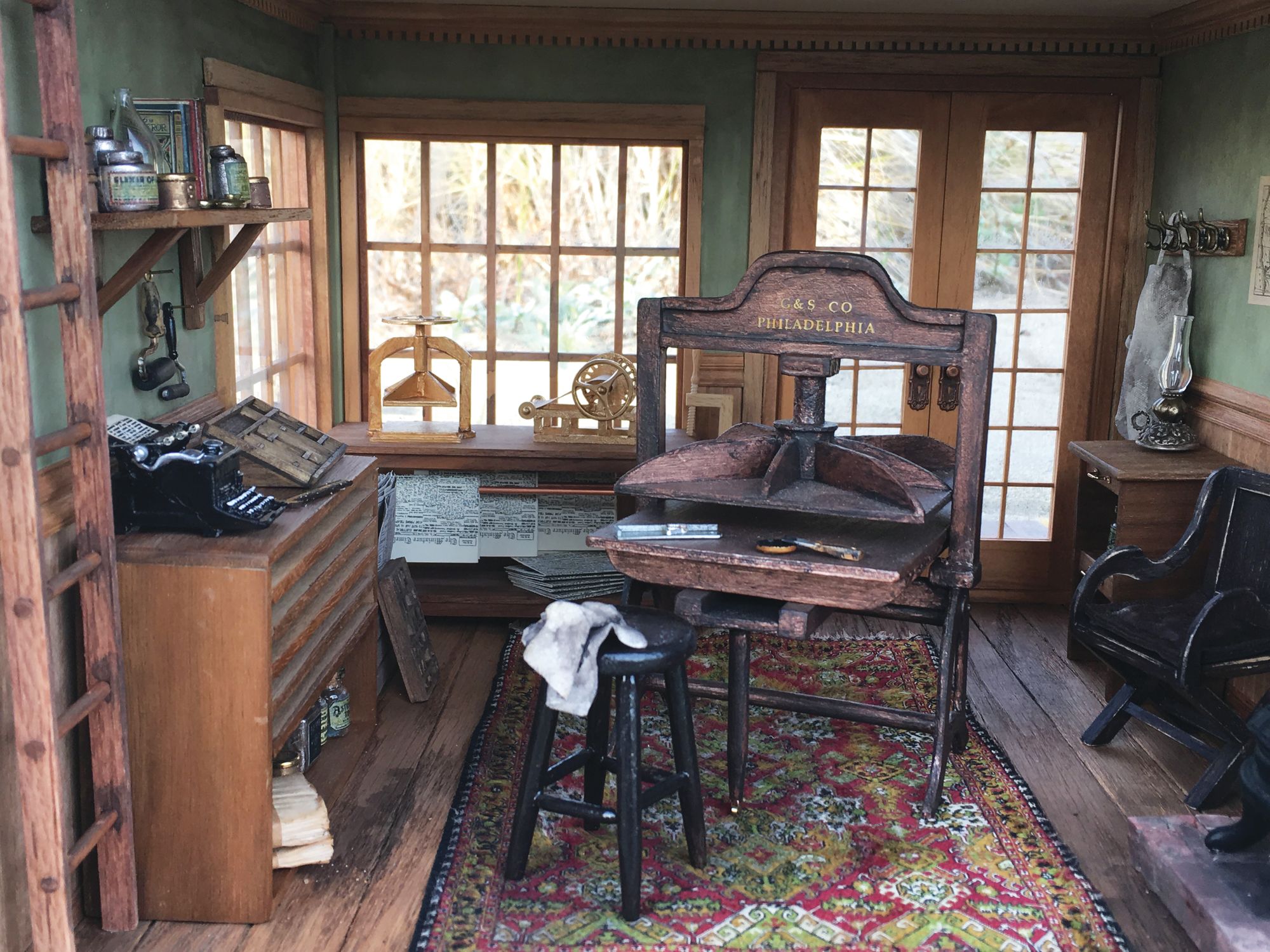 The miniature project evolved from her day job.
"I work at the Oakland Museum of California; it's a multi-disciplinary museum which focuses on California. Its collections comprise more than 1.9 million objects, including seminal art works, historical artefacts, and natural specimens. Its programs explore and reveal the factors that shape California character and identity, its extraordinary natural landscapes, successive waves of migration, its unique culture of creativity and innovation.
"In this spirit, surrounded by early California history and art, I began researching newspapers and print shops during the gold rush era. This piece is not a literal interpretation of a singular print shop, but an amalgam of many print shops from this era.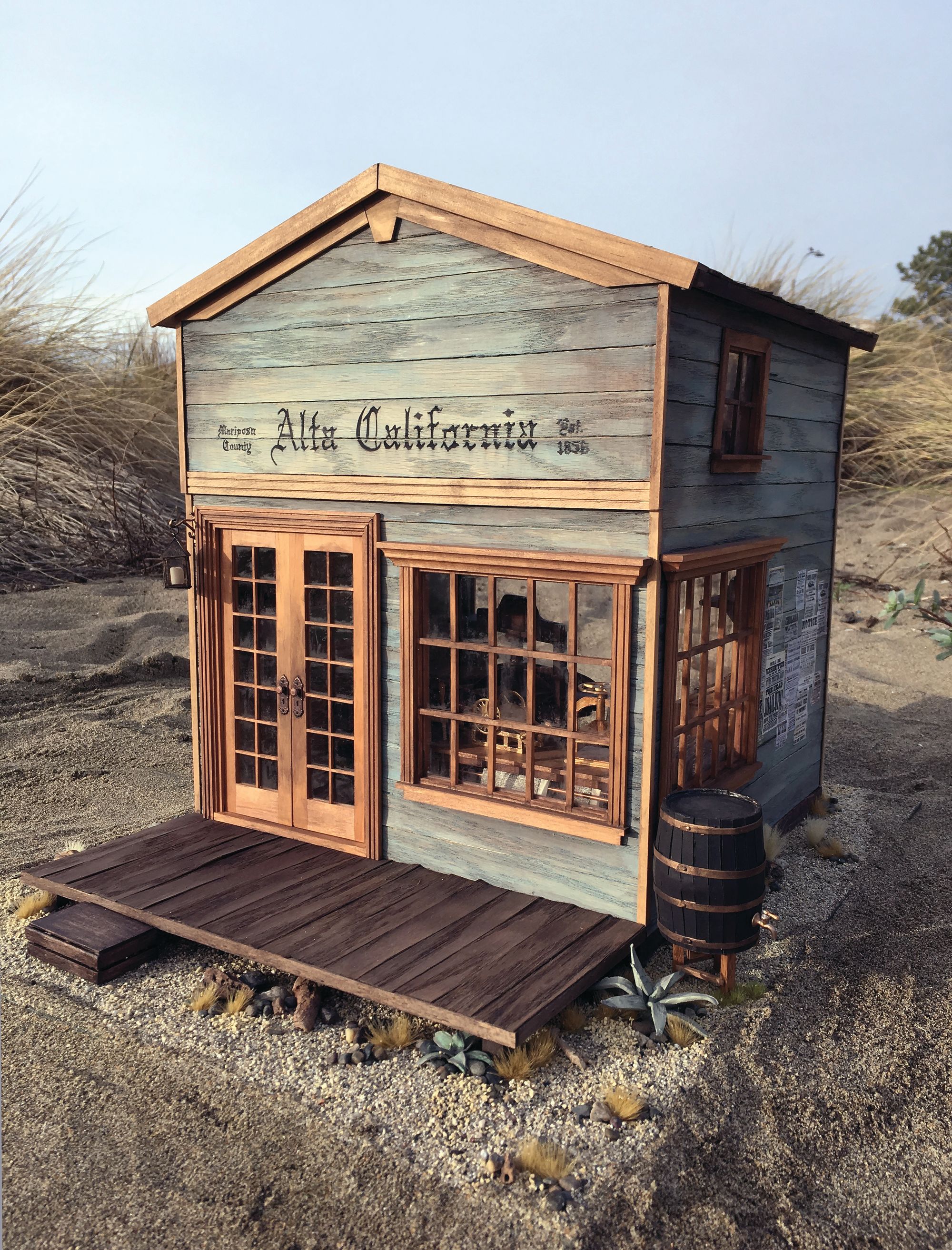 "The name is homage to a very common newspaper name of the time; in fact there were newspapers all over California, and even Nevada, that claimed the name Alta California. The most famous of these, in San Francisco, even boasted Mark Twain as a foreign correspondent on its writing staff.
"The printing press is based on an early 19th century press that was brought by wagon train to the west coast before the completion of the transcontinental railroad. Many of the images and printed newspapers (including the insulation on the roof) are digital copies of original newspapers, railroad advertisements, and maps from the time period. The wanted posters, and advertisement and propaganda posters on the outside of the building, are all original replicas from the era. I particularly love the one advertising the touring 'Head of Joaquin Murrieta', who was a famous California outlaw and legend of the west."
Gina's print shop was made using a Backyard Bungalow kit and was inspired by a photograph from the museum's 19th century daguerreotype collection.
"I made the glass elements in the print shop by hand. My goal was to spend as little money as possible, and make as many objects as possible from scratch."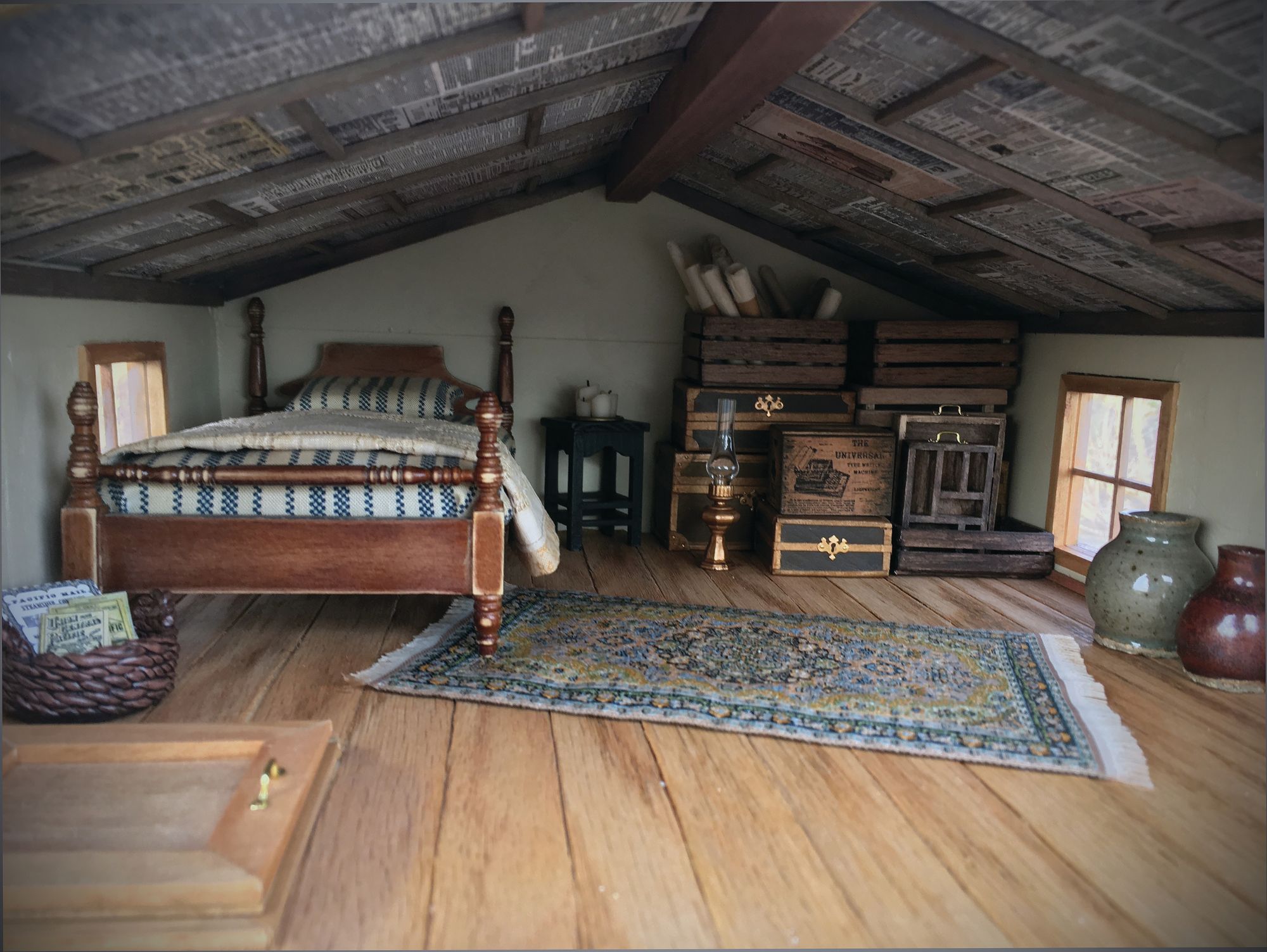 Materials used included wood, clay, hand-blown glass, ceramic, paper, natural materials, and paint, and she used a lot of wood glue.
"Trying to keep everything within the theme and general time period was difficult. I had to research each element. I ended up making many items because I couldn't find commercially produced objects."
Other artists whose work is included in the piece were the typewriter, purchased from Wright Guide Miniatures, and the small ceramic bottles made by a college friend. The piece turned out much as she had envisioned it. "It ended up looking very similar to my original planned design. There were a few aesthetic changes here or there, but no major revisions. I really loved making the attic ceiling. It was the most fun to create."
In addition to the inspiration she finds at the museum where she works, she also said she draws from her "vibrant urban surroundings."
She successfully combines her work and interests. "As an artist, there is little separation between my home life and my artistic pursuits. I consider myself very lucky in that my husband is also an artist, so he understands and supports my need to be constantly making."
Zetts shared her thoughts on the future of miniatures, saying, "As a professional artist who dabbles in the miniature world, I am so excited by both its traditional fine craftsmen practicing age-old traditions, and by the younger generation who are bringing highly conceptual ideas to their miniature work."