By Sadie Brown
A highly skilled and inventive artist who studied 3D cinema and animation, and with a background in motion graphic design within the film and television industry, there is no doubt where Raphael Truffi Bortholuzzi's love of history, antiques and old cars originated.
Inherited from his father, an automobile restorer of many years, the pair share an avid passion for collecting and restoring classic cars which is also reflected in Raphael's other great love – recreating that history in small scale. "My father is a great enthusiast and knowledgeable about these models in general," Raphael explains. "He's been passing important information down to me through the years. He's my quality control for authenticity!"
These have included two beautiful rustic houses in 1/24th and twelfth scale, featured in the music video 'Cruel' by Brazilian singer, Nina Fernandes, alongside designing and creating intricate miniatures seen in the trailer and on the cover art for the double EP 'Elevators: Act I & II' by US rap star, Bishop Nehru.
Much in demand, and with an already full diary, it was towards the end of last year when Raphael found himself unable to resist the lure of what was to become one of his most thrilling commissions to date when he was asked to recreate a classic 1946 Ford Coupé in stunning 1/24th scale detail for a new client.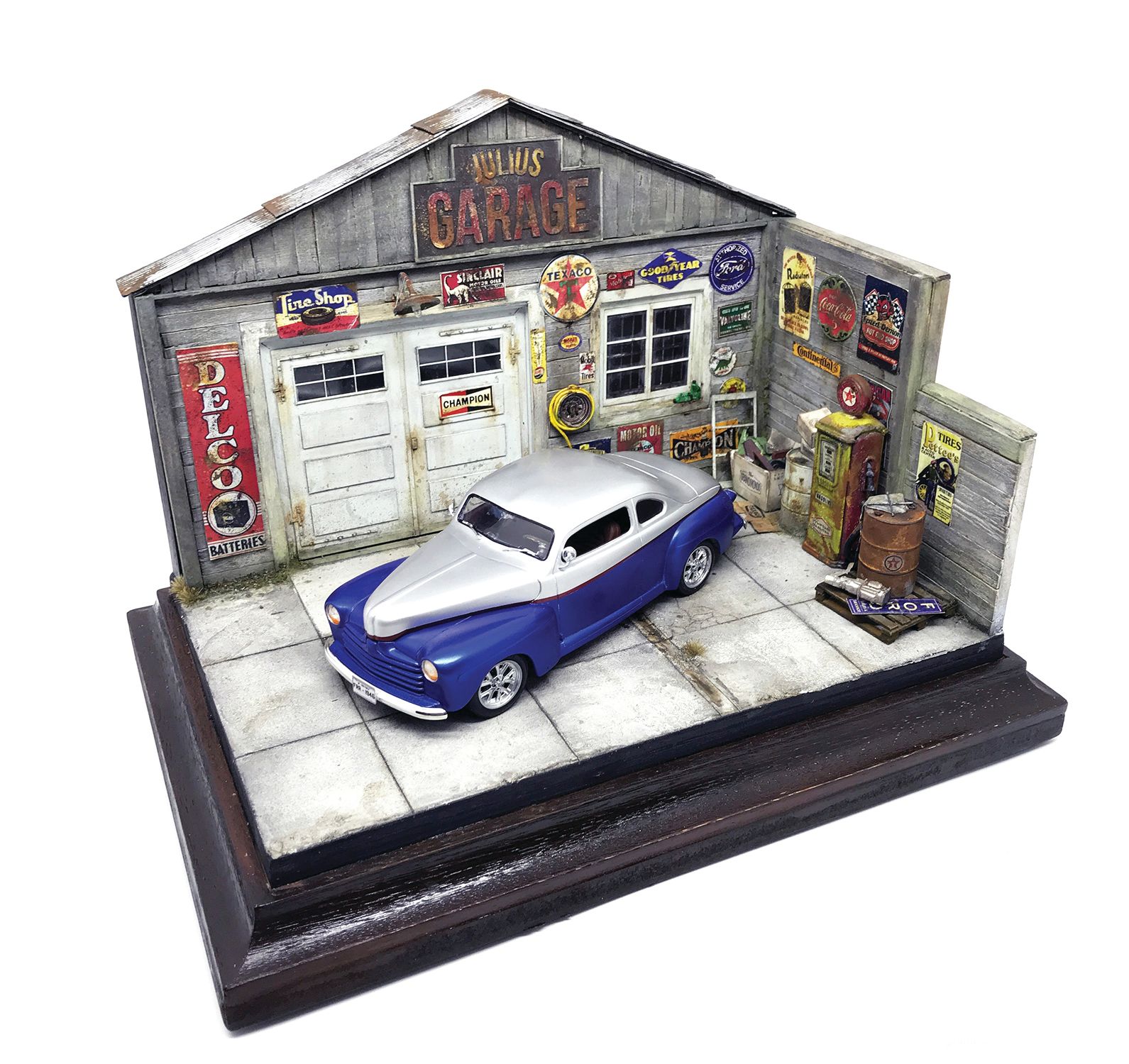 "When Julius approached me about the project he wanted a replica of his real car. It was a project which would immortalise his favourite machine, but the car alone wasn't enough to create a miniature environment," explains Raphael, discussing the design process behind the garage, a setting which is as equally intriguing as the car itself. "It was then that he suggested an American-style setting where the car could be parked. The creation process was very solid and straightforward, with an L-shaped garage slice.
"I used various types of natural materials such as wood, paper and concrete, and synthetic materials like plastic and resin." Those natural materials also include simple household items from the kitchen cupboards such as dried tea leaves and oregano, which Raphael uses to expertly recreate the effect of vegetation.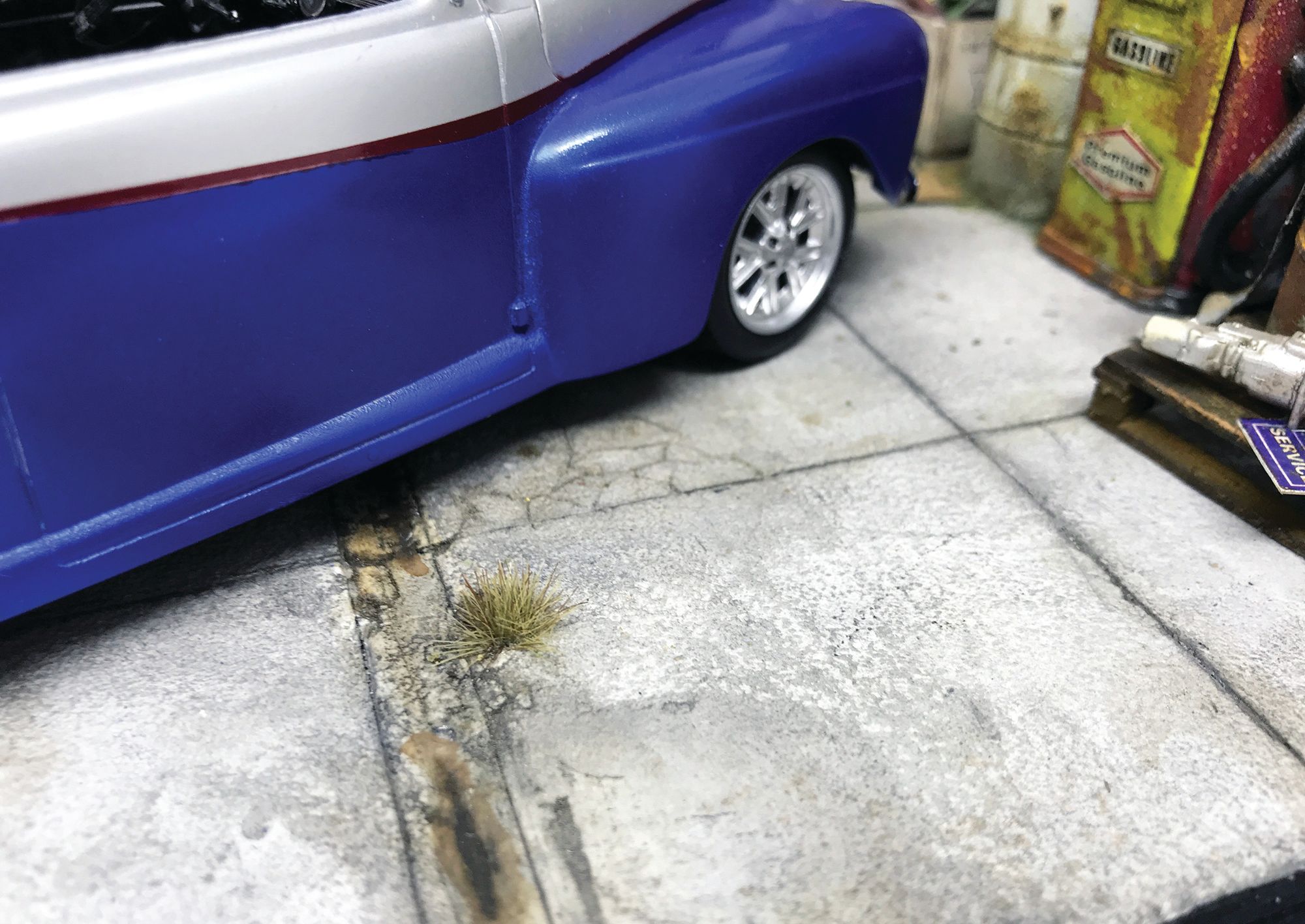 From the grass found growing haphazardly between cracks in the paving stones, to almost imperceptible cobwebs clinging to the outside light fitting, and what remains of a broken window leaning against the wall, there is so much to see within the scene. It almost feels as if you could come back time and time again, always spotting something completely new, but one of the most exciting and intricate aspects within the entire scene, and one which really sets it apart, is the highly-detailed car engine, a 351 Cleveland.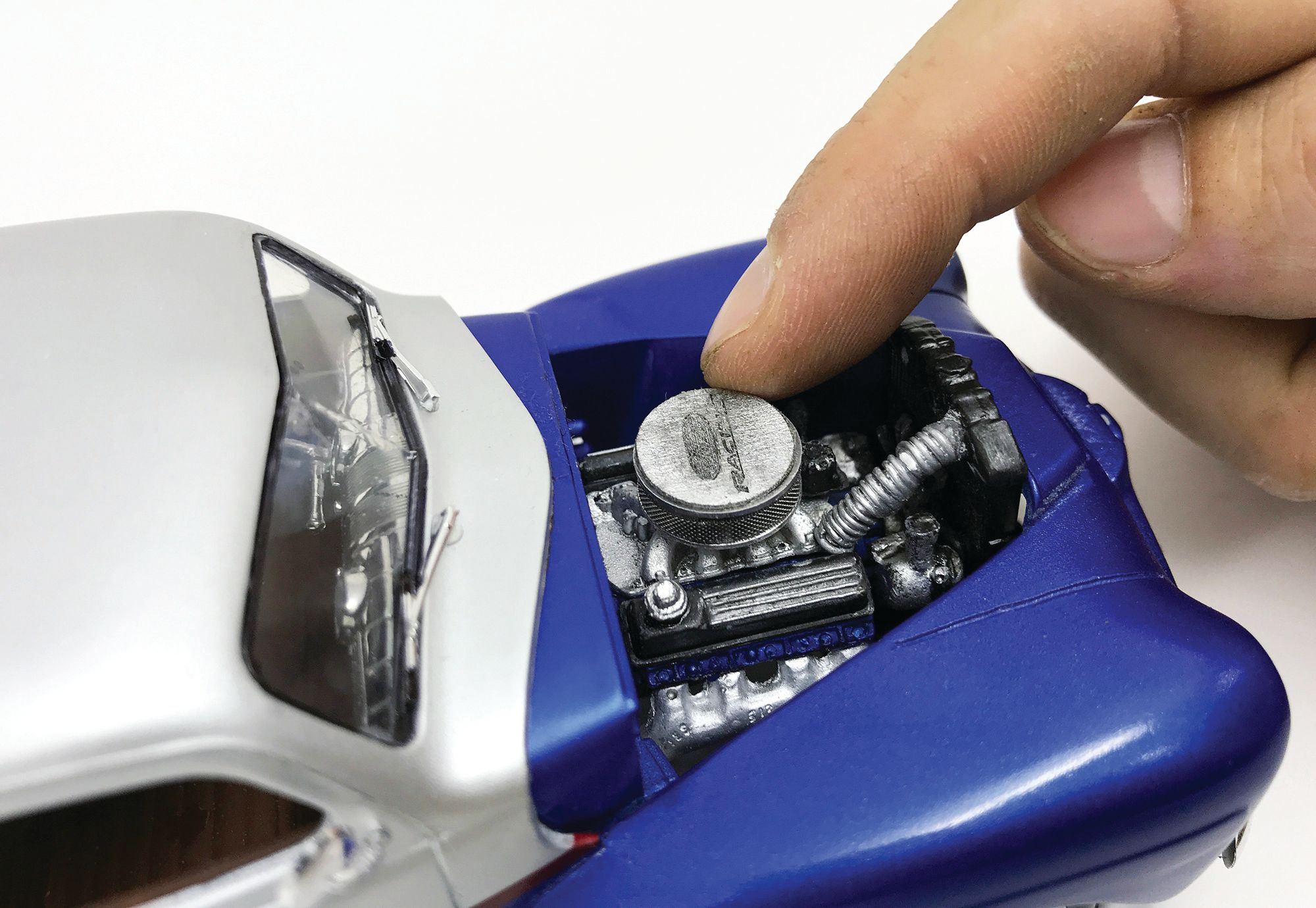 Raphael loves ensuring that his dioramas always incorporate hidden details, and below the hood, the engine fits the bill perfectly.
The tiny engine is even more amazing when you consider it is 1/24th scale and means it's a piece which will fascinate even those miniaturists who have never looked beneath the hood before! "The engine was developed in resin, mimicking the car's real engine. Some parts of the engine were meticulously tailor-made and laser cut, like filter cover and logos from Ford." recalls Raphael, who also used a 3D printer to create the custom-made wheels.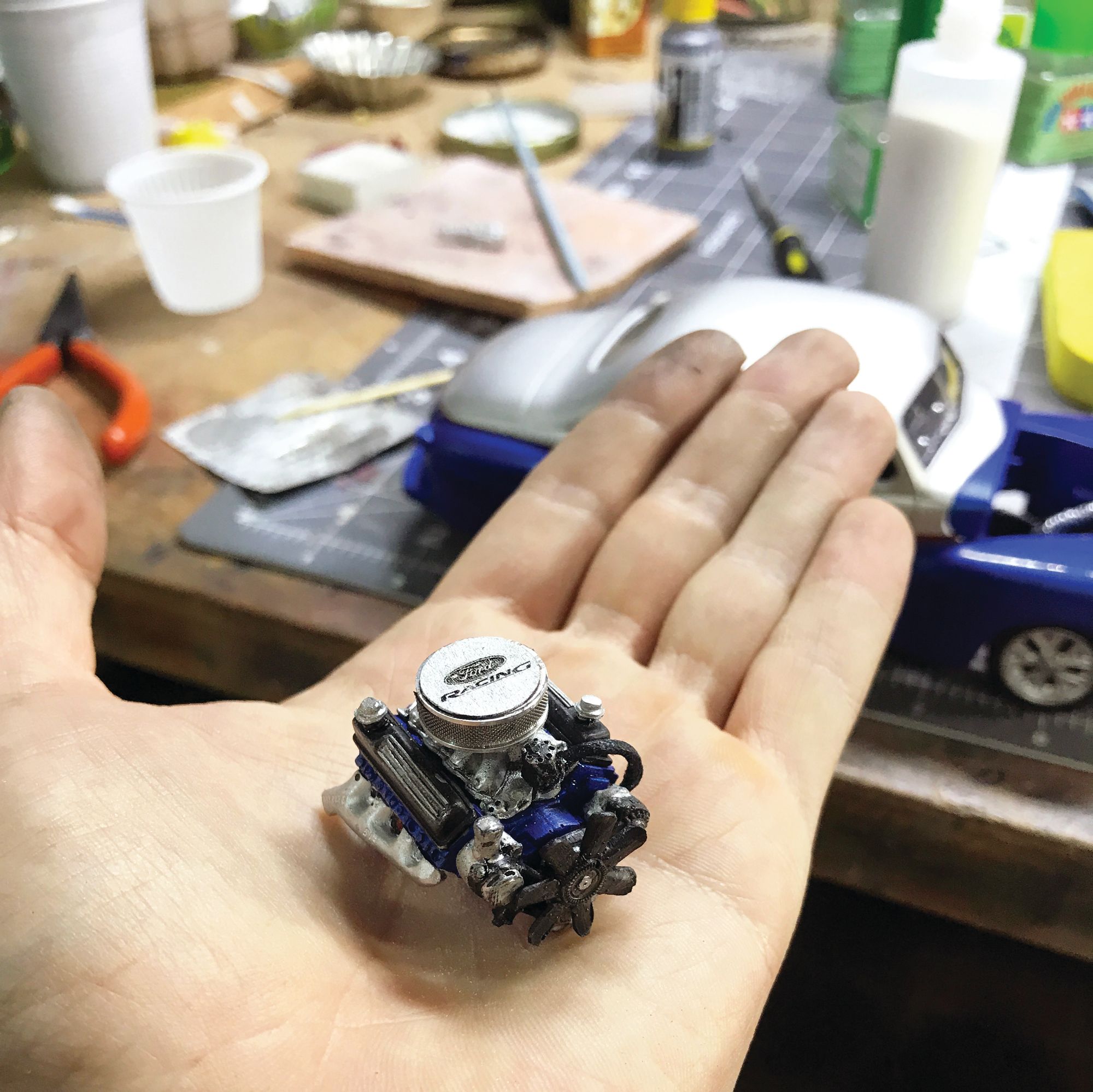 The main body of the car itself was constructed using two plastic models for 1948 cars, which Raphael has cleverly adapted and altered to build a replica of his client's vehicle, which was inspired by a concept drawing from automobile designer, Chip Foose. These changes included lowering the roof, removing the chrome trim and the front grille.
The level of effort Raphael put into making this piece is self-evident in several Facebook videos, originally broadcast live over three nights, and which offer viewers an insight into his creative process as he is seen adding the finishing touches to the scene. This included showing the audience how to distress a cardboard box and give the oil drums their distinctive and rusty aged look.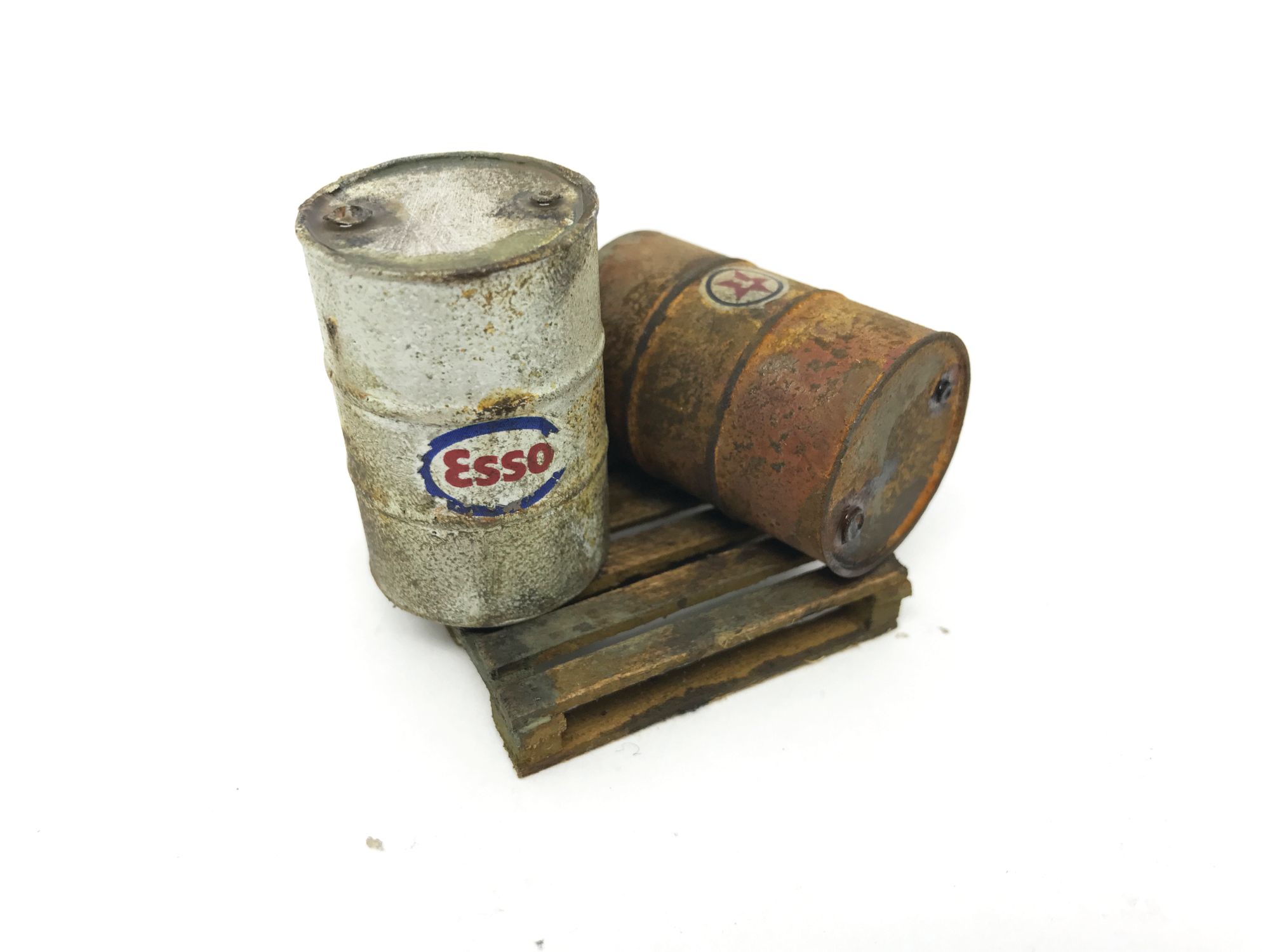 While the garage facade bears a distinctly rustic appearance, with old doors, a corrugated iron roof, weathered wood, those rusty oil drums and old signage, the car itself is as polished as if it were still 1946 and it had just been driven straight from the showroom.
However, much of Raphael's other work depicts cars which appear to have been abandoned to the ravages of time, furthering his love of working with texture.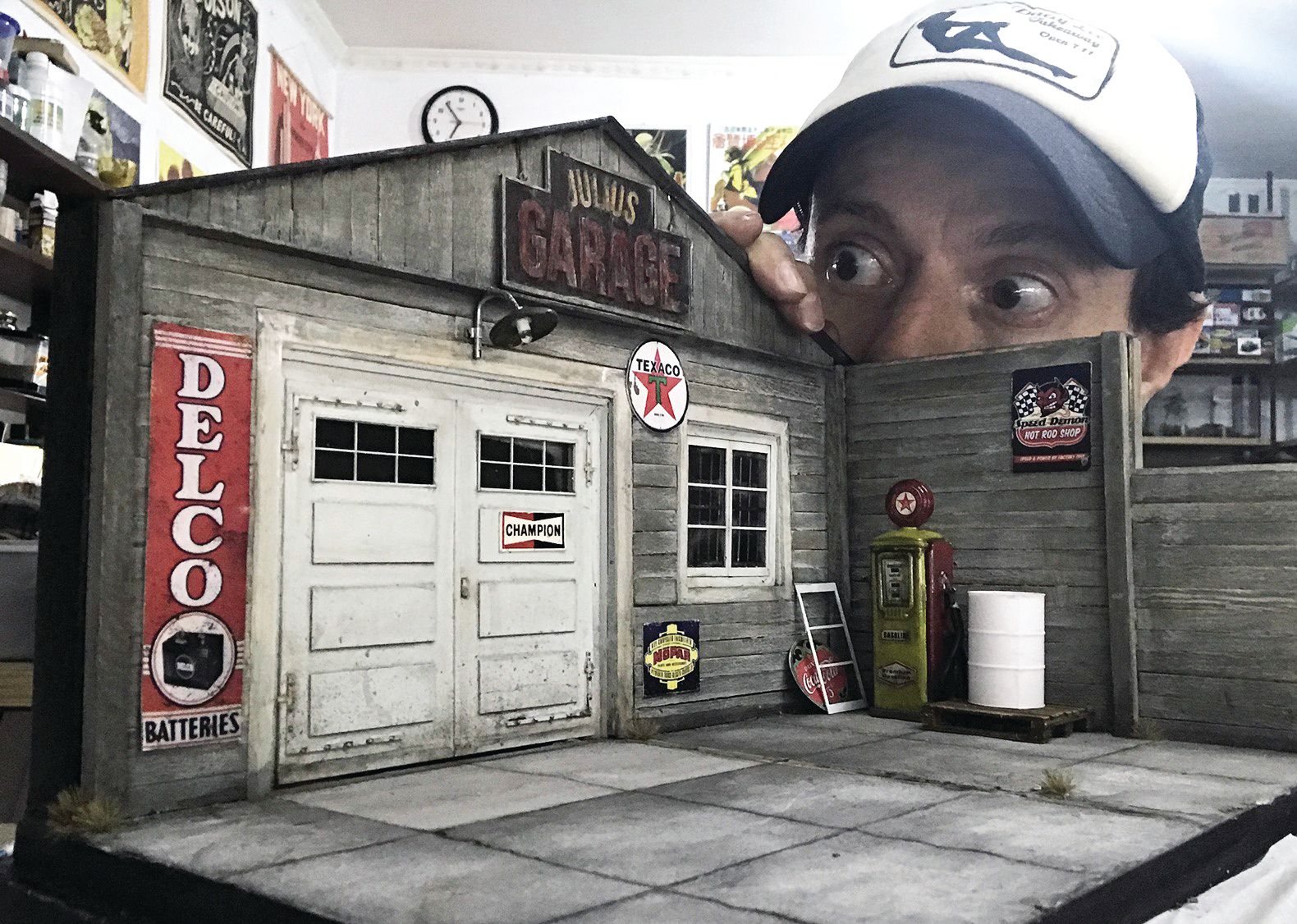 This meant being given the opportunity to create a car with such a shiny finish and a rich colour is one which Raphael, who claims he isn't an expert on perfectly painted cars, relished. "My other car projects show my fascination for somehow abandoned and rusty cars. I particularly enjoy creating wear on plastic cars, simulating a texture that takes decades in just a few hours." he says, explaining just what it is that inspires him when perfecting that aged, well-worn look.
These other projects include a delightful 1/24th scale yellow Volkswagen Beetle, which was based on 'Bumblebee', the car from the 2018 Transformers movie of the same name, and an equally charming, rusty 1960s/70s Honda N360.
There's something utterly spellbinding about replicating a sense of history in miniature. Raphael, whose meticulous attention to detail and his belief in perfectly bringing to life the sense of atmosphere within his dioramas is one of our most exciting contemporary artisans. For Raphael, an abandoned scene is filled with much more than just disused and neglected items, but also inhabits the stories of those now long gone. A wonderful thought to inspire us all!