We all have projects that take longer than we ever thought possible, but  spare a thought for Jon Trenchard.
He started on his magnificent castle aged 12. He's now 42 and the epic build is still not complete.
Jon's a big National Trust fan and wanted to create his own miniature stately home. The project began when he and his father building a castle room and grew from there.
After thousands of hours and dedicated attention to detail it now boasts a wine cellar, Turkish bathroom, a chapel, a great hall, entrance hall, staircase, an attic room, and even an escape tunnel.
Hordle Castle was meant to be displayed at the recent Miniatura, but miniaturists missed out seeing it when the show was cancelled.
All the features and rooms in the stunning castle have been inspired by historic properties Jon has seen over the years. The professional actor often works on pieces for Hordle Castle backstage while he is touring the country's theatres.
Most of the castle has been handmade by Jon and he uses recycled materials like egg boxes and cereal packets wherever he can. His techniques have developed over time and he shares many of them with us below.
Jon said: "My dream is that I'll be able to leave the castle to the National Trust when I die. Hopefully it might even be complete."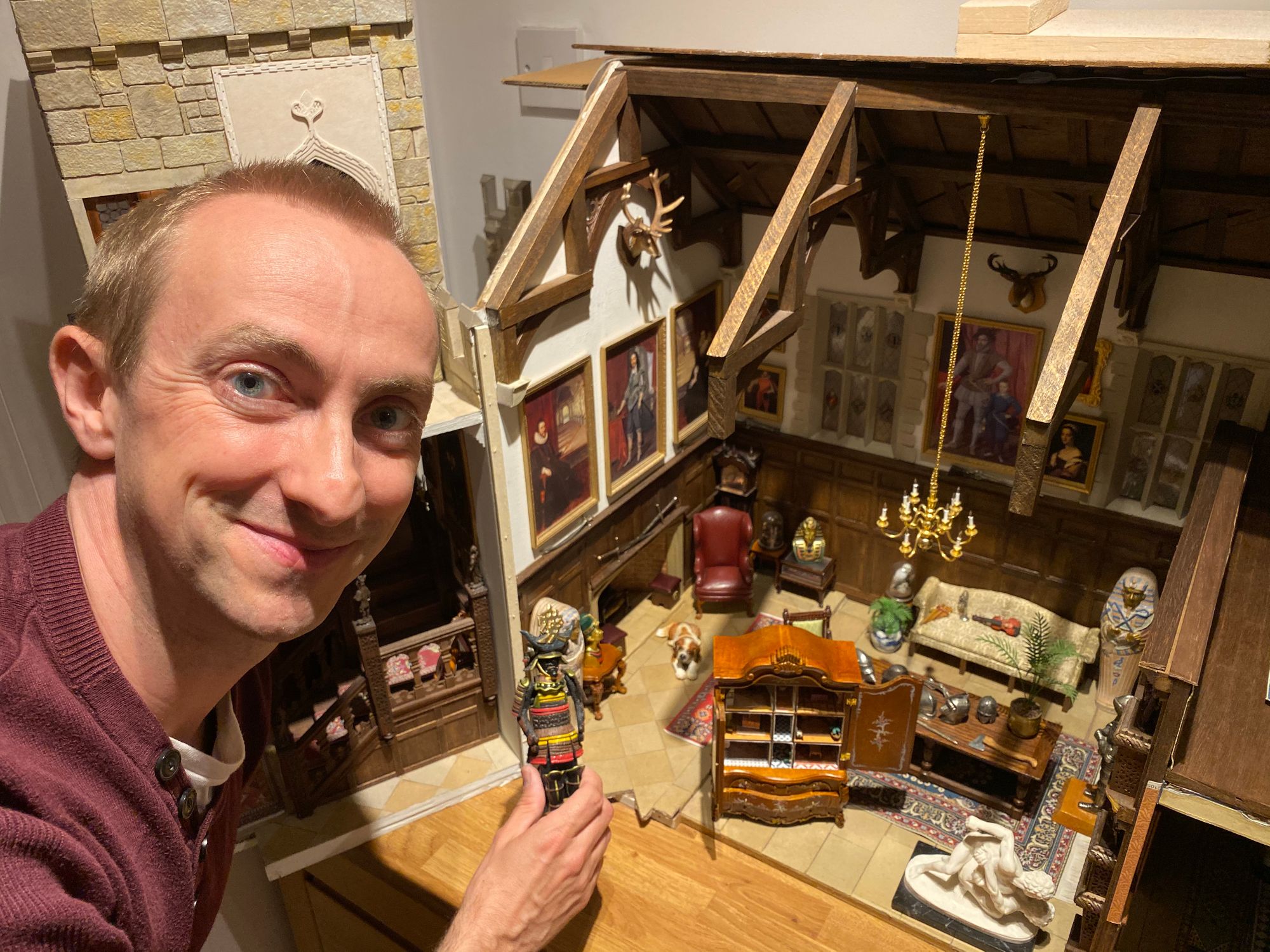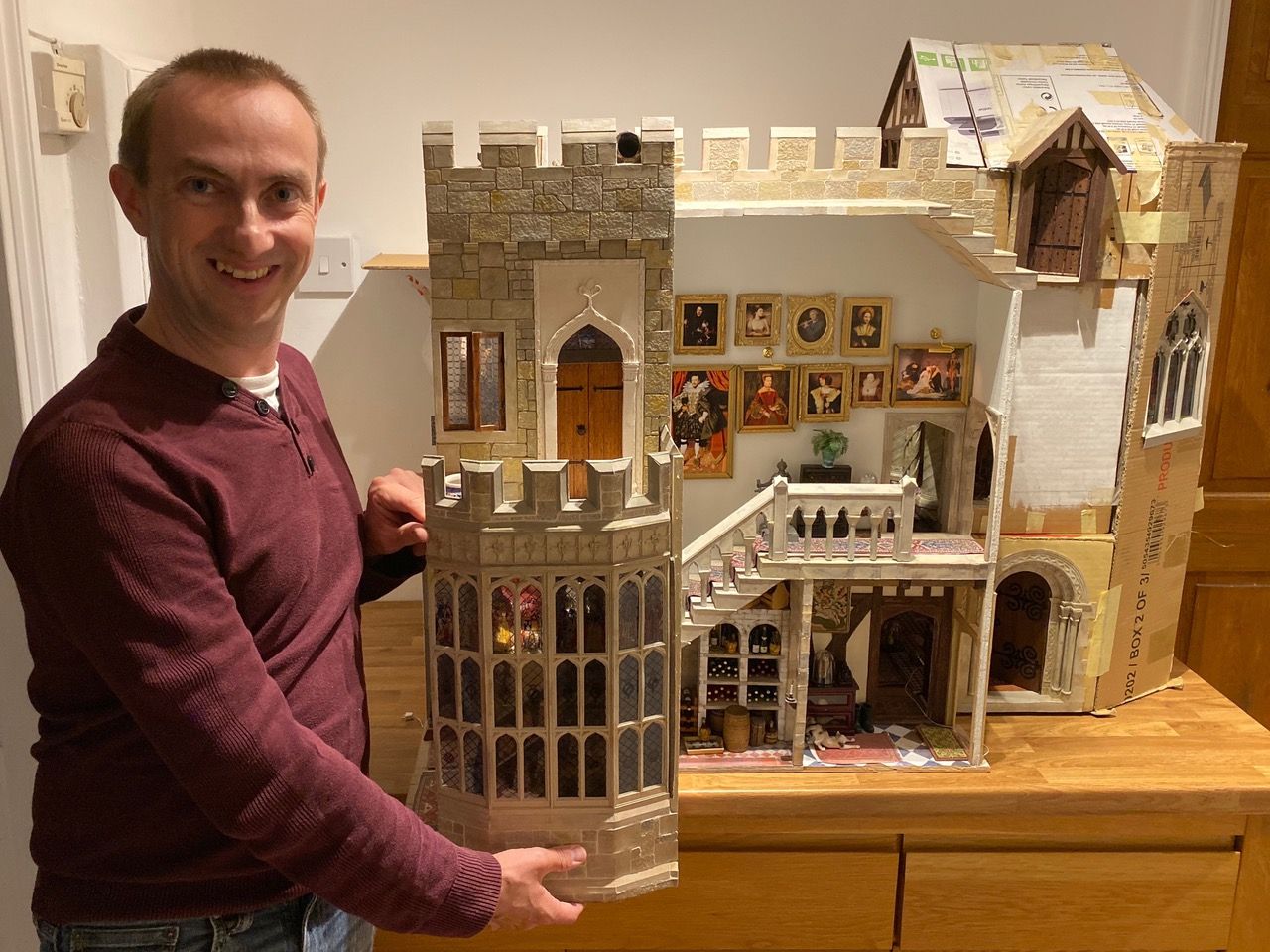 How the exterior went together
By Jon Trenchard
THE CHAPEL TOWER
At first I thought I would clad the exterior in grey cereal packet card, as that is what I used for stone in the interiors. But then I found out from another miniaturist's blog that painted egg boxes makes a rougher looking stone.
So that was my plan: each 'stone' is cut with scissors from egg boxes (collected by helpful friends), then glued on, painted, varnished, then grouted with a mix of Polyfilla and paint. Before it sets, you repeatedly smooth off the excess Polyfilla mix with a damp sponge or cloth. If you have time, also rough up the drying 'mortar' with an old brush to give it texture. I now intend to paint again with heavily watered down acrylics to get more layers of ageing and damp.
The tricky bit: Apart from the never-ending cutting up of egg boxes, the real challenge has been the series of two inch chambers I foolishly dreamed up within the thickness of the wall: a cave with skulls, a water grotto, a secret Egyptian chamber, a tomb with an adjacent lady chapel, and a belfry with working rope. All this meant that the interior had to be clad in egg box, card or shells/real pebbles too!
The hardest part though, was lining up the figure in the tomb perfectly with the walls so that he could pivot on a pencil, and flip up to reveal a string/skewer rope ladder leading to the secret passage beneath.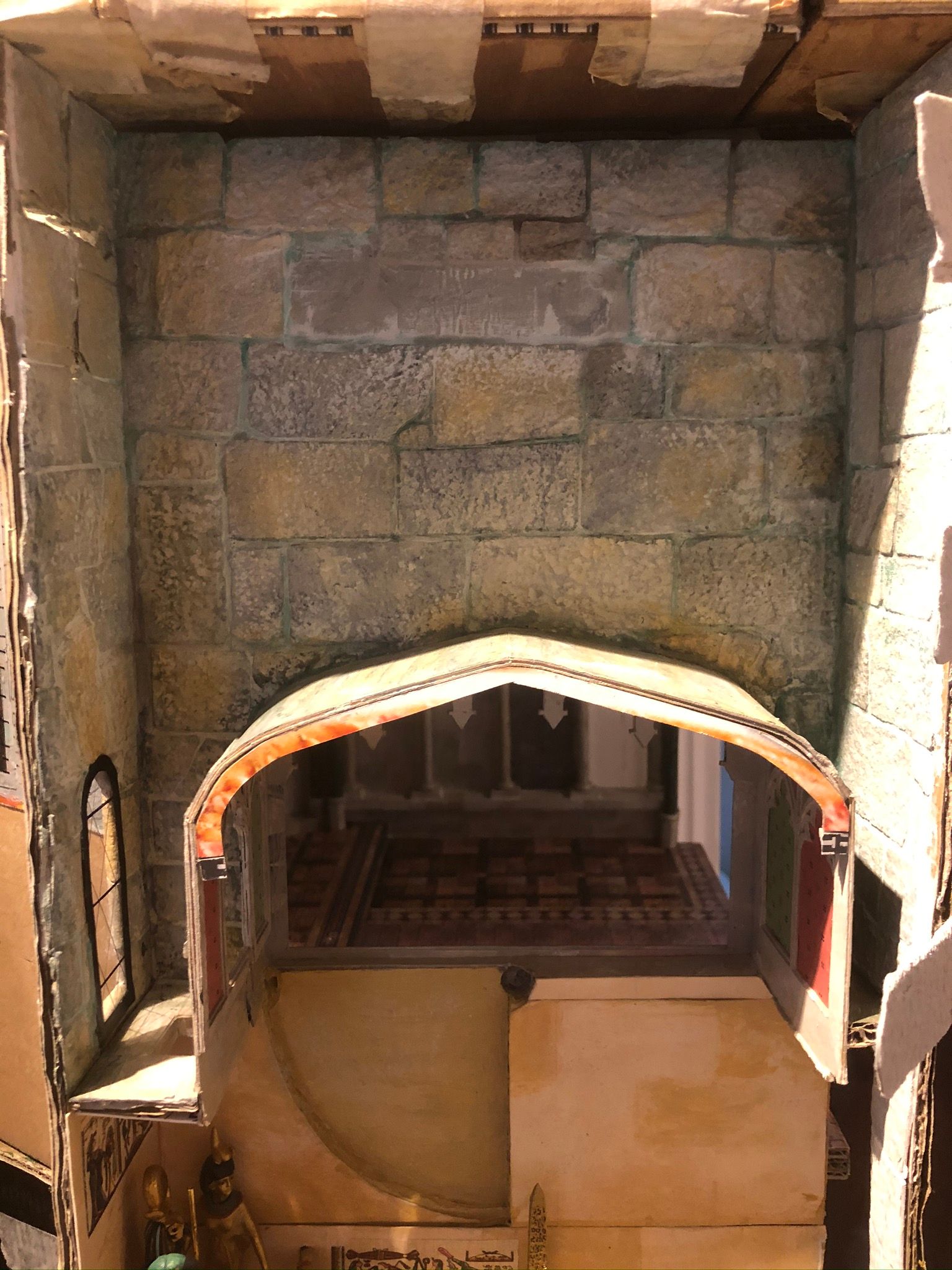 Outer walls (above, right): Egg box, acrylics, varnish, polyfilla, and pva glue.
The Shell Grotto and Skull Cave
I asked my mum once if she had any tiny shells, thinking I'd make a collection of mini shells in a cabinet or something. She directed me to an old ice cream tub of shells and pebbles collected over three generations by my granny, my mum, and myself. With so many to choose from the idea for a shell grotto was born, adding in a copper statue of Venus (from a doll's house fair years ago and a souvenir of a male Medusa head from the Roman baths in Bath). The 'waterfalls' are made of those see-through tags you find on new clothes, with varnish dripped down them, over and over again.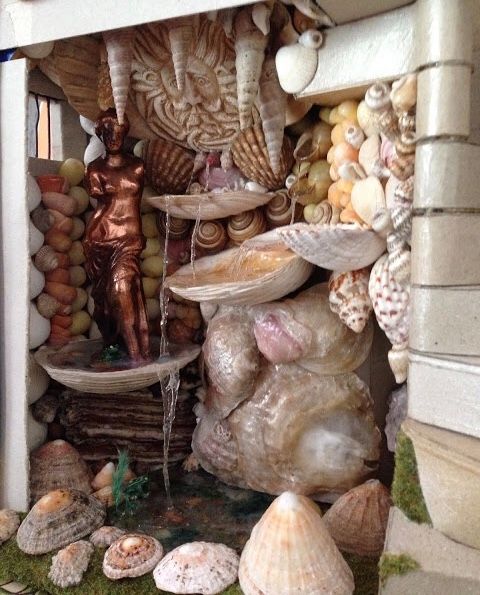 The Belfry: A souvenir from a trip to China, the bell has on it a tiny figure of Guanyin, goddess of Mercy in Buddhism. Attached with string to a wooden beam, pivoting on cocktail sticks, the bell is rung by a string woven with white and red pipe cleaners.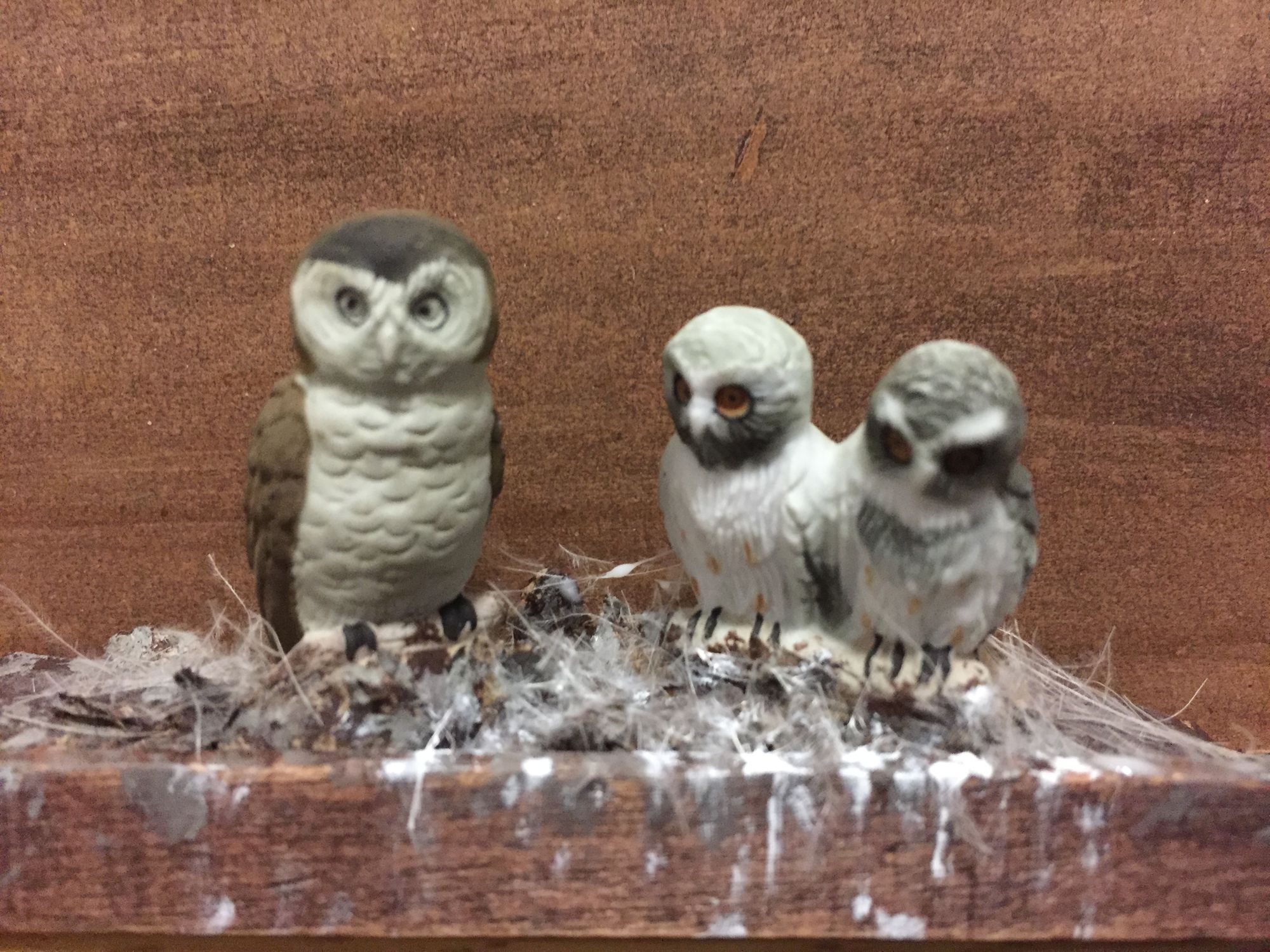 The owls: The figurines of a nesting barn owl and her rather messy offspring hide amongst feathers and painted droppings in the chapel tower. Can you find them?
The Shakespeare oriel window (above right): As this window had to be pretty large, rather than laboriously folding cereal packet card to make mullions as I did in the Chapel Tower, I wanted to try out the dot-to-dot method I use for other gothic tracery (see The Morning Room; fireplace). My dad thinks it works pretty well. What do you think?
So the window structure is layered card, with my usual transparent packaging decorated with Sharpies for the stained glass. This was also my first attempt at the egg-box method for rough stone walls. The rest of the structure is corrugated card (from cardboard boxes) with layered up heraldic detail made with the dot-to-dot method again.
The eight heraldic beasts I chose represent for me the seven chakras, and an eighth which is the start of another life beyond: a serpent, a unicorn, a lion, a green man, a squirrel, an owl, a phoenix and a dragon. I liked my designs so I repeated them on the corbels of the Great Hall too.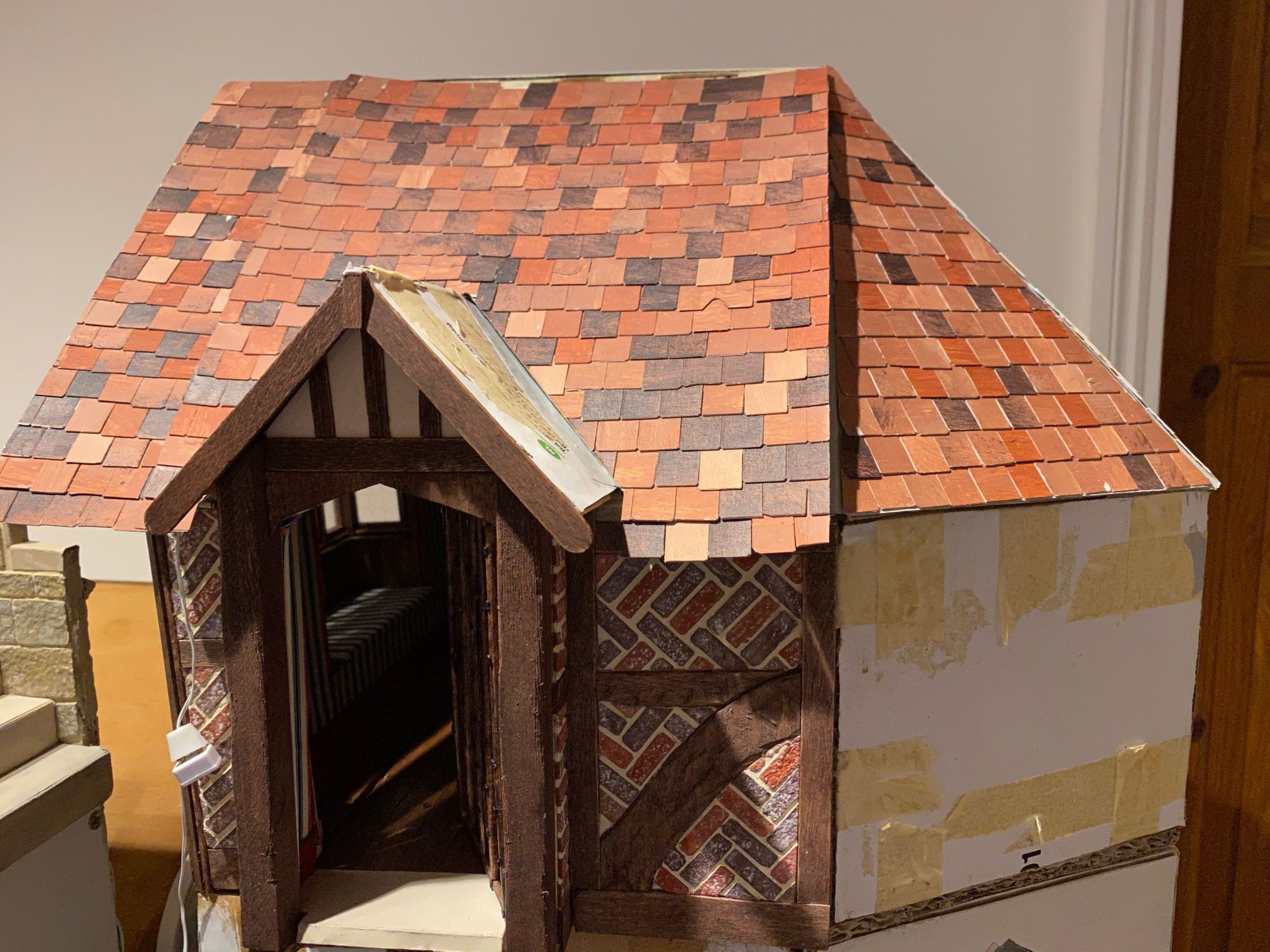 Half-timbered Attic room
Stained lollipop sticks and obeche wood pieces on a Nestle (off-white) cereal packet card, with bricks made of egg box. 'Terracotta' tiling is card from supermarket pizza boxes, painted with acrylics and then cut into half inch wide tiles, and then stuck into place.
THE INTERIOR
THE MORNING ROOM Or "The Lady De Mohun Room"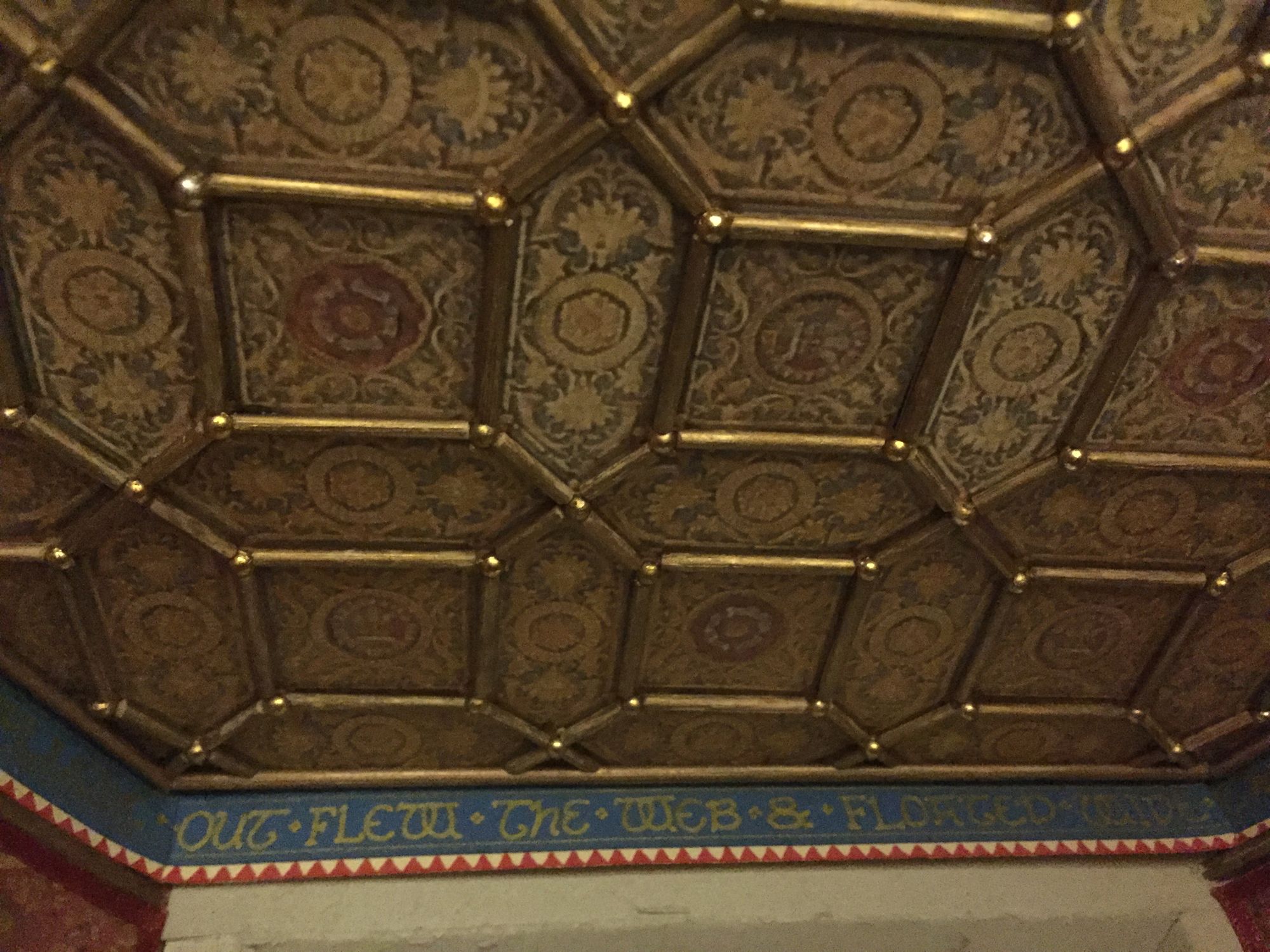 The tricky bit: Definitely sticking all those blasted golden cocktail sticks to the ceiling. It took forever!
Top tip: I started embroidering a tapestry of my own design for the castle as a teenager. But as an adult I realised I'd never have the time, so I discovered that sizing down and printing out photographs of real tapestries onto printable cotton sheets is way quicker than embroidering them yourself. That old embroidery one is still waiting to be finished about 25 years later...
The fireplace: A unique design influenced by two 16th century fireplaces in Tattershall Castle in Lincolnshire, drawn onto graph paper, then pin-pricked through onto cereal packet. With a ruler and pencil, dot-to-dot the pin pricks in the card, then cut out with a craft knife, and then glue the layers on top of one another.
The layering up of multiple card sheets gives greater relief. I adorned this fireplace with colourful heraldic shields from a postcard of Oxford Colleges. The tiles inside and in front of the fire are print outs of photographs taken from Dunster Castle in Somerset.
Walls: A frame of cardboard boxes (mostly from a vacuum cleaner), layered for thickness, wallpapered in 'Michaelmas' bought from Jennifers of Walsall; with unicorn tapestries from the Musee de Moyen Age in Paris, photographed and printed onto cotton sheets.
The Tennyson poem written around the cornice is gold pen on blue card, whilst the panelling is coffee stirrers with cocktail stick surrounds on obeche wood, stained and varnished.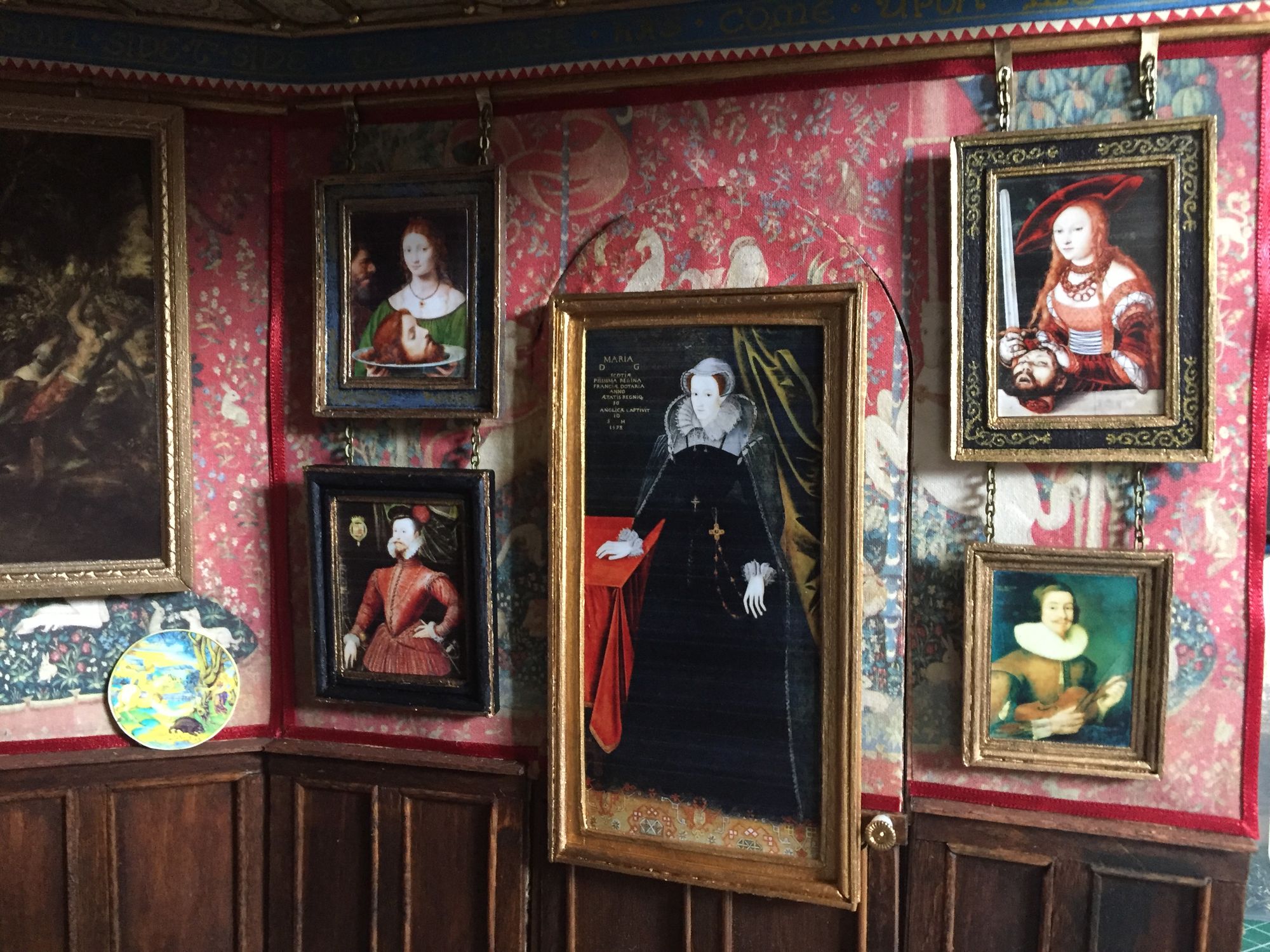 Ceilings: A design photographed from The Wolsey Closet in Hampton Court, printed on card, then glued to a pizza box base, and adorned in further detail with cocktail sticks and balls from a beaded Christmas decoration, painted gold.
The ceiling in the Screen's Passage (part of the Morning Room) although viewed as part of the Great Hall (above, right), is from a photograph I took of the chapel ceiling in Elsinore Castle in Denmark whilst on tour. The photo was cropped, descaled and duplicated on a computer, printed out twice on paper and then made three dimensional by folding sections over some corrugated card from a cardboard box.
This technique of showing rough relief was actually copied from the models of the castle I saw in Elsinore itself. The attached beads on top hopefully draw the eye away from the holes in the corners of the ceiling panels left by the technique of folding each panel's cornice into the indent.
Floor: A blue and white design printed from a photograph of a real floor, then scored with a craft knife.
Paintings: Print outs mostly framed in wooden Borcraft Miniatures mouldings, painted gold; those on the right around Mary Queen Of Scots however are framed in layers of cereal packet card and cocktail stick/skewer, painted and attached to the picture rail with paper clips and tiny chains.
The window: Mullions made of folded cereal packet card, then painted; stained glass decorated with the De Mohun and Trenchard crests, intermarried, copied from Lytchett-Matravers Church in Dorset, using Sharpies, on transparent packaging from a Christmas Cracker box.
THE PAGAN CHAPEL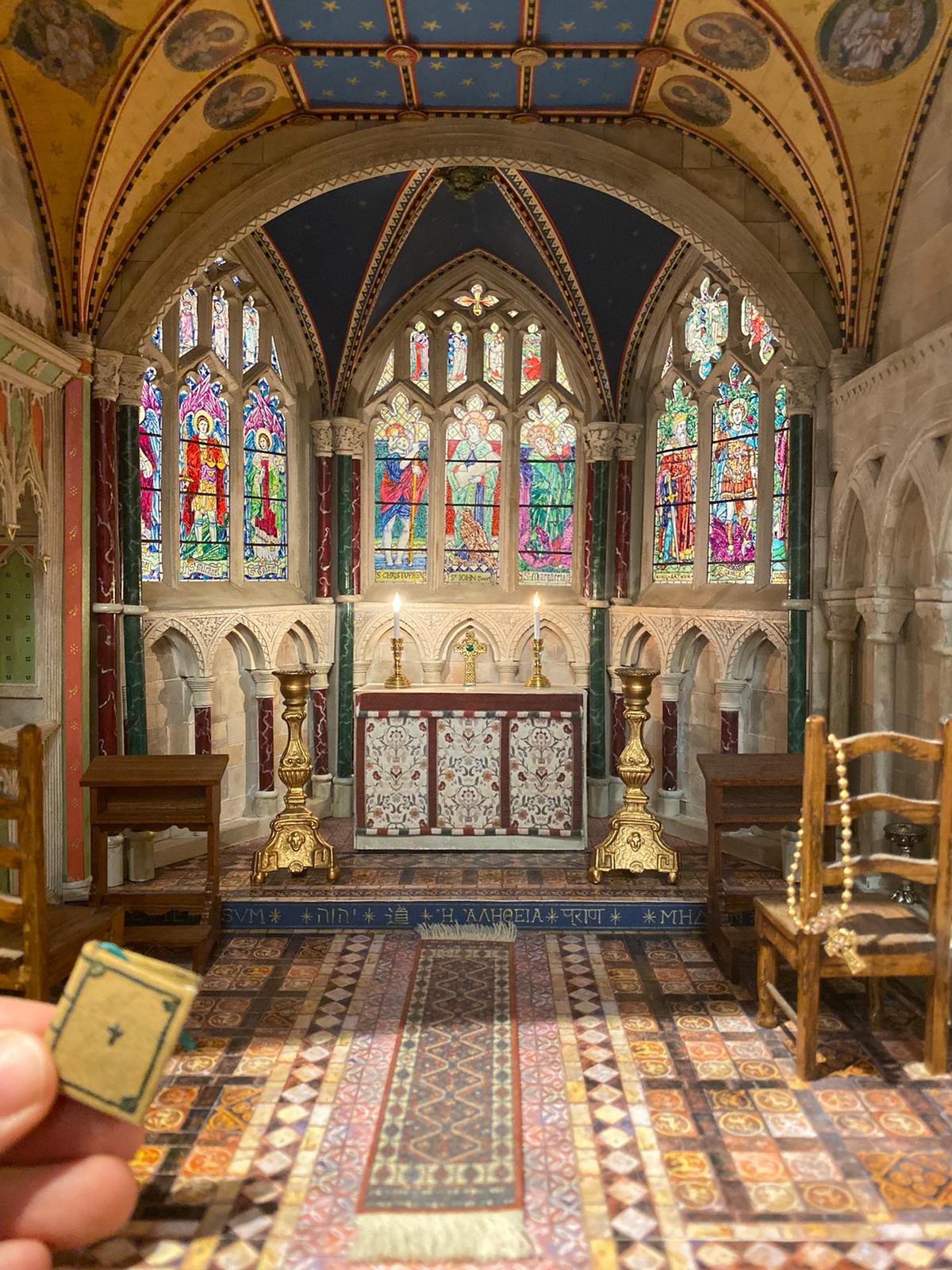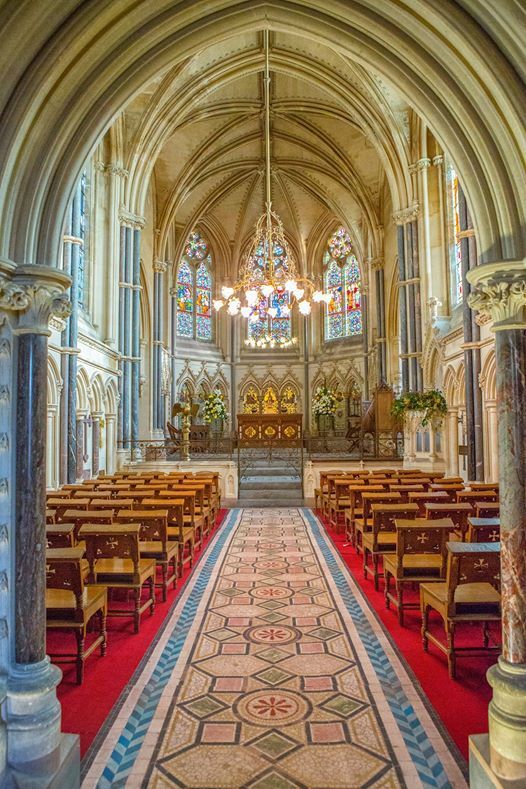 Based on various 19th century gothic chapels, including one at Arundel Castle, and the NT chapel at Tyntesfield
Top tip: It's got to be the stained glass windows. It's time-consuming, but satisfying when you've done it. Size down photographs of real church windows you like on the computer, then print them out at the scale you want your windows (mine are from Bath Abbey, St Peter Mancroft Church in Norwich, and the Internet).
Then trace through with Sharpies or other permanent coloured pens onto any old transparent packaging. Then, if you still have the patience, score all the lines round each pane with the sharp end of a pair of compasses - on BOTH sides. This gives the impression that each pane catches the light at a different angle.
WARNING: transparent packaging may yellow with age if exposed repeatedly to sunlight; these windows are now about 10 years old and haven't faded yet (fingers crossed) but I keep the castle in a room with very little natural light (just like a real National Trust exhibit). Also, I would not advise making the perpendicular gothic mullion windows out of cereal card as I did: as well as failing to achieve the authentic gothic curves and arches, this method takes forever to cut out and glue in tiny card strips for the tracery, and just when you finish all three windows, you realise you have to make them all over again for the outside! Any other ideas how to make them?
The tricky bit: Where to begin? This room alone took me at least three years (whilst also touring the UK on acting jobs).
The capitals on the top of the pencil pillars were made up by painstakingly wrapping different 1mm, 2mm, 3mm, etc widths of cereal card around the pencil, including one layer with all the foliage detail painstakingly cut out of the card.
All the oak, vine, ivy and holly foliage was drawn and cut with a surgical knife by hand. I found the best way to do the tiny holly leaves was to prick the inside curve of  each pair of 'thorns' with the sharp end of pair of compasses, then cut the sharp thorn ends out from the pin prick.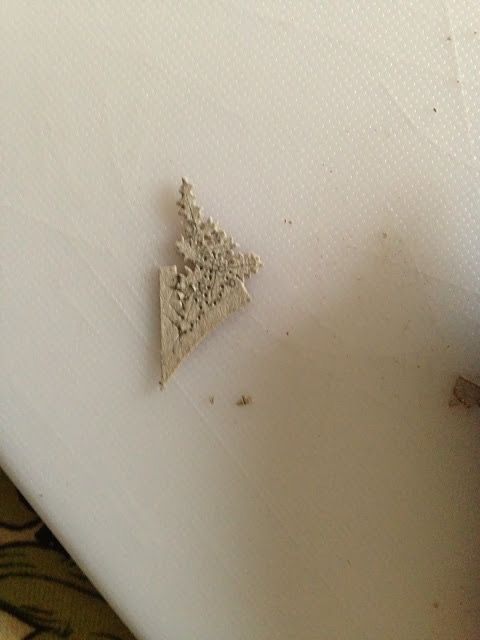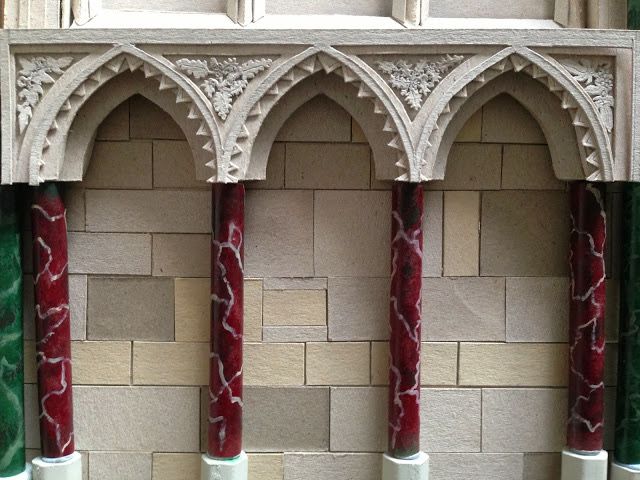 Oh, and the angles for the vaulted ceiling were pretty horrendous to achieve too, and still aren't quite right, sadly.
The floor: Photographs of a medieval tiled design from Winchester Palace to be seen on a wall in the British Museum (with a few extras from Chester Cathedral), reordered on a computer, and printed out to fit, then scored to feel like individual tiles. The altar step is hand drawn with gold pen in blue card.
The golden candlesticks: Bought from an antiques street merchant in Copenhagen whilst on tour, and painted gold.
The tomb: Layered cereal card and covers of exercise books, with gold and black 'stencilled' detail drawn in in pen, based on a bishop's tomb  in Norwich Cathedral. The figure is actually the Black Prince, a souvenir from Canterbury Cathedral, painted to look like stone.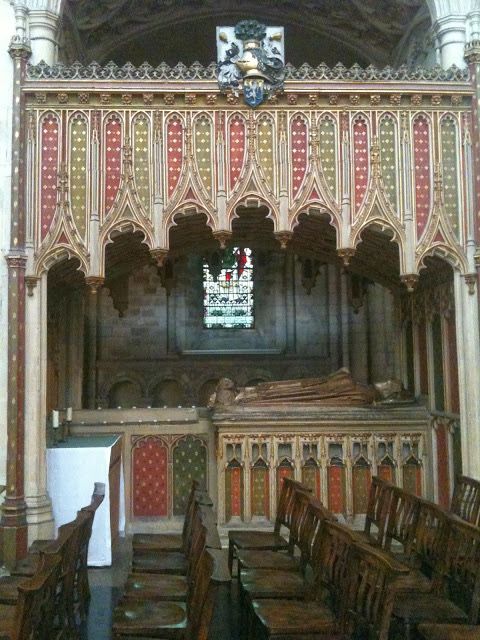 The ceiling: Coloured card, with star designs drawn on in pen. Willow and cocktail sticks provide the ribbing, painted in black and gold. On the nearest ceiling based on Peterborough Cathedral choir, the ceiling bosses are self-designed representations of the zodiac and constellations, cut out from 1cm circles of gold Christmas Cracker card. The farther, central boss is indeed a Yoda toy figurine, brutally decapitated, and jammed into blue tack, with painted Fimo ivy leaves stuck on in the style of the incredible roof green man bosses in the cloisters of Norwich Cathedral.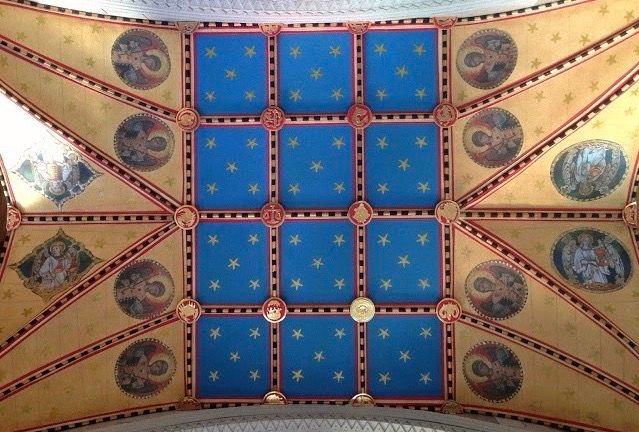 The pillars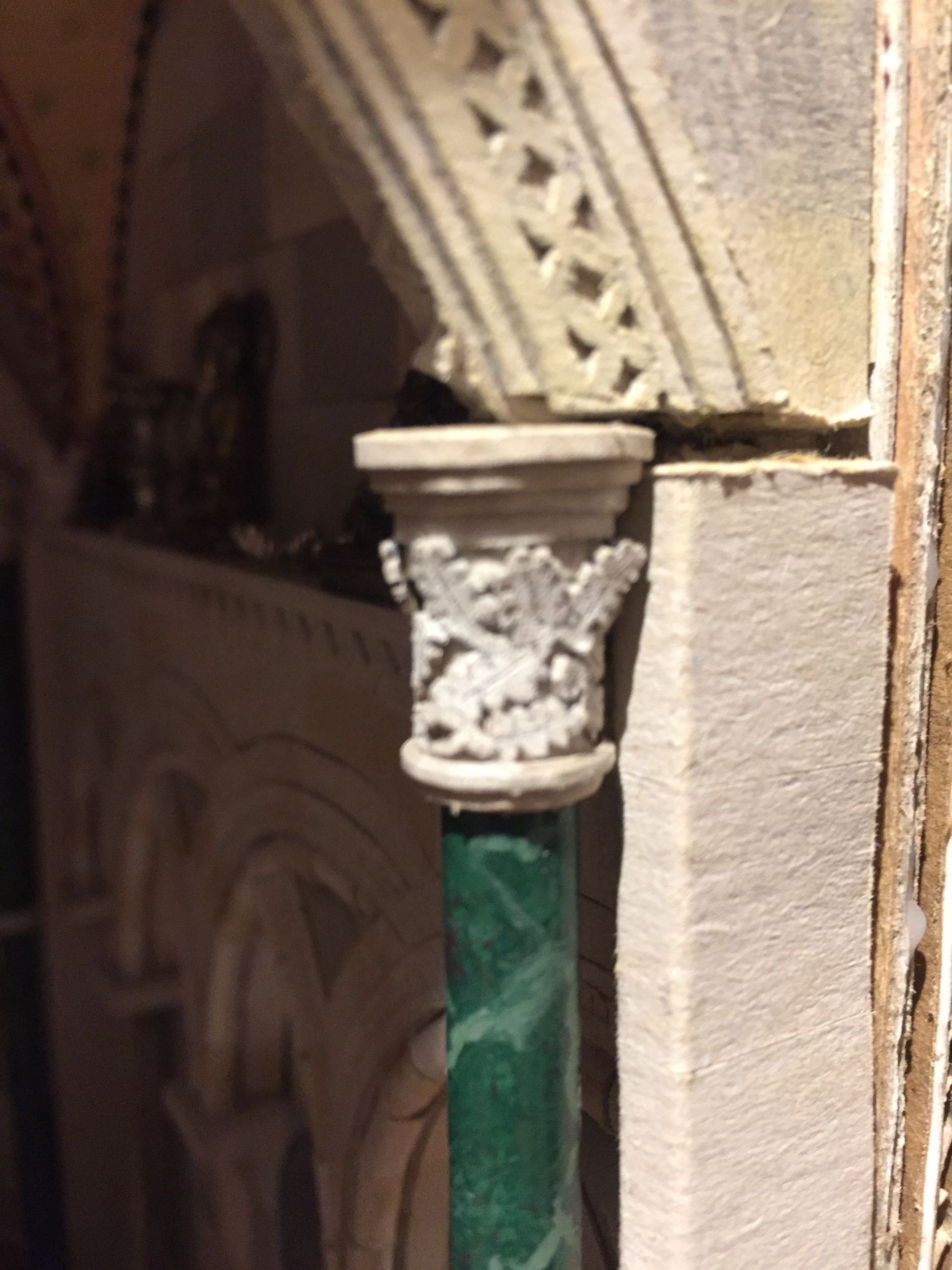 Gothic pillars - pencils, painted to look like marble (hopefully); capitals, see 'the tricky bit' above.
Norman pillars - tubes for aluminium foil covered in strips of cereal packet card, with folded up card bases and capitals.
Entrance pillar - four hexagonal pencils and skewers stuck together, with capitals, base and 'roots' of layered cereal packet card with time-consuming detail drawn and cut out freehand depicting multiple myths associated with Yggdrasil, the Norse tree of life.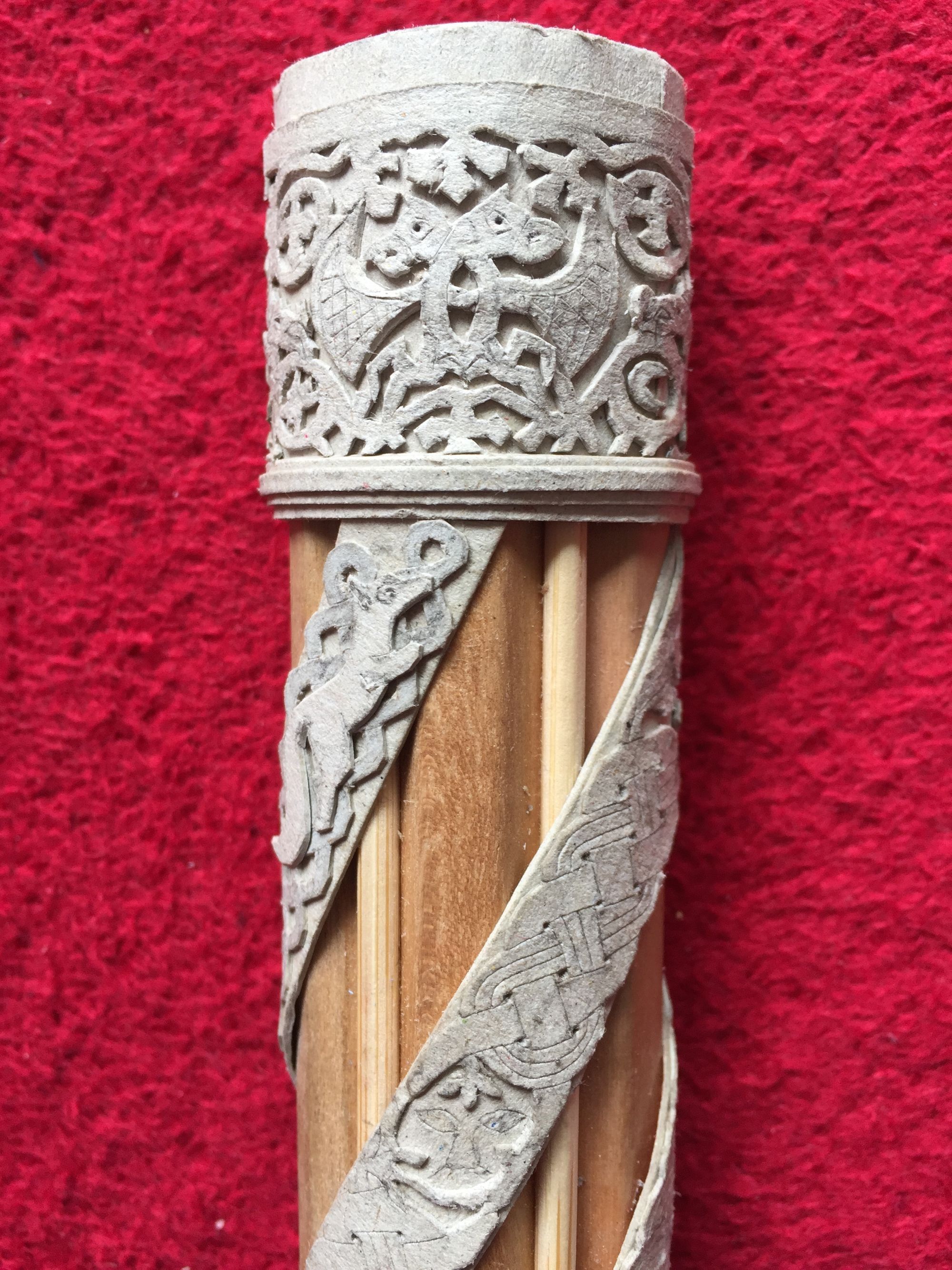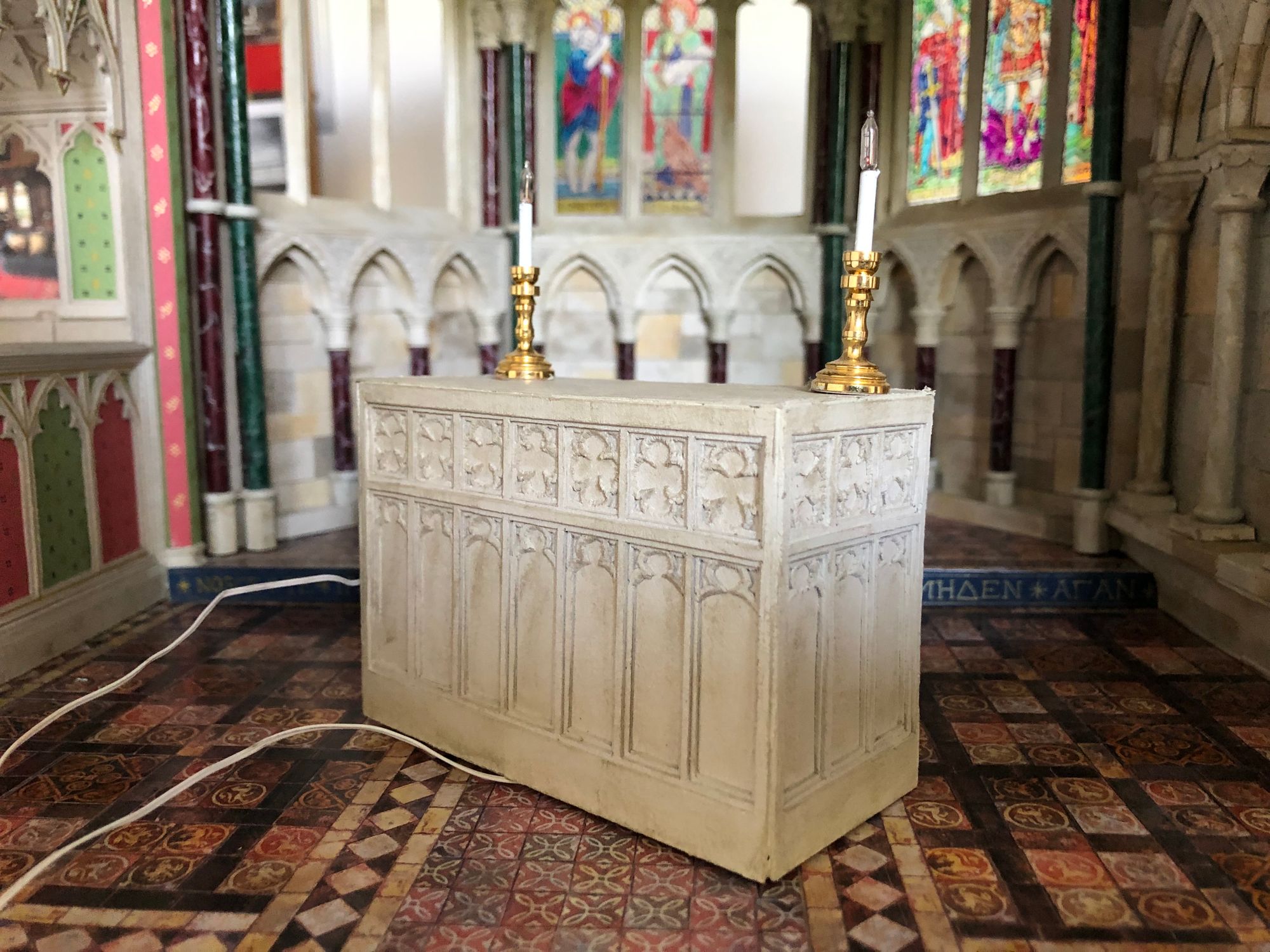 The altar: The altar cloth (a photo printed onto cloth) covers up all the hard work that went into the gothic 'tracery' of the cereal packet altar beneath, all done with my dot-to-dot method, in my dressing room time whilst touring 'A Government Inspector' for Northern Broadsides.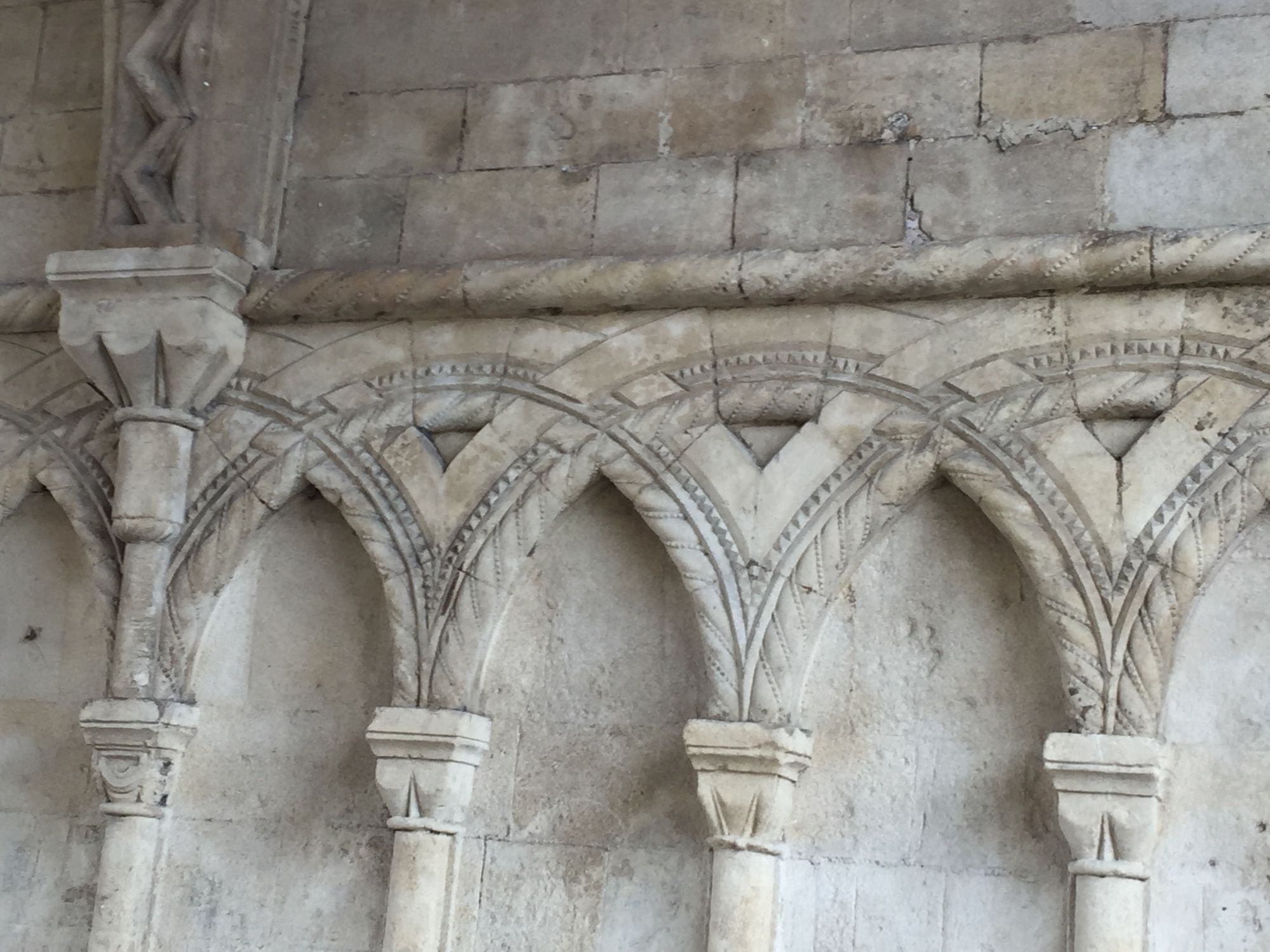 The gothic multi-arched grey pencil-pillared wall is made up of yet more cereal card, some of it rolled to imitate carved stone. I originally intended the different coloured cereal packet to be left to its own devices to look like stone (with a bit of judicious tea-staining to help). But eventually decided to paint it all, and then grout it too. Did I make the right decision?
THE ATTIC NURSERY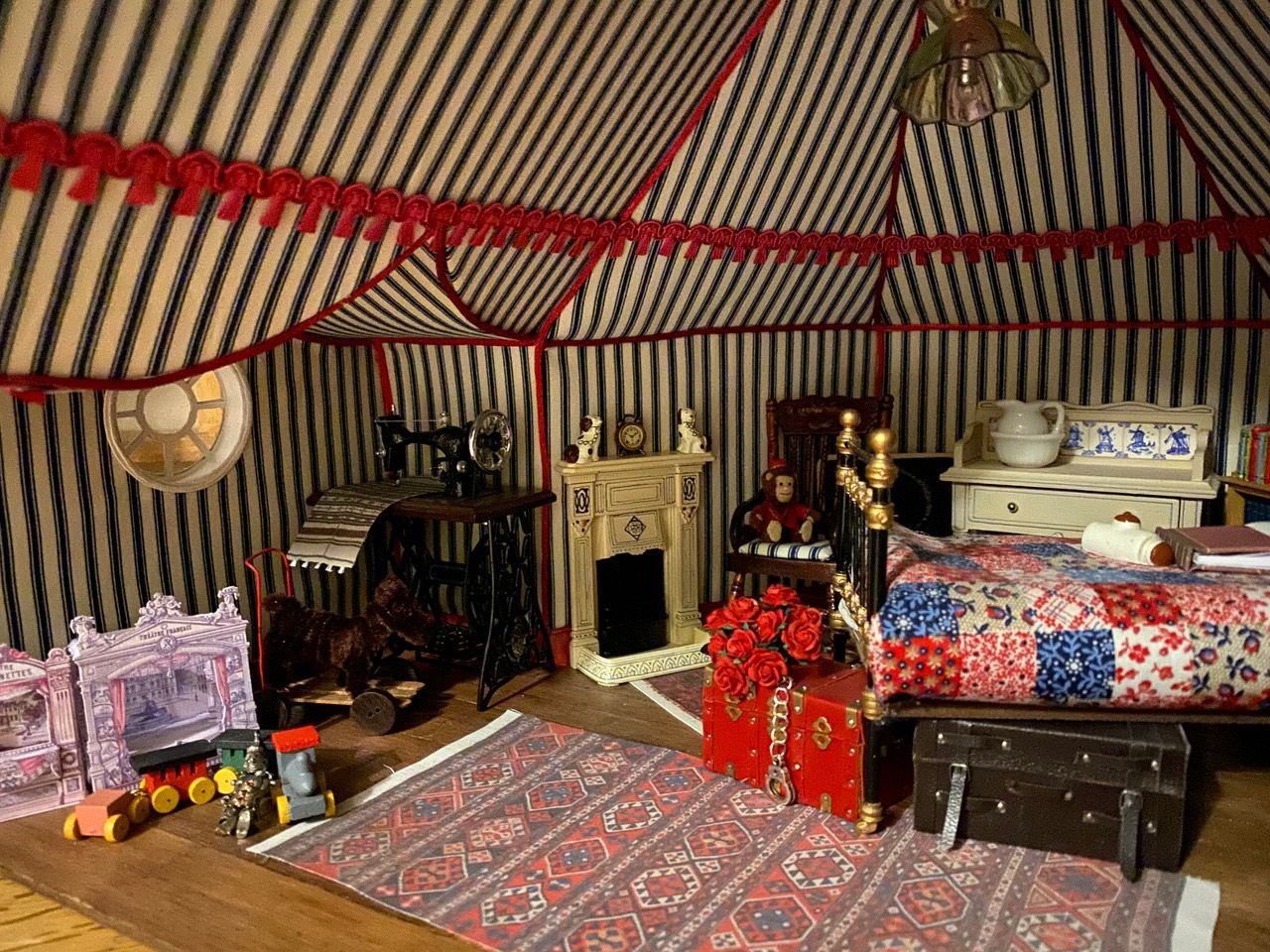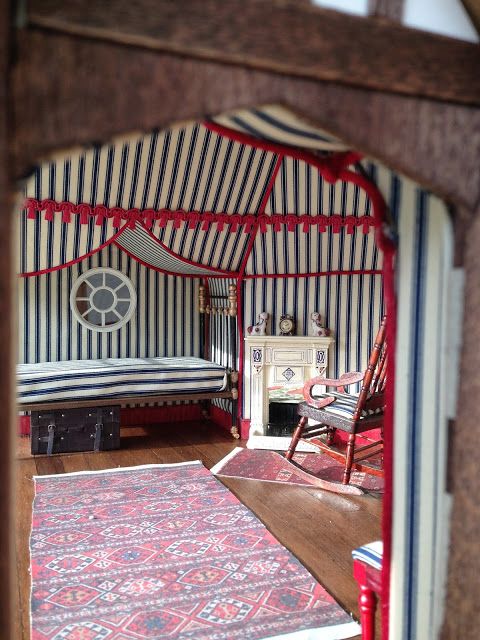 Top tip: If you want to make a Napoleonic tent room, using ready designed fabric like this can save you time on the decorating. I attached the fabric to Nestle cereal card (cream inside, not grey like Kellogg's, so as not to darken the white of the fabric) cut to the size of each wall and ceiling panel. But to avoid glue stains seeping through the fabric, I stick on the excess fabric onto the back of the card with double-sided sticky tape. This means you can re-stretch it over the card if needed. WARNING: glue the fabric onto the back too when it's in the right position, before you stick the walls together. I didn't, and you can see where the fabric has come loose.
The tricky bit: The angles of the ceiling pieces where the door and window niche meet the rafters were impossible for my little head to calculate, so I did it by trial and error, cutting each ceiling section one little bit at a time until they fit together.
Walls and ceiling: Fabric attached to card with double sided sticky tape; skirting boards of acrylic painted cereal card; 'rope' detail made of a kind of ribbon from a craft shop, knotted where necessary, as per the design of the Bachelor Rooms at the National Trust's Kingston Lacey in Dorset, upon which the room is based.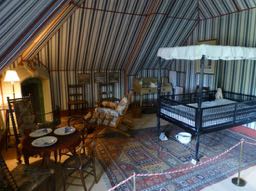 Floor: One piece of plywood, scored and stained with different wood stains to resemble floorboards.
Window and window seat: Skewers and lollipop sticks, wood stained, with a cushion up-cycled from packaging foam. Sharpie-stained windows traced from photographs of 1920's windows in Sir Peter Mancroft Church in Norwich.
The bed: A white metal bought kit from Phoenix miniatures, with homemade quilt.
The fireplace and washstand: The detail on the fireplace (another Phoenix kit) and washstand (a readily available barewood piece) was drawn on with a fine-tipped blue pen, and a wing and a prayer for a steady hand.
THE GREAT HALL Or "Thesaurum Draconis (Dragon's Hoard)"
The really fun part was making the 'Jacobean' screen out of odds and ends: coffee stirrers, cocktail sticks, wood mouldings (thank you, Borcraft Miniatures and B&Q), heraldry from a postcard of Oxford Colleges, a Chinese wooden fan, and many souvenir pewter figurines from museums and stately homes. The basic design is based on the screen at the National Trust's Knole in Kent, whose detail has to be seen to be believed.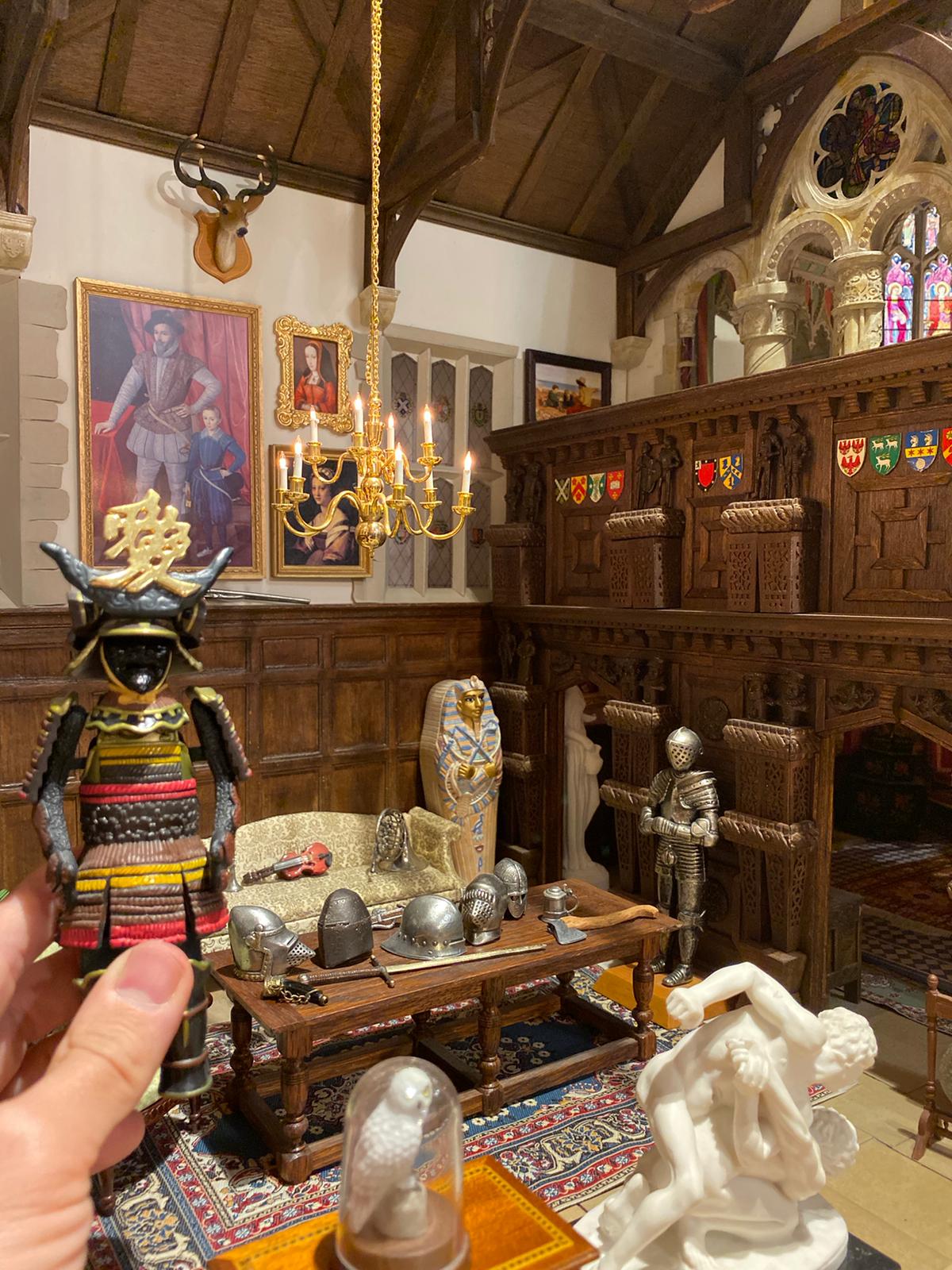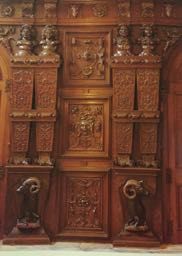 The tricky bit: The tracery in the arches of the hammer beam roof are made up of layered card, wood stained to match the (mostly) real oak beams. Only two designs were necessary on the graph paper, but 48 pieces of card had to be cut out and glued together for it. Why don't I design it in CAD and laser cut it all?! It just doesn't feel 'hand-made,' but maybe as time runs out, that will have to be the method for future rooms...
The roof: Card tracery, around oak beams, and other bits of wood, stuck onto plywood, supplied by my dad, (intriguingly stamped  with the word 'Malaysia'). Lord knows where he found that.
Windows: Cereal packet card folded to make mullions, grouted with Polyfilla; Sharpie-stained, transparent packaging windows traced from my own heraldic designs.
Walls: My dad cut these for me when I was a lad! Plywood with 3D panelling sheets and skirting mouldings from Jennifers of Walsall, wood stained. Although the panelling in the Screen's Passage is homemade from wood stained coffee stirrers and cocktail sticks on an obeche base.
Floor: The flagstones and fireplace are card donated to me by my dad. I never thought they would need painting, so they have faded to a more sandstone-like shade over time. One day, I guess I will have to paint and grout them all for the enjoyment of future incumbents.
Paintings: Mostly postcards from the V&A and historical chocolate wrappers framed with wooden Borcraft Mouldings painted gold.
Stags' heads: All  brutally decapitated from various brands of toy animals. It takes some time to saw through their necks with a hacksaw.
THE STONE STAIRCASE Or "The Deathly Hallows"
The tricky bit: Attaching the pencil and card banister section (based on the Hogwarts staircase in the Harry Potter films) to the stairs (painted cereal card on a balsa wood base). Glue isn't strong enough to hold something as delicate as this onto such a precarious edge.
The ceiling: yet to be designed...
Paintings: All shrunk and printed out from the Internet, with frames bought or homemade from Borcraft Mouldings.
The walls: Emulsion painted plywood, with Tudor/gothic door frames made of layers of cereal packet card, using the 'dot-to-dot' method described above.
THE CELLAR Or "Horace"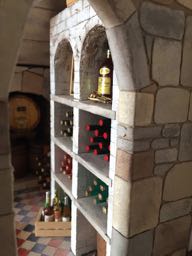 Top tip and tricky bit combined: Do not do what I did and use cereal packet card for what should be rough stone walls; use egg boxes instead! I made this room before I had heard of the egg box method and now thoroughly regret it. Maybe one day I will 'repoint' the stonework in egg box.
However, this was also my first attempt at painting cereal packet to look like more like stone and hopefully that's not too shabby, especially as I have begun to give it a damp look painting over patches with dark green acrylics watered down.
The 'brick' shelf unit for the bottles is made of balsa wood, scored to look like brick. It is stuck in so I cannot change it now. However, I now reckon bricks made of egg box look much better, having already made a brick boiler for the kitchen (not yet created).
The shelf for the candle is made of obeche wood off-cuts.
THE ENTRANCE LOBBY Or "Sophia"
Floor: Printed out from a photograph.
Walls: Wood stained obeche wood on plywood, with painted cereal packet card 'stone' effect, grouted with polyfilla.
THE SHAKESPEARE STAIRCASE Or "Perchance To Dream"
As with the screen in the Great Hall, I would recommend using the latticework of a wooden Chinese fan for a quick way to imitate Jacobean strapwork designs. And those pewter figures bought from museum  and stately home shops can become very versatile if you have a fancy to decapitate one with a hacksaw and replace it with a homemade Fimo donkey head, or give another one antlers like Falstaff, or give yet another an asp to help her commit suicide like Cleopatra.
The tricky bit: The 'Jacobean' balustrades (a wide-spread design to be found at Hatfield, Audley End, Blickling, etc) took me the best part of a year to complete, mostly done in my dressing room whilst touring, appropriately enough, A Midsummer Night's Dream for the RSC.
Each section consists of 7 layers of card, each cut out from the same single piece of card (the back of a pad I think), using my 'dot-to-dot' method (described in the fireplace in The Morning Room, and shown above right). Short of laser cutting lime wood, this was the only way I could think of to get anything like the complexity of the original design, but it is not a method for the impatient!
Walls: Painted plywood with a bit of Polyfilla to cover up areas where I extended the room.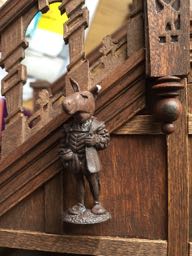 Ceiling: A printed out photograph of part of Rubens' ceiling in the Banqueting House, with bought plastic cornice mouldings.
Floor: More of the same card dad gave me for the Great Hall flagstones, which I had luckily stored for about 25 years... just in case.
The window: With mullions of layered cereal packet card, on transparent packaging decorated with Sharpies, the stained glass windows are designs photographed from Cardiff Castle, and shrunk to size to be traced through onto the 'glass' with Sharpies. Most of the historical figures are characters from Shakespeare's Richard III (the first Shakespeare I read - I actually got to play Lady Anne years later in 2009-10 in a global tour with all-Male company Propeller).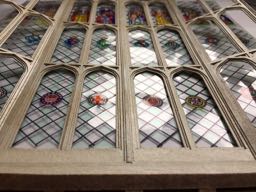 The other heraldry took a bit of research: one row shows the shields of Shakespeare's patrons, and the row below, devices indicating the main theatres or stages where his plays were performed. At the bottom of the glass you might just be able to make out the signatures of Shakespeare, Burbage,  Ned Alleyn and other players of the era, all inscribed by me with the aid of the sharp end of a pair of compasses.
The staircase: Newel posts - obeche strips covered in the detail of a chinese fan, topped with part of a B&Q moulding and pewter figures bought from museum shops, and sometimes adapted with Fimo additions.
Balustrades - see the tricky bit. Steps - balsa wood covered in obeche. Panelling - obeche with coffee stirrers and cocktail stick detail. Underparts - see The Cellar
THE TURKISH BATHROOM
This room is a testament to the time-saving technique of printing stuff out from the Internet. The purely blue and white frieze of Iznik tiles is a postcard from the V&A. This inspired the whole room, and, once I found the arched design in blue, white and orange in Berlin's Pergamum Museum which matched, I decided to seek out similarly coloured Islamic designs online. The fun part was then deciding which ones to include and where to put them all in the overall design.
Eventually all of the designs had to be shrunk down on a computer, printed out onto satin printer card (I prefer it to gloss as it's not too shiny), and then scored to feel like individual tiles when touched. I recommend printing out all the tiles you need in one go; I failed on this, and some of my tiles were printed out a few months later using a different set of ink cartridges (same printer, same brand!) and the colour shades are annoyingly slightly different. But will such printed out designs retain their colour for years to come? Only time (and as vigilant sunlight avoidance) will tell.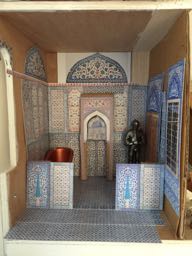 The tricky bit: I wanted to have a rough plaster feel to some of the room, to give it a slightly ancient dilapidated look, like in Victorian paintings of Morocco. But Polyfilla doesn't stick to card, especially not the shiny surface, as I discovered. It will however, if the surface is pre-varnished in pva/water mix, and some pva also added to the polyfilla mix.
The other hard bit was fixing in the golden ceiling: a plastic petri dish painted gold, surrounded by yet more corrugated card, with a homemade light fitting threaded underneath and leading out of the room's plywood wall. I had foolishly stuck in the room's partition wall before fixing the ceiling in place, so I had to squeeze grouting tools, paint brushes, and hands into the upside-down room, and poke my phone camera into the corners to see if the plastering/painting was complete.
The walls: Corrugated card (from cardboard boxes) for the balcony and partition walls, and plywood for the main frame, all 'tiled' with printed out satin photo card and postcards of Iznik designs, or 'plastered' with a mix of Polyfilla and pva, and painted. Some is tea-stained for an aging effect too. The pillars are inexpensive Dollshouse Emporium plant/statue stands, which are a pretty good match for the spiral pillars to be seen in Victorian paintings of Morocco (below).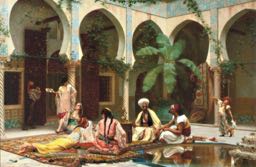 The doors: Based on a design found on the Internet, these are made of stained obeche wood, with coffee stirrers and lollipop sticks inlaid to produce the design. The studs and hinges are made of Dollshouse Emporium light switches and painted paper/card respectively. The 'Venetian' doorframe is layered up Nestle cereal packet card.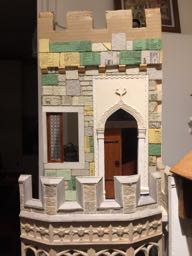 The window: Wood stained coffee stirrers stick onto transparent packaging sheets, decorated with Sharpies.
The light fittings: These are homemade with bought bulbs on wire, threaded through a variety of beads.
The bathroom furnishings:
The bath itself was originally a pink plastic monstrosity from a soap gift set, then painted gold and copper in acrylics.
The sink is in the style of an Islamic fountain, with Iznik printed tile designs stuck onto a cardboard structure, with beads for tap fittings.
The W.C. is also a cardboard structure, covered in printed tiles, but with an obeche wood hinged toilet seat cover, and a packaging foam cushion covered in silk bought at Miniatura, 2019.
The octagonal table is also printed out from photos I took of tables in Andalusia, with painted cereal packet backing for strength.
THE FUTURE OF HORDLE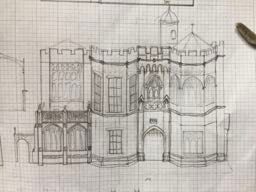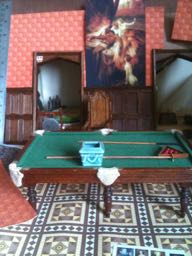 Hopefully you'll be able to see Jon's castle at Miniatura soon. In the meantime we'll be bringing you more photos from Jon, and a guided tour, on Dollshouse.live shortly. The castle is also featured in print, in issue 335 (Aug/Sept) of Dolls House World.