Nearly a thousand lovely miniature items, from gorgeous flowers to lovely china, are being sold online this weekend. So hurry to take advantage of some amazing discounts. Highlight of the Online International Show is a large estate sale featuring the floral work and other beautiful items belonging to Helen David, IGMA Fellow. Take a look at just some of the pieces for sale below. But do hurry.
Go to www.aminiminiatureshow.weebly.com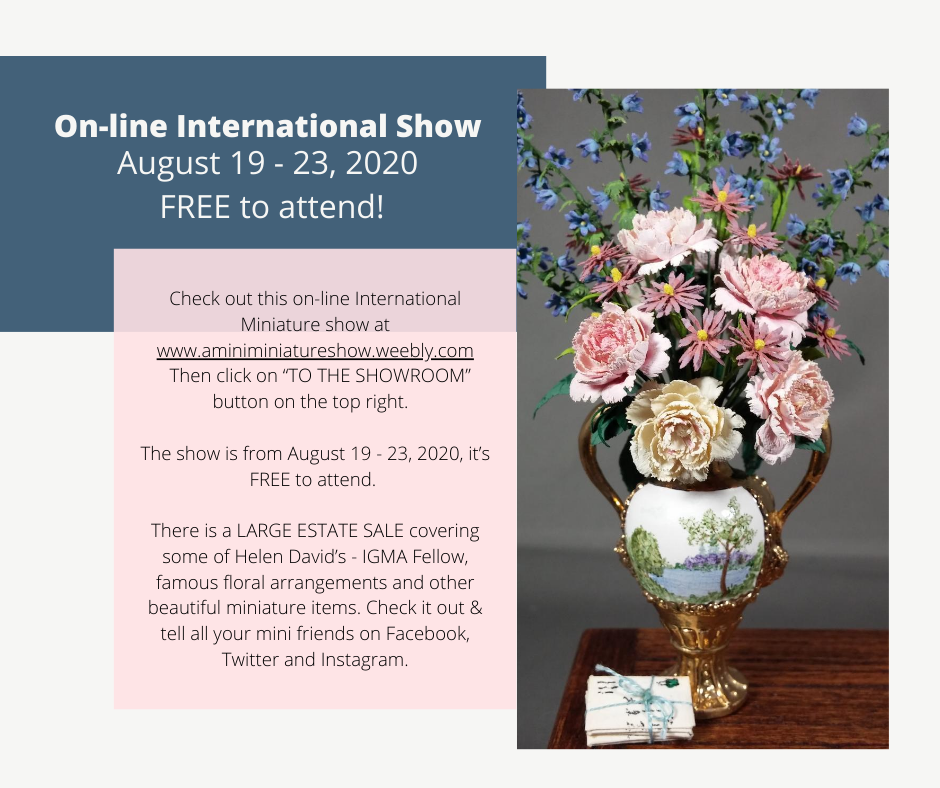 HELEN DAVID
Helen David passed away on March 24, 2013. Helen was a Fellow Member of the International Guild of Miniature Artisans and was known far and wide for her historically correct flower arrangements, pictured above and below. She was a giving teacher and mentored many. She had been involved in miniatures since the 1970s when she and her husband opened a shop carrying miniatures in the Houston area.
Helen made furniture but later found that her real love was making flowers. All gift bouquets were subject to dissection as she carefully measured each petal and leaf and studied the coloration. This intense observation was the basis for her incredible flowers. Helen and her daughter, Yvonne, were working on a web site for Helen's laser cut flowers when Helen passed away. Yvonne is now organising the estate sale.
At the time of Helen's passing, Dani Muckleroy, paid this tribute: "Helen was my 'go-to' person to verify all the arrangements for my historically correct boxes and she taught me a lot in flower making, although I probably drove her nuts since I wasn't as precise as she; she always gave stem heights and I NEVER paid attention. She was a brilliant teacher, a wonderful person, and a good friend."