There's no more inventive and useful item of furniture than a room screen. It can be used to create a sense of privacy, decoratively mark off areas of a room, or conceal black spots in need of attention.
Screens have ancient roots, having been invented in China about two thousand years ago, but they continue to liven up modern homes today. Originally, Chinese folding screens were used as wall partitions and painted with serious works. They were not intended to be moved around and were often heavy, wooden structures hinged with cloth or leather.
When the Japanese took on folding screens, they were used for tea ceremonies, as backgrounds for concerts or dances, as enclosures for Buddhist rites and in outdoor processions. The type of screen used varied according to function.
For instance, small two-panel screens were used for tea ceremonies, while large, gold-leaf screens  with up to eight folds served as backdrops for dancing. It was the Europeans who adapted the screen to their own needs and eventually they became a feature in any well-appointed Western interior.
By the 19th century, western screens were made of various materials and had a wide range of structures and designs.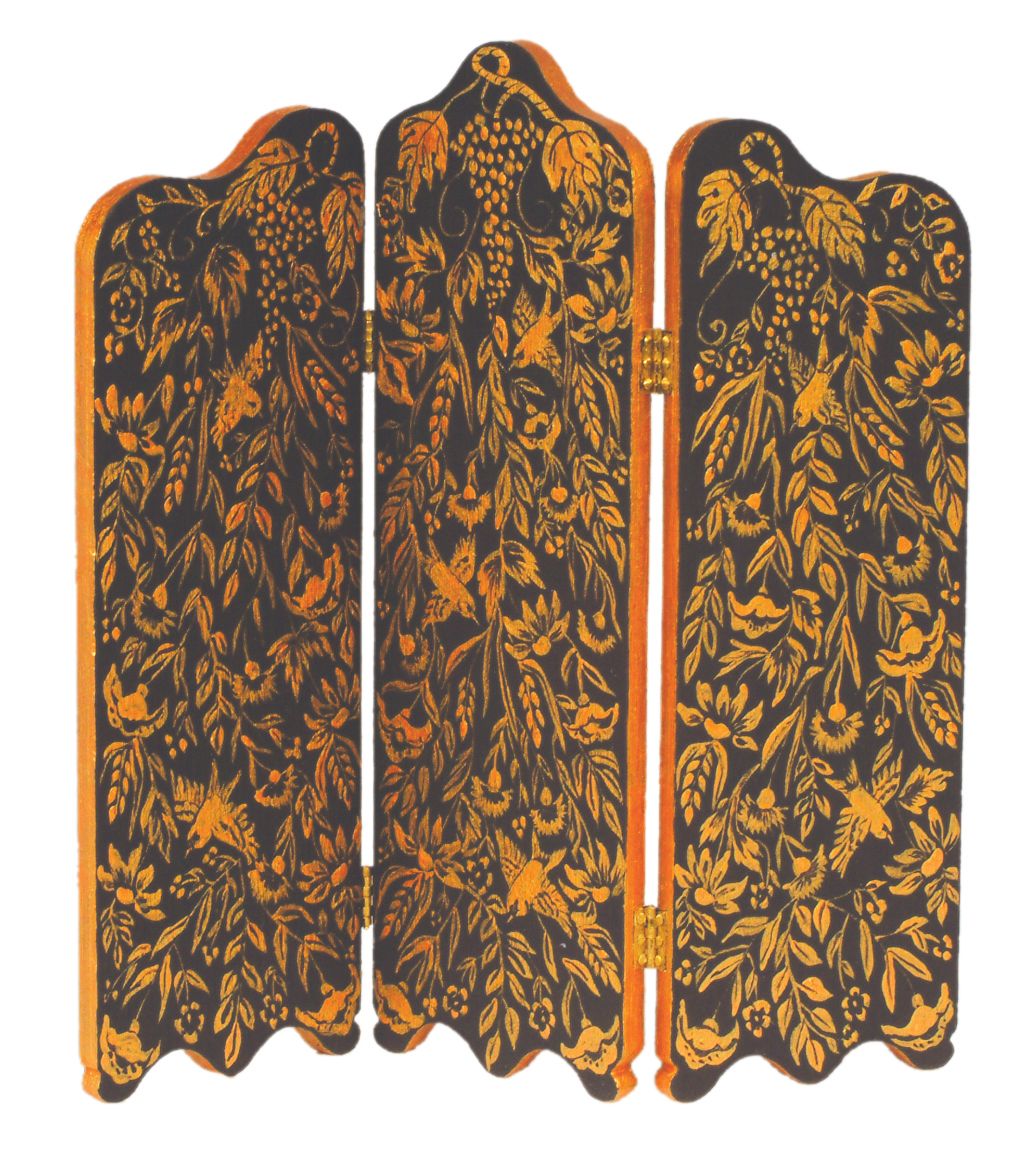 So what makes a folding screen so useful? Mainly, it is the freedom of movement it offers, so we can move and place them at a whim. This is ideal if you want to create a warm and inviting space next to an armchair in the living room.
Perhaps your doll's house lady would appreciate a private area to undress, or you could transform a modern lounge into a home office set up with dividing screens. Contemporary, solid-coloured screens make a nice backdrop for a piece of sculpture or unusual plant.
The mini artists among you may like to use a screen to divide a room or be used to display family photos or artwork, as well as in entertaining shapes for children's rooms. You don't have to be a home owner to use room screens. What about the customers in your café, tea room or restaurant?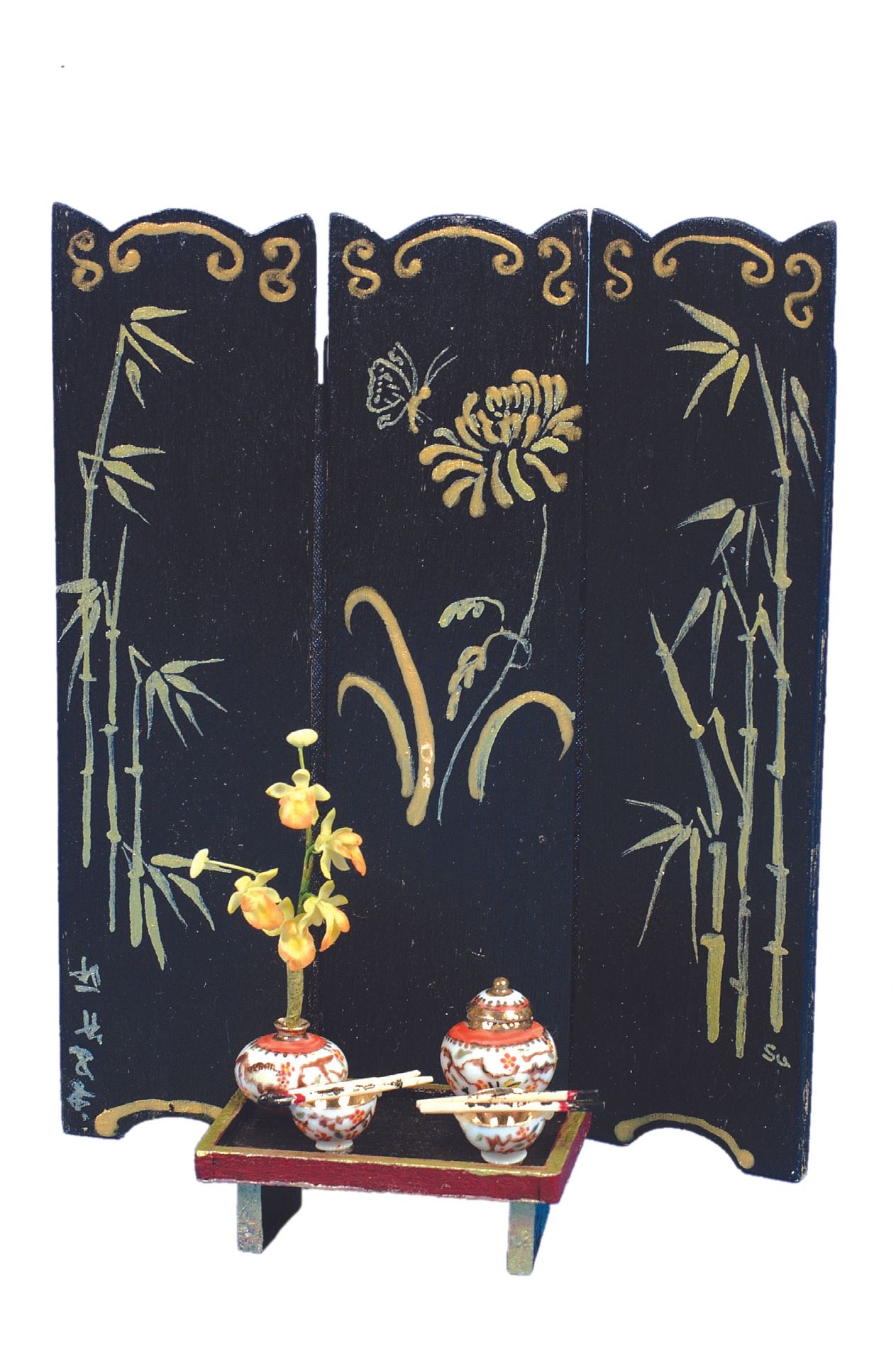 A screen in the right height and location can hide any overflowing rubbish bins, grey pavement or unsightly yard while still allowing views of the sky or tree tops.
On the patio, porch, by the pool, or on balconies, screens can conjure up the notion of being in a secluded, special, romantic area. If you have a balcony or roof top, try setting a table for an outdoor candlelit dinner, protected by a decorative screen.
Screens look stunning in loft apartments, country and period houses, and make for versatile pieces of furniture in the contemporary home or office. Try out a few different arrangements and ideas; arrange and then rearrange again. Before long you may wonder how your dollhouse family ever managed without a room screen as their flexible friend.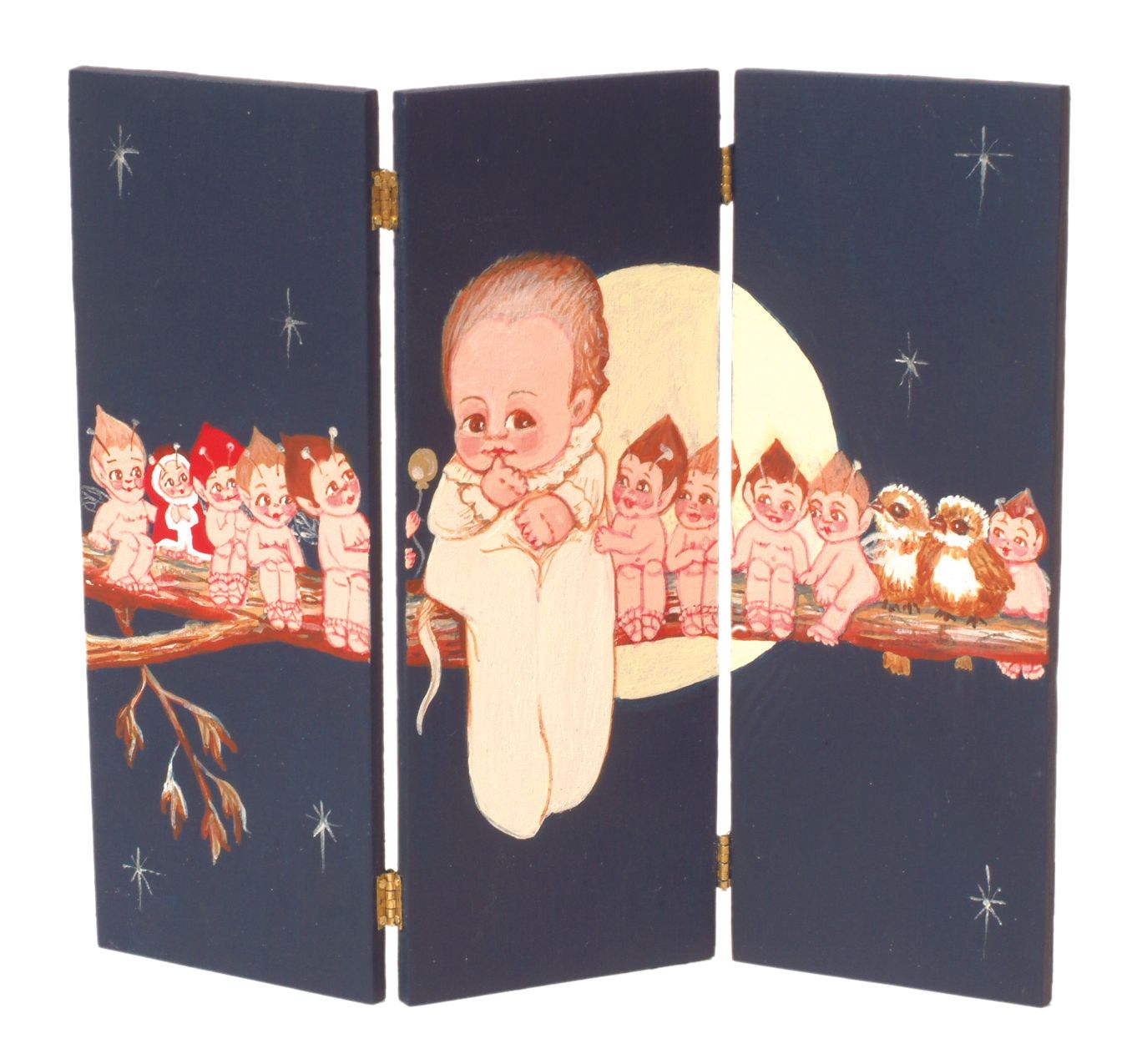 Ways to use screens
• Disguise the unsightly
• Create a sense of privacy
• Make a personal area to undress in a bedroom
• Use as a backdrop for a piece of sculpture or unusual plant
• Conceal a messy computer area
• Divide a room
• Display family photographs or artworks
• Creative and entertaining shapes for children's rooms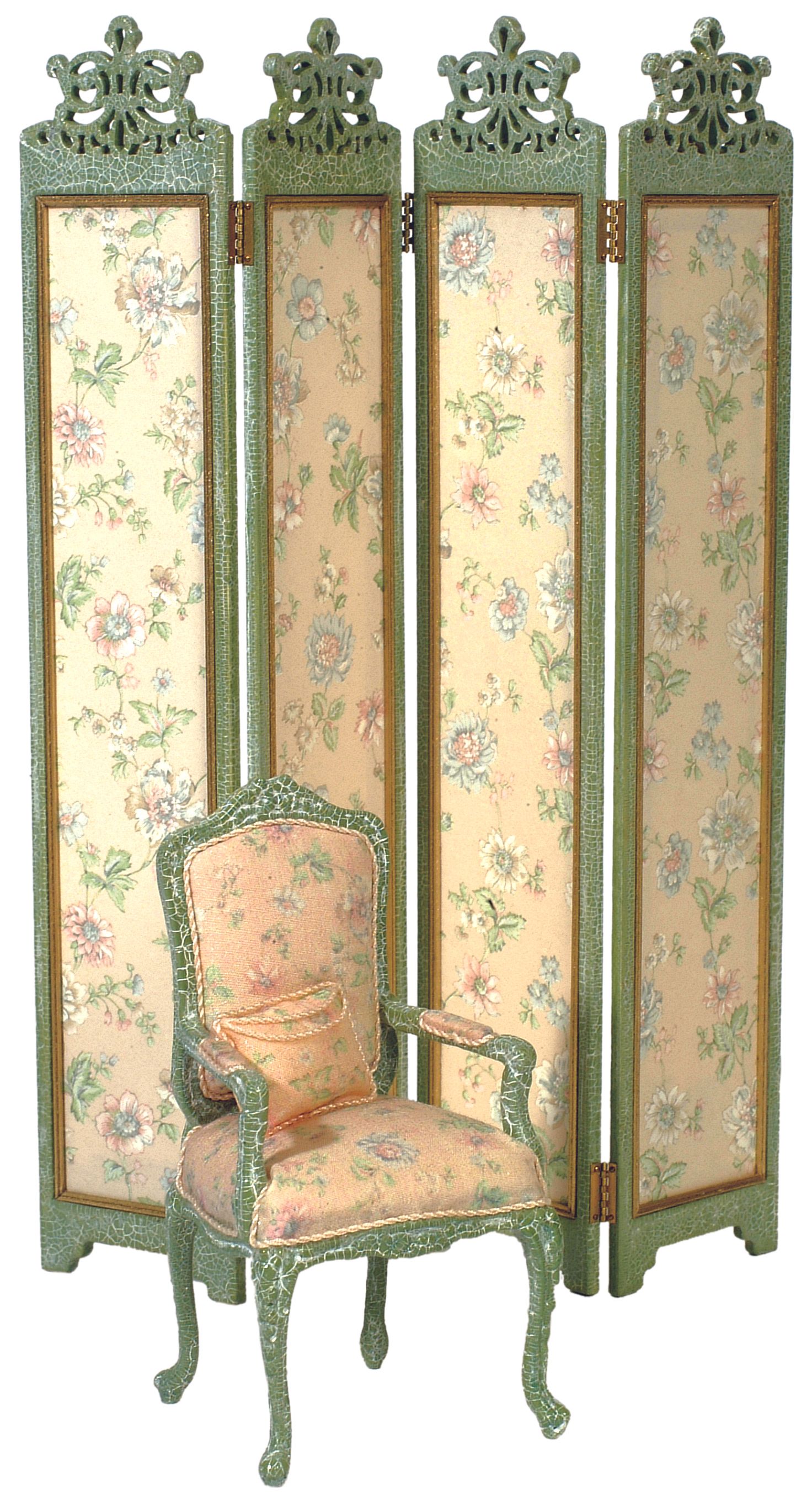 Above is a fairy tale screen by Terence Stringer. To the right is a setting by Su Carter of Mini China.
Babies by Terence Stringer and to the right is a screen in gold and black made by Terence Stringer.
Screen set by Brooke Tucker.
FROM DHW pdfs
OPPOSITE PAGE: Fairy tale screen by Terence Stringer.
THIS PAGE: ABOVE LEFT: Babies by Terence Stringer.
ABOVE RIGHT: Oriental setting by Su Carter of Mini China.
BELOW LEFT: Screen in gold and black by Terence Stringer.
BELOW RIGHT: Setting by Brooke Tucker.