by Sandra Harding
The last time I showed you a piece by Barbara Cass it was a public lavatory block, so I guess I should have expected something different from her again.
This time it's a fully functioning garage which is to be added to the ever-expanding village which sits in her purpose-built cabin/workshop in her garden, and I am really, really envious!
The garage was based around a 21x13 inch box which Barbara already had, to which she added a plywood front with a sliding door. Putting the extra box on the side for service reception was a clever touch —  attention to detail every time.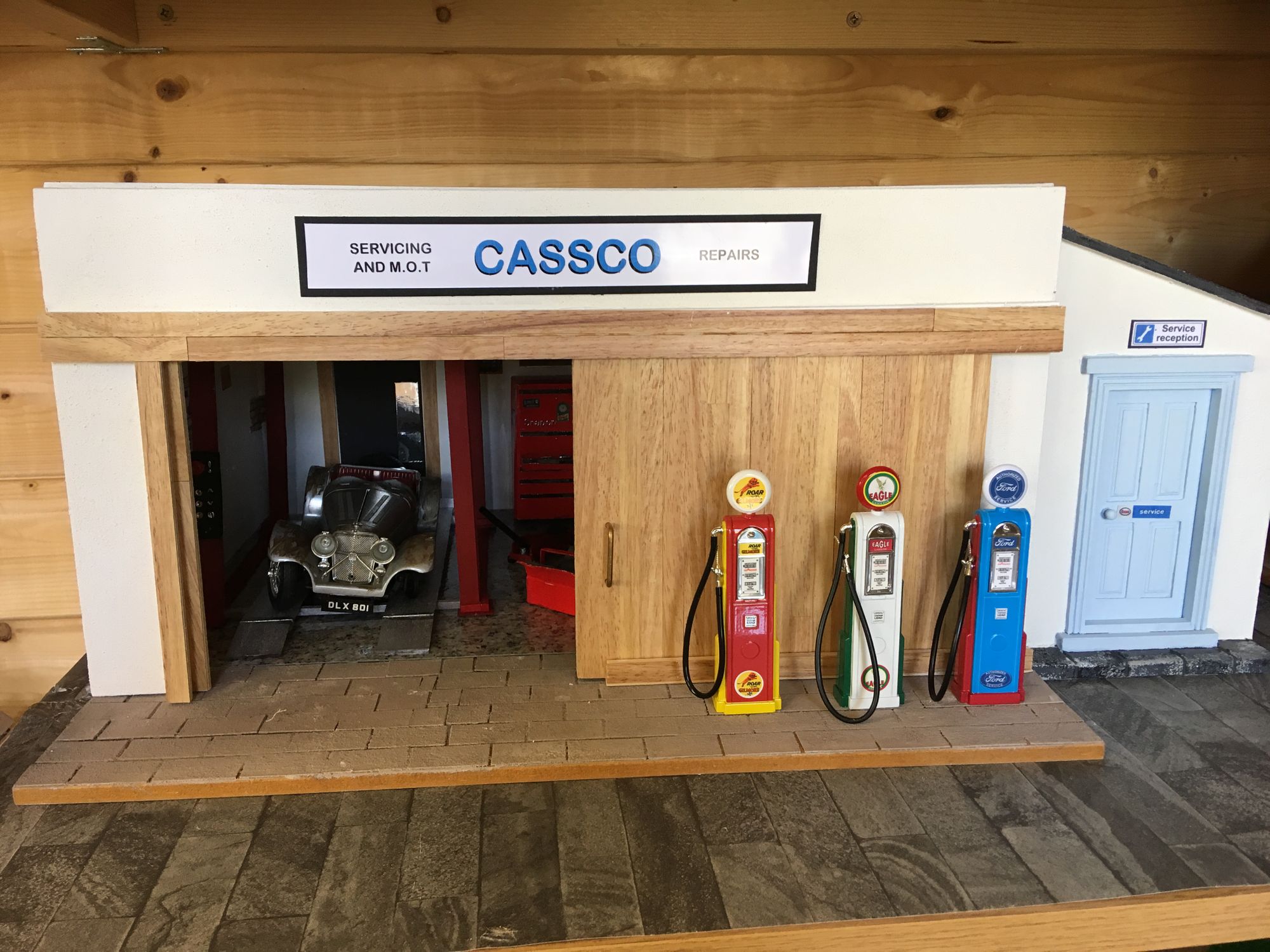 An old and battered car was rescued from stock and, although it is slightly smaller that one twelfth it looked just right. Barbara wanted to make as much as she could and started with the red tool chests as her son had a full size one, which made it easy to copy. They are simply card painted red, with a false drawer added to the front, so it appears to be open. Brilliant.
Barbara scoured the internet for pictures of car lifts, ramps and jacks to get ideas, and even more inspiration, and copied them. They are all made from scraps of wood, and the jack handle is a black drinking straw. The small tool box is just card, the towel holder is a mini Tic Tac box, and the fan belts are the little seals that come with submersible tea lights.
The fabulous pair of overalls hanging up was made by Lynette Smith, a very talented lady already known to regular readers. There is even a radio and first aid box with the mandatory dirty mug here. Again, just study the detail — amazing.
Some of the purchased items include the motorbike, petrol pumps, axle stands, oil drum, oil cans and tools as Barbara realised some things were best left to the experts. The name CASSCO on the front comes from the name of her husband's grandfather's garage which he owned in the 1930s, and it seemed eminently appropriate.
Barbara retired about six years ago and that's when her mini madness started (her words not mine). A doll's house was bought as a retirement gift and she now has 44 properties of all shapes and sizes, included in the aforementioned village.
Many are unfinished, some not even started, and what a lovely, perfect way to spend your retirement. Look at the photographs again. I guarantee you will see something you hadn't noticed before, or is that just me?