By  Joan McKenzie
I had the good fortune to meet Jeanne Rullie at an IGMA school event in the Autumn of 2018. I saw the class was approved for beginners, but I was still terrified of making a doll that might look even half as good as what Jeanne makes.
I begged my naturally talented younger sister Jean Ricci to attend with me and she agreed, so if I failed, she would be there to cheer me up. We both found this to be a perfectly joy-filled experience. A great part of this joy came from Jeanne Rullie as the teacher. She set the atmosphere to such a relaxed state as she moved about us students constantly to ensure we were on the right track.
Each student was meant to make a grandmother or elderly woman. One of our classmates made a wonderful witch. Each doll came out radically different from the others. My grandmother doll was so strange looking, but it was actually beautiful to me.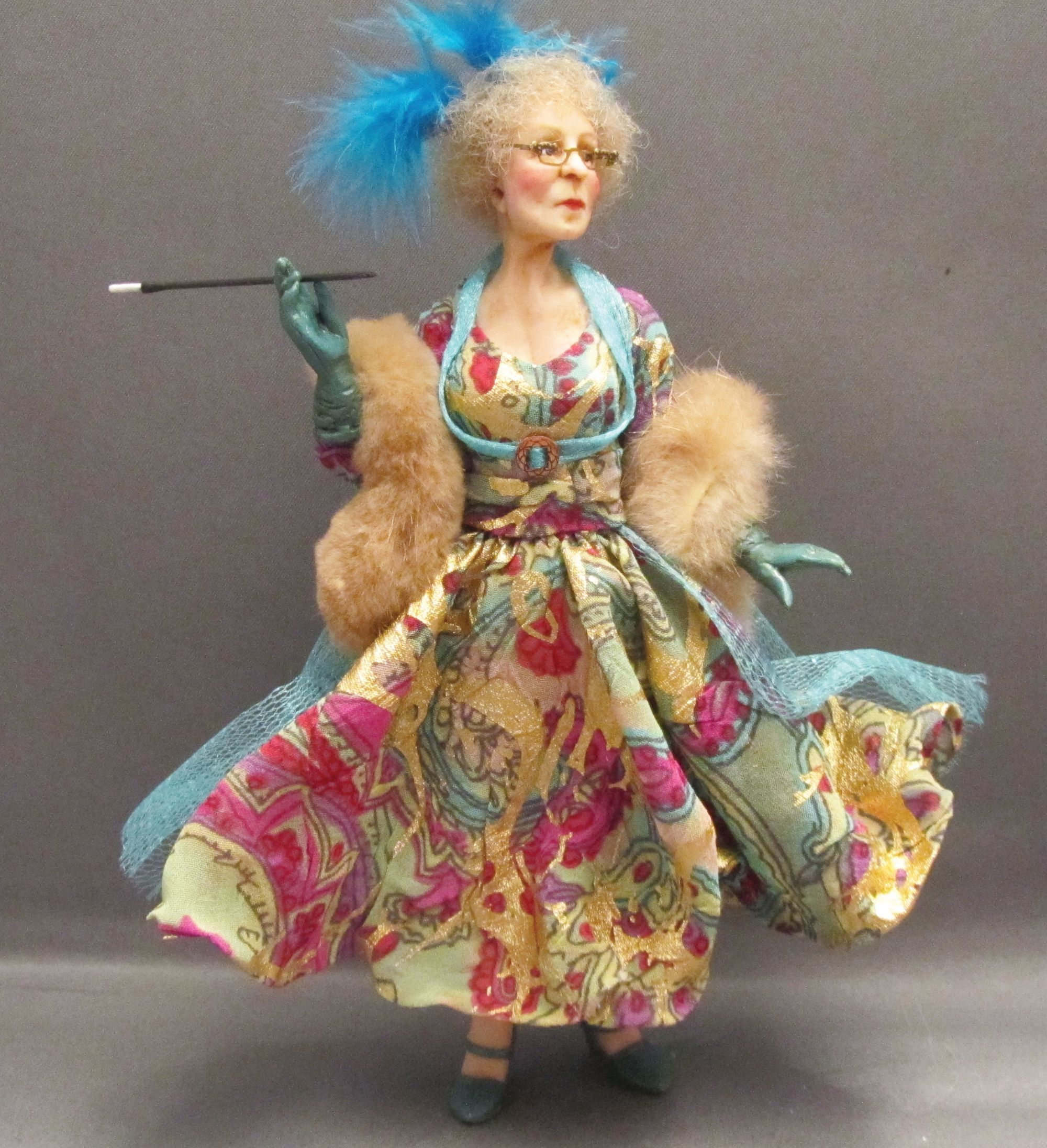 My sister Jean's finished woman was a very happy character. At one point our teacher walked by my sculpted hands and quietly bent down to show me that if I continued with this size hands, the arms would come down to her feet. Many guffaws later it became known that I probably should have come into class wearing a dunce cap. All I can really remember from this classroom experience was that I had one of the best weeks of my life and yearn to repeat this again, as soon as possible.
Jeanne Rullie was led to doll making quite by accident. Years ago, she was part of a quilting group. One of the other members brought some polymer clay jewellery to a quilter's meeting. She had never seen polymer clay before. When Jeanne found out there was a skin tone shade, she was excited to see if she could use this medium to make a Victorian style Saint Nicholas figure.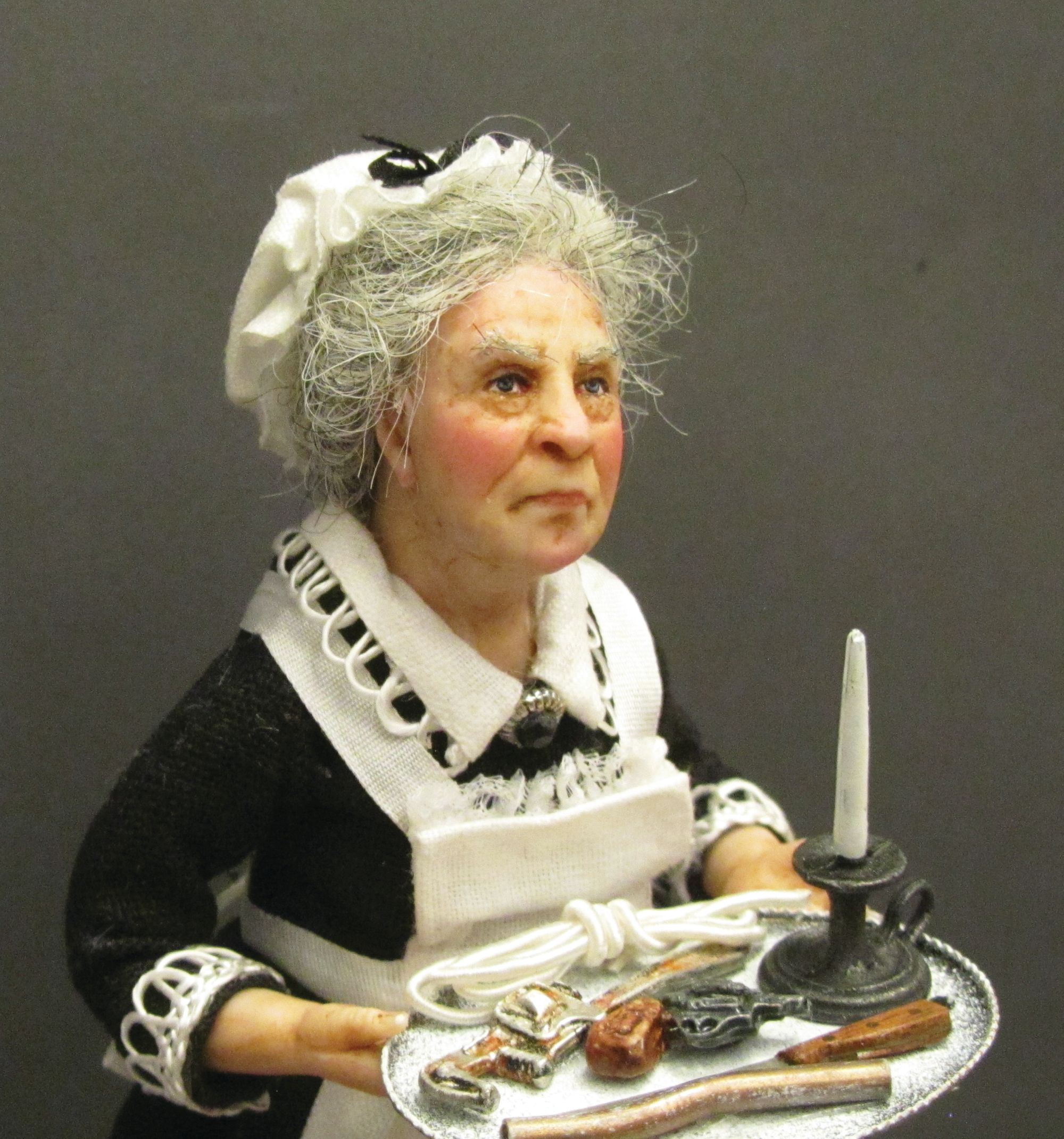 Once she made her first doll, there was no turning back. She took a few classes and did a lot of practicing. Eventually she discovered the International Guild of Miniature Artisans and the Guild school in Castine, Maine where Jamie Carrington was teaching. Taking Jamie's class was a wonderful experience for Jeanne. That is when she began working in twelfth scale.
Prior to this event with Jamie Carrington, Jeanne did not know anything about making miniatures. She was very impressed with what she saw at the IGMA school and loved being with the like-minded people she met there. She decided to return again to learn more. She returned to guild school year after year. 2019 was her eighth year, but then she attended as a teacher.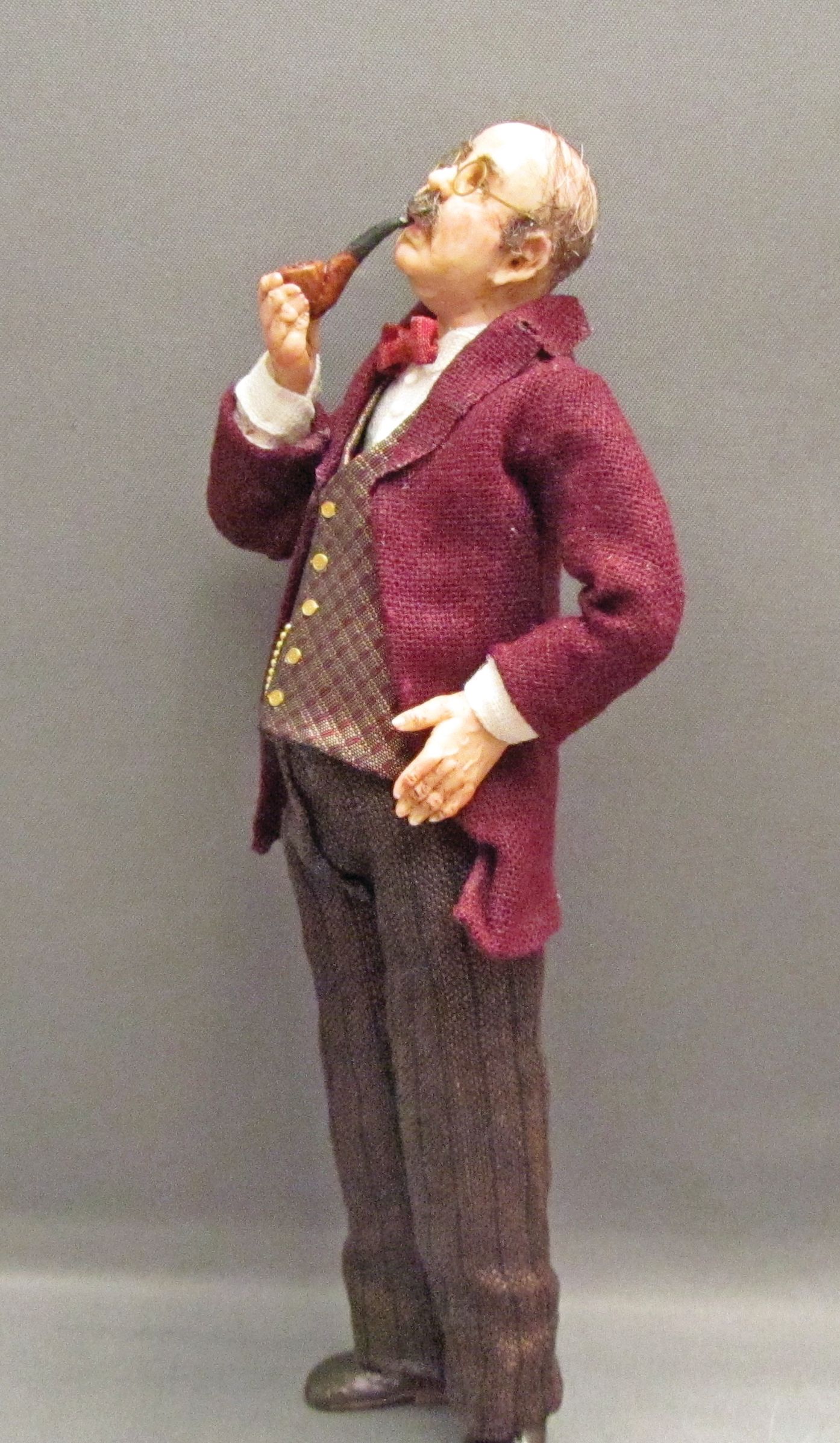 Outside of dollmaking, Jeanne works for her husband out of their home as the office manager for their small business. She only works on miniature dolls part time. It takes a full week of her spare time to make one doll.
Jeanne feels fortunate to have received so much interest in the dolls she has made. She does not feel the need to keep any for herself. It is the creative process that she enjoys, so she feels blessed that others want the dolls she creates. She does try to take a photograph of each of her dolls before she sells them. Once she is satisfied with the photo, she posts it to her Pinterest page. This helps her remember what she has made and what has garnered a lot of interest. As with many true artists, the repetition of creating the same character many times over is not as appealing as creating something new every time.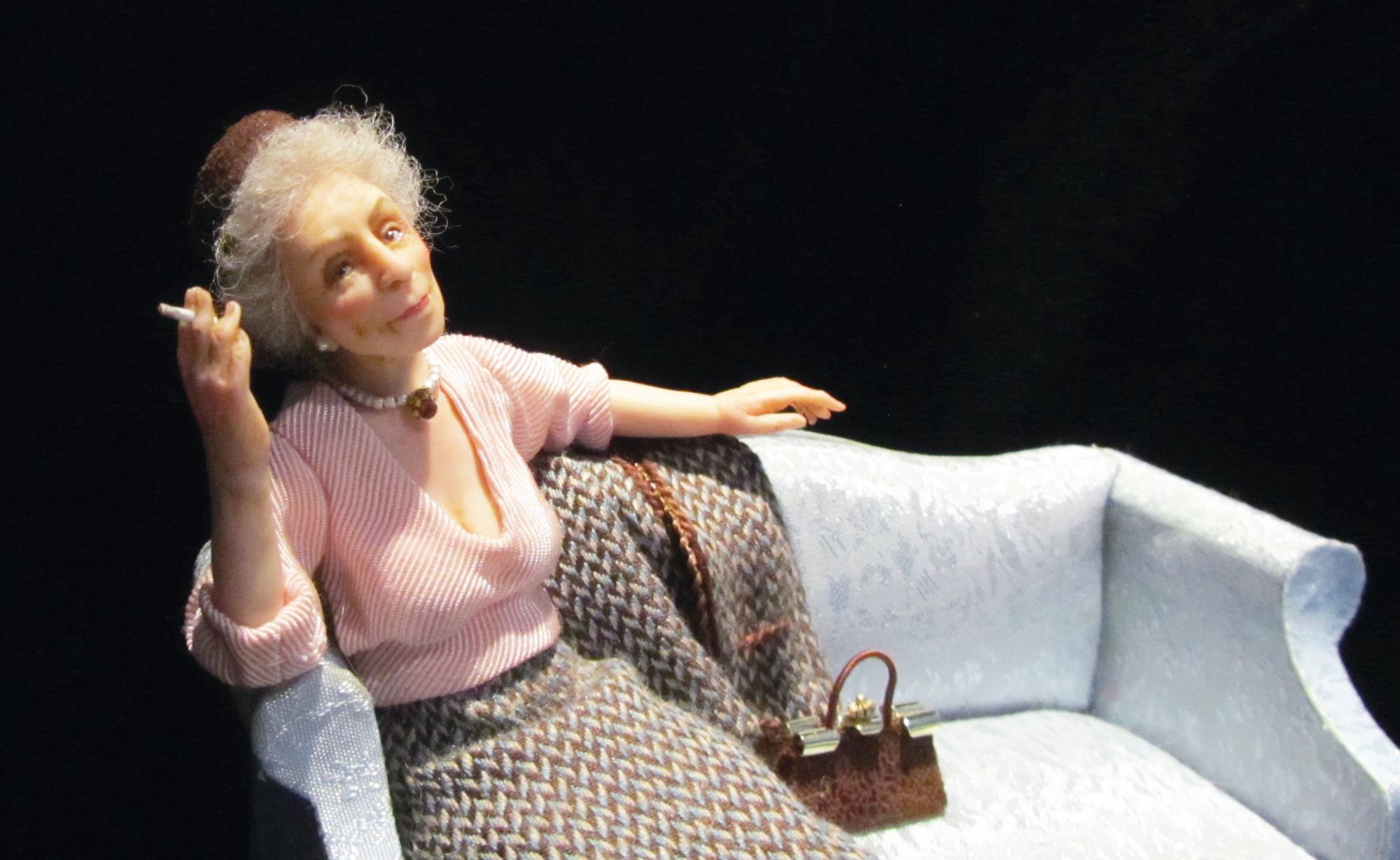 Sometimes Jeanne is inspired by another doll artist's work. At other times a simple piece of fabric can be the inspiration for her…and sometimes it might be the outcome of each individual face that she sculpts. Except when she is working on commissions, the doll actually tells her what it wants to be during the creation process. This is the fun part for Jeanne. Then she will think about little things that will compliment her direction.
As with many miniaturists, making dolls is therapeutic for Jeanne. All of her other hobbies have taken a back seat to doll making for the last 7 years. She truly loves to bring a character to 'life' through expression, body language and clothing. The dolls never come out the way she has originally envisioned them. Once the week ends, she sees all of her original imagined ideas, and the series of changes she went through, but that's also part of the fun for her.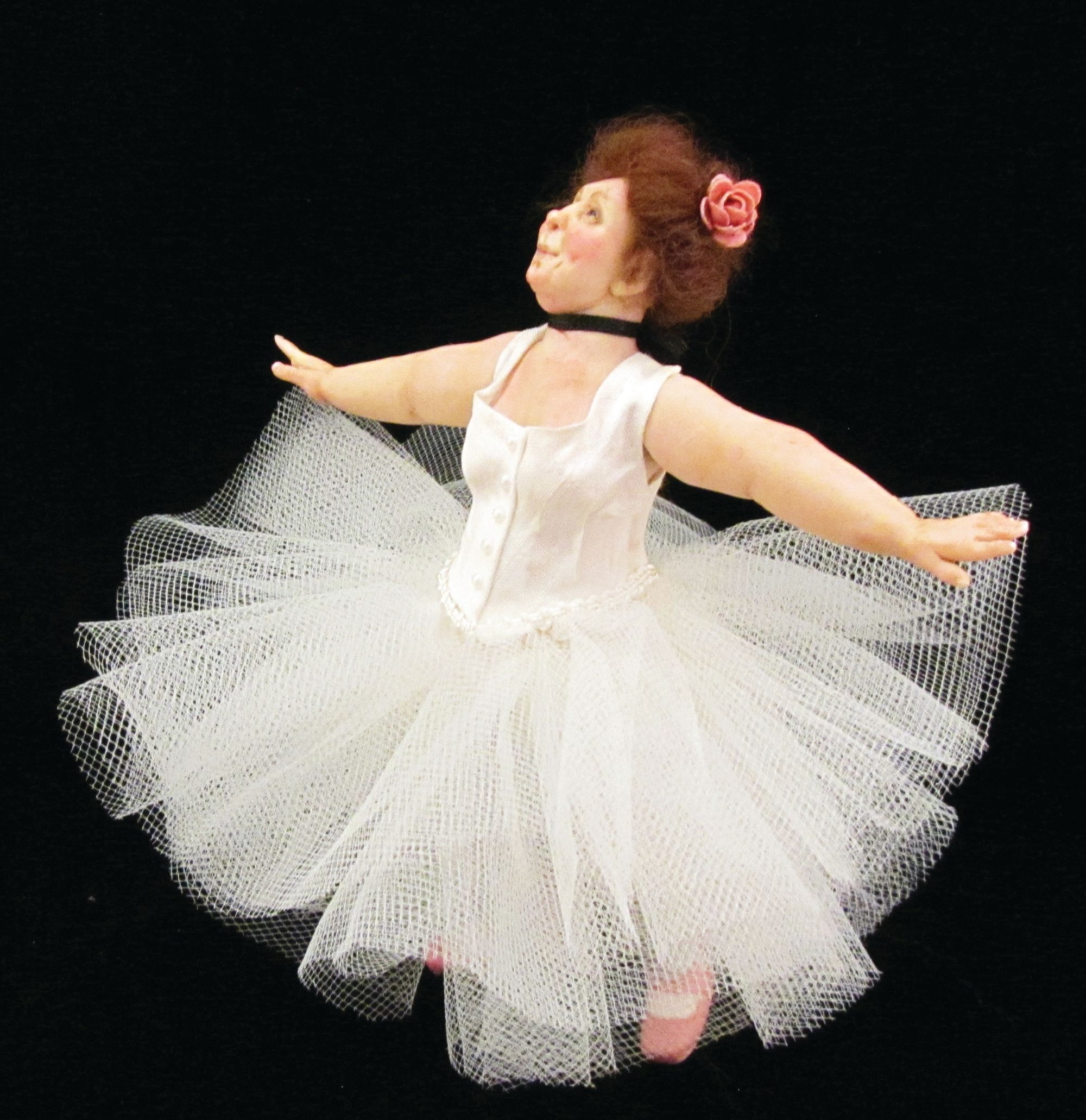 Jeanne wastes a bit of time choosing the right fabric and she usually struggles with hair styles and colours. She feels that she still has a lot to learn about hair styling for dolls. Those of us in her class would disagree wholeheartedly.
Jeanne has always had a compulsion to create and is often inspired by things she has seen. Doll making allows her to combine many of her former hobbies into one medium. She loves fabric, sculpting, colour and design. Her mother was very artistic but because of their large family she wasn't able to indulge in drawing or painting. However, she strongly encouraged Jeanne and her siblings that showed an aptitude and a desire to pursue art.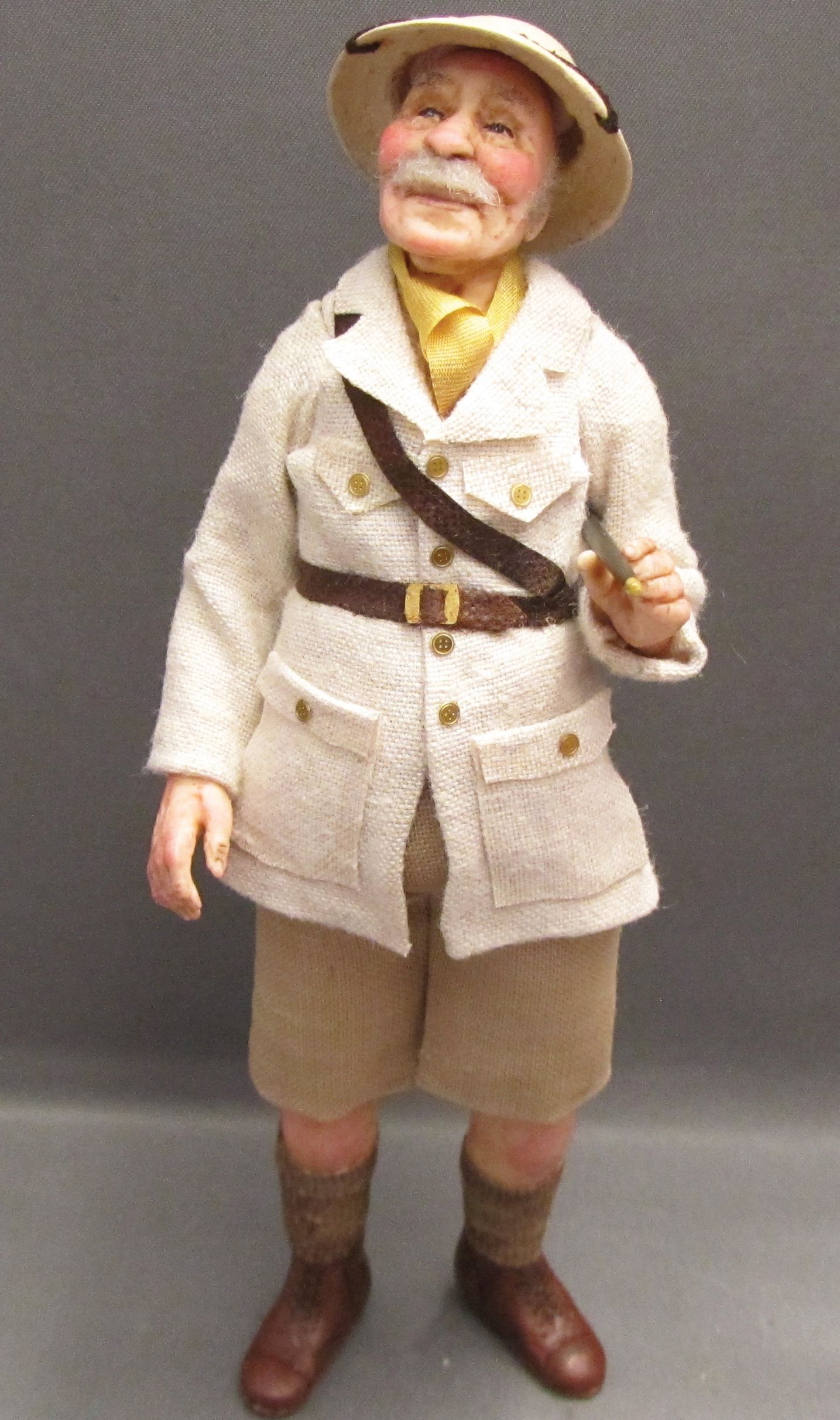 I tend to describe her dolls as uniquely alive. They are all so perfectly imperfect, like humans, they are so lifelike and so different from other miniature doll makers. Yet Jeanne is always striving to improve with each doll that she makes.
Jeanne enjoys sitting behind her display at shows to watch the expressions on the faces of people when they look at her dolls. She finds great joy in their joy when a certain character 'speaks' to them. That enjoyment is also why she likes to teach.
When Barbara Davis, IGMA Guild School Director, first asked her to think about teaching she was completely taken by surprise. It wasn't something she ever considered because she is a very shy and private person by nature. However, now that she has taught several classes, she finds it compelling and quite enjoyable. It is such a delight to see someone fall in love with the little character they sculpt in a class and bring to life with genesis paints. Jeanne also learns things from her students. Sometimes it's a little costuming shortcut, or any idea that she would not have thought of sitting in her work studio by herself. This opportunity to teach brings along fresh ideas, and at the end of the class you have usually made new friends, many of whom may want to keep in touch. What could be a better outcome than that?
Originally, Jeanne didn't plan to sell her dolls. She just wanted to make them! She met Barbara Vajnar at the Guild School. Barbara prodded her quite a bit to sell her dolls and guided her through the process of moving from a hobby to a business.
Jeanne's husband has been wonderfully supportive in her desire to study doll making from the very beginning. He would often surprise Jeanne with books, tools and other materials as gifts to encourage her doll making endeavours. He has even asked her to keep a few of the dolls she has made. He becomes more attached to them than Jeanne does. I know that if I were Jeanne I would not be able to release even one of these dolls. When you look at these closely you are no doubt viewing an amazing talent and the fact that she is willing to teach others how to do this says a great deal about this humble, exquisitely talented woman and artist of the highest calibre.

Pictured above: A variety of Jeanne's handmade dolls from the past few years each with their own personality.