By Pam North
If one never before has wished to be a person in twelfth scale, Colette Cameron's newest creation, Bargain Warehouse in Miniature, definitely will put that thought in mind. The huge array of shopping possibilities she has assembled in one place is truly amazing, and awakens the buyer's instinct in one's soul.
"Most projects that I work on only take between 4 to 6 weeks to complete, and I really wanted something with a bit of bite to it," she explained. "I love seeing everyday products in miniature, and I decided to do a project filled to the brim with recognisable items that people use every day."
How she managed to amass the huge variety of products on display is a feat in itself. The entire project was hand-built, decorated, and made by her, with all items created from scratch, or altered and changed to suit. "I'm a fickler for hand-making my projects," Colette continued, "and I never buy ready-made miniatures, as I like the process of figuring it out myself too much."
The entire project was hand-built, decorated, and made by her, with all items created from scratch, or altered and changed to suit.
Colette's warehouse building and furniture are made out of 1cm and 5mm MDF board, cut with a drop saw and held together with screws and a lot of Liquid Nails adhesive, the latter product described by Collette as "tough and able to withstand a shake test to ensure that the joinings don't come apart."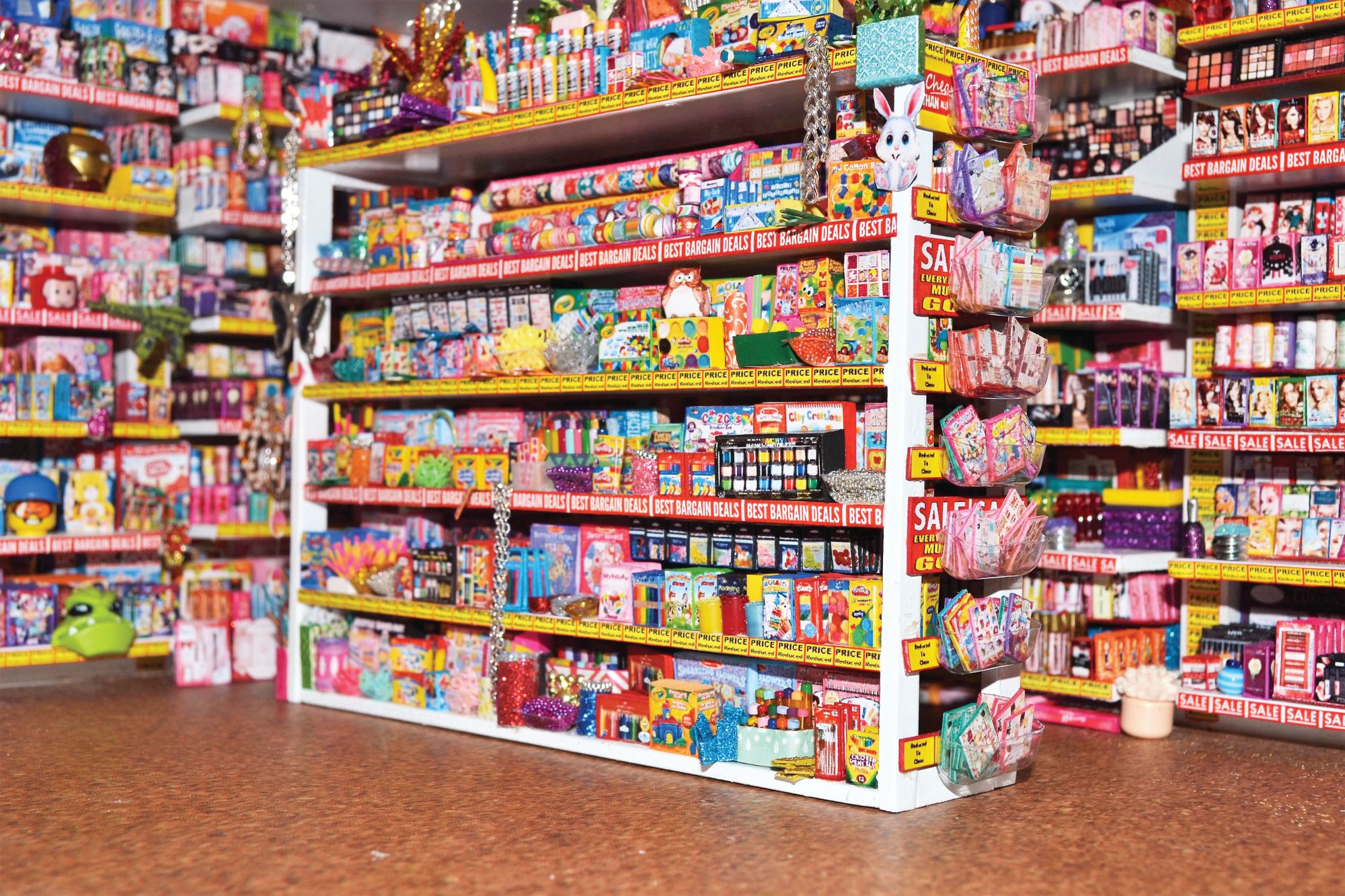 She uses readily available materials, such as paper, cardboard, and hard plastics, although she chooses real glass for windows. Before beginning a project, she already has a completed image in her mind of how she wants it to look, so for her it is just getting into 'the zone' and turning her vision into reality.
The most daunting part about making this miniature was the huge scope of her goal of 25,000 items in her warehouse. "Keeping motivated and on track was a daily fight," she remarked. "It became a battle of will at times, as my mind already was moving on to my next project, so finishing this became a tedious affair! I paid very close attention to ensuring that there was consistency between all the aisles so that nothing stood out and the entire project blended together evenly.
Staying on track and focused is a mind game! The final work was the image I had in my mind. I knew where I wanted all the stands to be, and what products were going to be involved, so for me it was just sticking to my original plan. I wanted a challenge, and it's been a while since I have taken on a lengthier-time project."
Colette cited her favourite part about this piece as, "All the colours and the balance of colour throughout. The eye doesn't rest in any particular place so the piece is viewed in its entirety. I love how it takes my mind a little while to be able to start focusing on individual sections, reminding me of how I feel when I go into a real bargain store and start to look around. I really liked the chocolate aisle! It amused me. I gave up chocolate years ago, but still made sure that all my favourites were in there."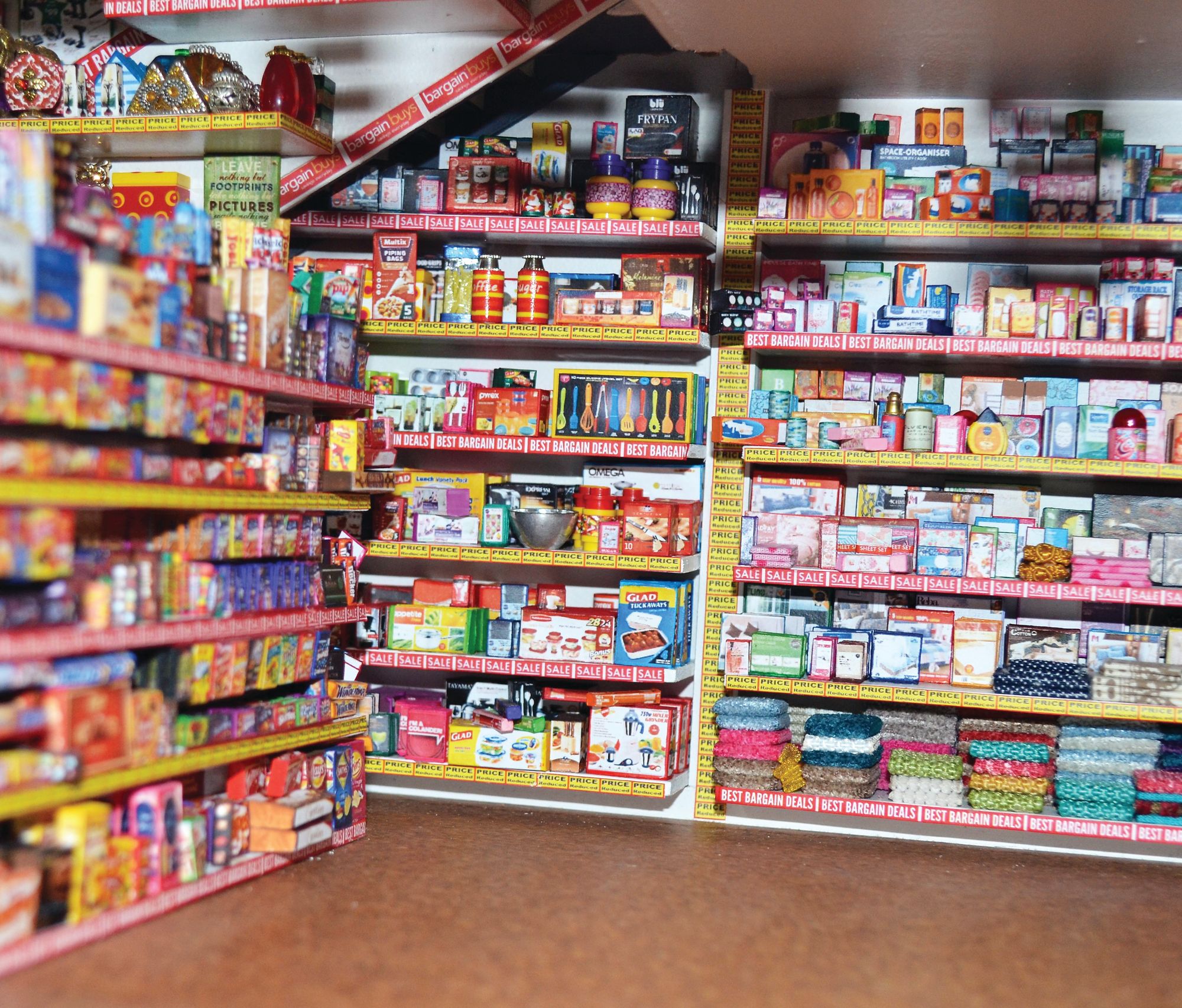 She has no current plans to sell her project, as she so far has sold none of her finished works, preferring  to display them on stands in an area of her garage workshop.
Although not a teacher of classes, Colette occasionally shares her techniques for creating her pieces by putting building guides and tutorials up on Facebook so others can give it a go. She views herself as simply a housewife with a hobby, not a professional, and boasts no degrees, art education, or building background.
She makes a point of saying: "If you have anyone who can teach you how to use power tools and build, then go for it. Teaching myself to build was a lot of fun and empowering. I learned that if you can see it in your mind, with persistence you can create it. I'm naturally a visual person and pay a lot of attention to the world around me. I enjoy taking every day spaces, places that we go to, and recreating them. Our world is fascinating, and I'm always curious about commercialism because I'm a minimalist and only have what I really need."
Ever looking into the future, she expanded on what might be next for her and her creations, "Who knows? I am drawn naturally toward everyday spaces, so I probably will continue down that path. I love representing the shops that are a natural part of our day-to-day existence; it is like taking a snapshot in time. Twenty years from now all those products will look different, and I enjoy capturing modern day living."